Virgin Holidays will stop selling and promoting tourism attractions that feature captive whales and dolphins, including SeaWorld and Discovery Cove.
The company has ended partnerships with SeaWorld in Orlando and San Diego, Discovery Cove in Orlando, Atlantis the Palm, Dubai, and Atlantis Paradise Island, The Bahamas.
Joe Thompson, Managing Director of Virgin Holidays, said the decision comes after Virgin Holidays' 2014 Virgin Pledge, which vowed to only work with attractions that do not take cetaceans from the wild.
He added that the company's updated position in 2017 involved "new steps to evolve the customer offering towards more natural encounters with these captivating animals".
Offering more natural encounters with cetaceans
"Following further developments, we have now decided the time is right to discontinue offering attractions featuring close encounters with captive whales and dolphins," said Thompson.
"We will instead focus our efforts on encouraging customers to see these creatures in the wild. We will also continue our efforts to support the development of sanctuaries for whales and dolphins currently in captivity."
Sir Richard Branson echoed Thompson in a blog post, where he said "the announcement marks the most significant milestone yet on a five-year journey to drive positive change in the tourism industry".
"We felt strongly this was the right thing to do and we knew most of our customers supported it, too," Branson added. "Many no longer consider whale and dolphin shows and 'swim withs' to be appropriate, and most would rather enjoy these magnificent creatures in their natural environment."
PETA applauds Virgin Holidays' announcement
In a statement, PETA President Ingrid Newkirk praised Virgin Holidays' decision. She said: "Hats off to Virgin Holidays, which has made a big splash by scrapping tours to any facility that imprisons sensitive whales and dolphins, denying them any semblance of a natural life.
"The tide is turning against marine abusement parks, and PETA is now calling on AAA to join Virgin by rejecting SeaWorld promotions."
In response to Virgin Holidays' announcement, Dan Ashe, President and CEO of Association of Zoos and Aquariums, said AZA is "very disappointed".
"The Association of Zoos and Aquariums is very disappointed Sir Richard Branson and Virgin Holidays singled out AZA-accredited members in their announcement," Ashe said. "AZA's accreditation standards are regarded as the 'gold standard' among zoological facilities, and include specific standards related to dolphins and whales."
AZA and SeaWorld express disappointment
"AZA stands behind every animal encounter program offered by its members. Professionally designed and monitored animal ambassador and encounter programs, including 'swim with' programs with dolphins and whales, have proven educational benefits and inspire guests to respect animals and support their conservation."
Ashe finished by asking Sir Richard and Virgin Holidays "to reconsider their position" and work with AZA "to identify the standards necessary to assure that whales and dolphins, and all animals in human care, receive the exceptional care that they deserve".
In a statement, SeaWorld also said: "It is disappointing to see Virgin Holidays succumb to pressure from animal activists who mislead and manipulate marine mammal science to advance their agendas.
"No company does more to protect marine mammals and advance cetacean research, rescue and conservation than SeaWorld," it added.
World's first open water sanctuary for beluga whales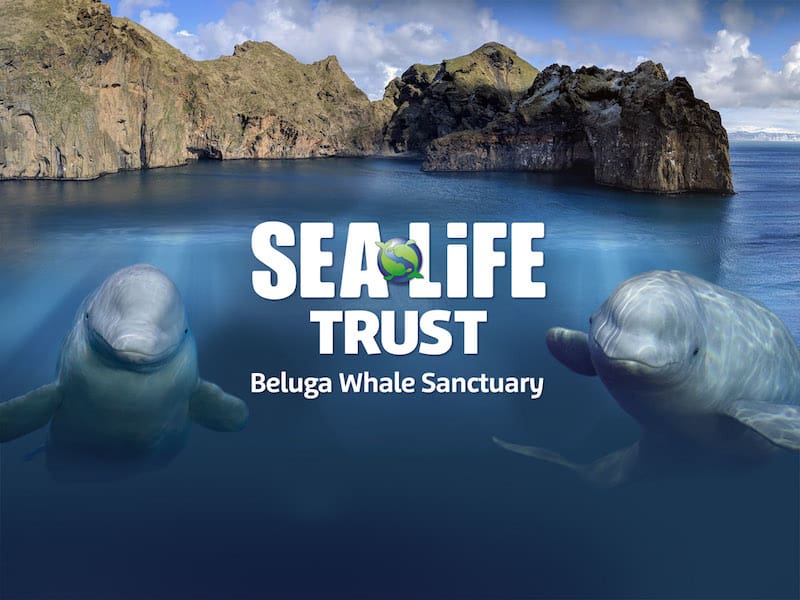 Last month, Merlin Entertainments' SEA LIFE Trust confirmed the safe arrival of two formerly captive beluga whales, Little Grey and Little White, following a 6,000-mile journey from China to Iceland.
The belugas will make the final stage of their journey, via truck and ferry, to the world's first open water sanctuary for beluga whales, with SEA LIFE Trust setting a precedent for other cetaceans in captivity.
Images: SeaWorld/SEA LIFE Trust