Oakland Zoo's $70 million California Trail opens in July.  The highly anticipated 56-acre expansion will be home to eight endangered native Californian species, including grizzly bears and mountain lions.
The trail was first mooted over two decades ago and it has been three years since the project broke ground. However now, finally, Oakland Zoo's California Trail will open to the public, on July 12th.
The expansion more than doubles the size of the zoo, taking it from 45 acres to 100 acres. The habitats are amongst the largest in the world and have been carefully designed with advice from wildlife experts, habitat design experts and animal behaviour scientists. They will house eight new native California animal species: American buffalo, mountain lions, jaguars, California condors, grey wolves, bald eagles and three types of bear (black, brown and grizzly). These animals have all but disappeared from the local landscape. The aim is to inspire visitors to take action for wildlife, hopefully ensuring their future in the wild.
Many of the animals are rescues, and re-release into the wild was not possible because the animals would be in danger. They include four orphaned grizzly bear cubs from Alaska.
The California Trail will also debut the California Conservation Habitarium, the Conservation Action Tent, the California Wilds! playground and the Clorox Overnight Experience campground (which has a safari theme).
California Trail reached by new gondola system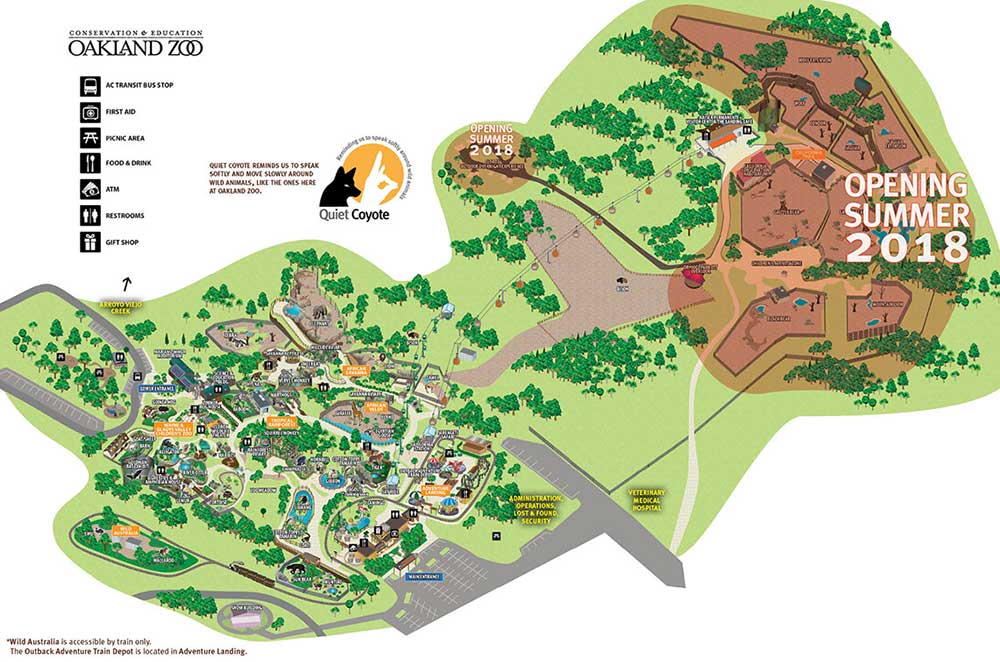 The new exhibit is reached by a brand new gondola system.
24 eight-passenger open-air gondolas take visitors on a four-minute ride from the main zoo up to the California Trail. The all-electric gondolas are ADA-accessible; custom-made by the Doppelmayr Garaventa Group.
Guests leave the gondolas 650 feet above sea-level. Here they can access the three-storey Kaiser Permanente Visitor Center. This houses the 176-seat glass walled The Landing Café. The restaurant's observation deck gives breath-taking views of six Bay Area counties.
Inspiring people to protect the future of wildlife
"The California Trail at Oakland Zoo is unique," says Dr Joel Parrott, President and CEO of Oakland Zoo/Conservation Society of California. "Beyond the gondola ride, spectacular views, and our many rescued animals in their expansive habitats – this is about inspiring people to connect with our state's remarkable biodiversity and how to live with wildlife so we can protect their futures."
The California Trail (which cost $70 million) is just part of an $81 million multi-phase development of the zoo. 85 percent of the funds have been raised via private donors and zoo operations. A veterinary hospital and the Oakland Zoo Biodiversity Center both opened in 2013. 2014 saw the inauguration of the Condor Recovery Center.
Oakland Zoo is managed by non-profit organisation, The Conservation Society of California (CSC). CSC has more than 25 conservation partners and projects worldwide and is committed to both conservation-based education and saving species and their habitats in the wild.
Images: Oakland Zoo