How does PortAventura World's new €100 million project complement the rest of the offering at Spain's no.1 theme park resort? And how does it differ to Ferrari Land Abu Dhabi?
Several European amusement parks boast seasonal accompanying waterparks. Disneyland Resort Paris has a Magic Kingdom style theme park, a movie park and an extensive hotel operation. Europa-Park's hotels are almost theme parks in themselves, and a waterpark is on the way. Yet no other destination in Europe could lay claim to having three on-site parks until now.
Opened to the public on April 7, Ferrari Land is a compact park dominated by one key attraction. However, there is plenty more to explore. Spanning over 70,000 square metres (750,000 sq ft), the venue was master planned by PGAV Destinations and built in less than two years. It celebrates technology, speed and innovation. Yet despite Ferrari's obvious masculine appeal, this is a park – like PortAventura World itself – pitched at the entire family.
PGAV's team of professionals
Thrill seekers will make a beeline for the Red Force. The Intamin Accelerator launch coaster spans the full width of the park and stands 112m (367ft) tall. With its distinctive profile it becomes the tallest and also the fastest (112 km/h/70mph) roller coaster in Europe. Previously those bragging rights belonged to Shambhala, a B&M hyper coaster at the neighbouring PortAventura Park. Two S&S – Sansei tower rides, Thrill Towers, also make a major impression on the skyline of Ferrari Land.
In choosing rides and attractions for the new park, PortAventura took various elements into consideration, explains technical director Luis Valencia. "This included integration with the existing park and hotel options, the target market for the new park and current trends of the theme park industry. In order to choose suppliers, we selected the leading companies of the sector."
Working again with PGAV, which collaborated on the original PortAventura Park during construction and also for the past 10 years on attractions such as Shambhala and Angkor, was enriching, adds Valencia: "They are such a team of professionals; familiar with PortAventura World's quirks, as well as those of our geographical location. Their experience was key to Ferrari Land's final layout design."
Red roller coasters and blue skies
Throughout the design process, Ferrari representatives collaborated closely with teams from PortAventura in order to ensure that the project was 100% faithful this most prestigious of brands. Like the launch coaster and Thrill Towers, the Ferrari Experience building in the centre of the park is cloaked in rosso corsa, or racing red. And that red looks rather striking against the often blue skies that sit over the Costa Dorada. Yellow and silver also feature repeatedly throughout this most on-brand of theme parks.
"The attendance today of Piero Ferrari, son of [company founder] Enzo Ferrari shows the importance to us of this project," remarked Luca Fuso, chief brand officer for Ferrari at the VIP launch on April 6. "This park is special for us."
Leading the Spanish market, PortAventura Park
Joining Piero and around 1,500 others at the preview event were PortAventura World chairman Arturo Mas Sardá and Ferrari test driver Mark Gené. For the Spanish resort, Ferrari Land is arguably the most significant new addition since the opening of the original PortAventura theme park in 1995.
Although a waterpark, Costa Caribe, was added in 2000, it is a relatively modest enterprise, with neither the same level of theming nor show-stopping attractions as those found in PortAventura Park. That park, of course, is one of the top 10 in Europe, and consistently the Spanish market leader. Rather, Costa Caribe is a useful diversion for and driver of guests to the five themed on-site hotels at this destination in Salou near Tarragona.
European bragging rights for PortAventura World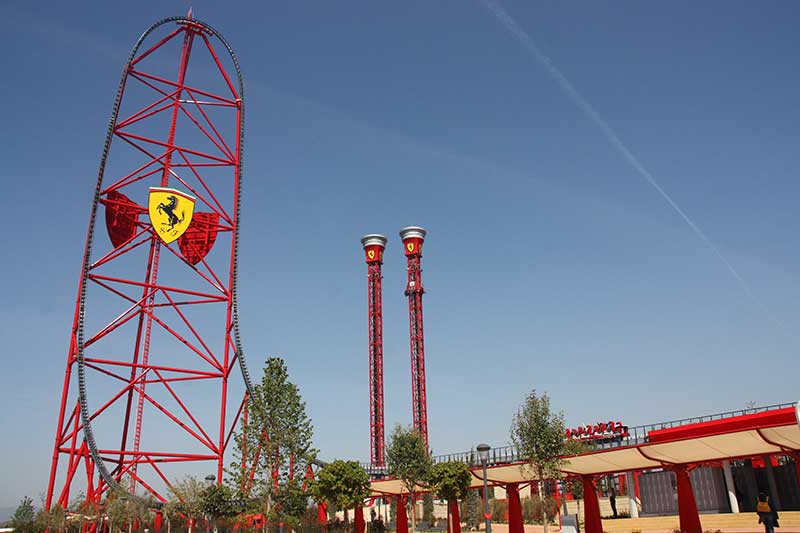 With its swish entrance arch (check out those 'swooshes' that transition smoothly into racing cars), Ferrari Land feels more credible as a standalone park and third 'gate'. It features two or three 'E-ticket' attractions. (Advance online ticketing distribution has been provided by 365 Tickets.) Red Force grabs new European bragging rights when it comes to roller coasters. Yet the park is not a full day visit. In fact, it's impossible to buy a day's single admission.
To enter this high octane arena of Formula 1 inspired theme park thrills, PortAventura World guests must buy a combination ticket. For €60, those between the ages of 11 and 59 can enjoy a day's access to PortAventura Park and Ferrari Land. For €70, they can buy a two-day ticket to both theme parks. A three day/three park (including Costa Caribe) ticket is €95. Visitors can choose to upgrade later. If so, they can enter Ferrari Land for an additional €35 on top of regular PortAventura Park admission, currently €47.
In high season the new park will stay open until 1am, with a separate evening ticket available from 6pm. An enticing prospect for those with the stamina of a racing driver.
Brand ambassadors
Ferrari Land aims to turn guests into ambassadors for a brand of car they may never actually drive. If this park is to help PortAventura World achieve the 1 million uplift in annual attendance management is hoping for, it's simply not possible for every visitor who walks beneath that bright red archway to be a Ferrari owner. Regardless of their price, the Italian manufacturer simply doesn't build enough of its supercharged vehicles to satisfy those numbers. That's why Ferrari Land officials talk of those who "aspire to own" a Ferrari being key to the park's target demographic. And that includes all family members.
Located immediately to the left of PortAventura Park's main gate and a short stroll from Hotel PortAventura, the new park brings a taste of Italy to Tarragona. Although you must leave one park to enter the other, there's some continuation in theming as the Mediterranean section PortAventura Park sits close by. Those shared Mediterranean roots, a climate that it is closer to that in northern Italy and the fact that the park and its attractions are largely outdoors make Ferrari Land feel more authentically Italian than Ferrari Land Abu Dhabi. The UAE park, where all attractions except for several seconds of roller coaster are enjoyed in air-conditioned comfort, is housed beneath a massive 200,000 square metre roof.
Only the best hands and best teams for Ferrari
Discussing the partnership with PortAventura World, Ferrari S.p.A.'s Chief Brand Officer Luca Fuso says it was chosen for Europe's only Ferrari theme park because it is a resort with prestige: "Here we have a partner who has a great deal of respect for our brand. The park has been built by the best hands and with the best teams."
The central building that houses the Ferrari Experience may resemble the body of a racing car from the front, but to the rear it features sections that include a replica of both the Colisseum in Rome and St Mark's Basilica in Venice. And why not? Elsewhere the park features facades of buildings from Maranello, Ferrari's home town.
Ferrari Land is not big enough to employ the hub and spoke of other classic theme park configurations. What its designers have created is essentially a hub. The Ferrari Experience building is surrounded by a ring, or more accurately a triangle, of attractions.
Ferrari Land attractions
One of the first structures to greet guests when they are inside the park is the Ferrari Experience. It is here that PortAventura World guests become most immersed in the legacy of Ferrari. The shell of the building has been themed to resemble the body a Ferrari racing car. Inside are two media-based attractions. Passing through the front entrance, guests can turn either left for Racing Legends or right for Flying Dreams.
This takes them into the separate queue lines within the same hall, where significant use is made of projection mapping. Visitors are then lead into the a pre-show featuring a hologram of Enzo Ferrari in his office. Celebrating different worlds of the famous Italian brand, GT and Formula 1, guests then take their seats on their chosen experience.
Racing Legends takes would-be racing drivers on a high speed simulator ride through the streets of Rome. They also experience some of the world's most famous racing circuits. Ten custom-themed Stargazer 6-DOF units by Simworx provide the motion to accompany the 2D media that plays out on a whopping 23m-diameter dome screen. Each simulator seats eight.
Flying Dreams is a flying theatre that whisks audience members up and away in pursuit of a Ferrari GT crossing various European and international landscapes. It comprises seven 10-seater 6-DOF motion bases by Brogent Technologies. The Taiwanese company also delivered the 20m diameter dome screen and AV. During the show, audience members can experience special effects including wind, mist and scents.
Incredible adventures all around
Content for both these media-based attractions, as well as concept designs, storyboards, and the design and fabrication of themed set pieces, was provided by Mousetrappe of Burbank, California. Racing Legends was filmed utilising a drone-mounted 5K resolution camera rig. This was done for all but three locations (those that would not allow flight clearance).
"As a Scuderia Ferrari F1 fan, this was an incredible adventure," says Mousetrappe founder and creative chief, Daren Ulmer. "We are also honoured that Piero Ferrari was extremely impressed by our portrayal of his father in a pre-show that utilises the Pepper's Ghost effect."
The Ferrari Experience building also houses the Ferrari Gallery exhibition, showcasing the proud history of the famous Italian marque. Flying Dreams, which will provide Southern European park-goers with their first ever flying theatre experience, can be considered one of the three key attractions of Ferrari Land.
Record-breaking roller coaster
The headliner, of course, is Red Force. "The largest vertical accelerator in Europe," is how PortAventura is marketing the attraction. Whilst many elements of the new park were kept under wraps until opening day, PortAventura World CEO Fernando Aldecoa concedes that when it comes to this bright red launch coaster with its giant Ferrari "prancing horse" badges on three sides, "we couldn't hide it."
Intamin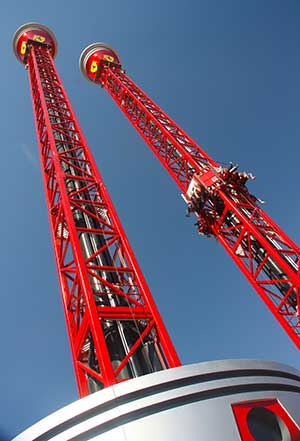 's LSM drive system, the most powerful on the market, catapults the train from 0-180km/h in less than five seconds. This acceleration is equivalent to 1.35g. At the end of the launch track, ahead of the signature 112m-high 'top hat', passengers are pushed back into their seat to experience 4.8g.
At the top of the tower, riders can briefly catch their breath. Then a glimpse of the sea before dropping back down at 90, picking up full speed again, before hitting the brakes as the train crests over a final hill. The grandstand seating alongside the launch track is a nice touch. It allows park guests to watch their friends shoot out of Red Force's loading area. It's also a great sun trap.
Europe's tallest and fastest roller coaster is 18m (59ft) shorter than the world's tallest coaster, Kingda Ka at Six Flags Great Adventure. The 139ft (456ft) construction is also an Intamin Accelerator. And the world's fastest? Intamin's Formula Rossa launch coaster at Ferrari World Abu Dhabi.
Rides for the whole family
Adrenaline seekers will also enjoy Ferrari Land's Thrill Towers. The 55m Combo Tower installation by S&S comprises a Space Shot and Turbo Drop, themed as giant pistons.
Close by, Maranello Grand Race is a long and winding, if rather sedate, track ride. It takes drivers through a half-a-kilometre (1,640ft) circuit in cars themed as Ferrari GTs and Spiders. The attraction was built by C and S under subcontract from Zamperla. Young visitors can hop on board Junior Championship at the opposite side of the park. This is a custom themed Zamperla Speedway with a motion reminiscent of an old Whip ride. Meanwhile, Kids Podium, is a motorsport-themed play area topped by a giant trophy.
Keeping energy levels high throughout the day, Ferrari Land's live entertainment offering comprises three different shows, as well as street theatre. We loved the choreographed racing driver moves performed by the park's dancers.
Ice cream and upcharges
Guests can enjoy two further attractions for an upcharge. In Pole Position Challenge, eight semi-professional simulators by Marty & Nelly give guests a taste of what it's like to race a Formula 1 car. Then there's the Pit Stop Record attraction. Here teams compete to change tyres on a full size Formula 1 car as quickly as possible. A special version of PortAventura's Express pass is available to Ferrari Land guests for €30. This allows fast, one-time access to Red Force, both Thrill Towers, Racing Legends, Flying Dreams and Maranello Grand Race.
Ristorante Cavallino is the park's signature restaurant, a Trattoria style establishment offering classic Italian cuisine. Pizza, salads, cannelloni and chicken are available from the self-service Pit Lane, and there's three fast food kiosks as well. The Ice Cream Box is an only natural addition to the park given Italy's rich ice-cream making heritage. However, the offering from Algida (Unilever) is hardly authentic gelateria.
Guests can stock up on gifts in the Ferrari Store. There, official Ferrari apparel is significantly more expensive than the park's own merchandise. Maybe, like the cars themselves, there are those who own Ferrari merchandise, and then those who aspire to.
World-class resort
More than 20 years after it debuted, PortAventura remains Spain's most popular theme park destination, by some distance. At earlier stages of its life it was part of both the Tussauds and Universal portfolios. It has witnessed other big international players such as Six Flags (Warner Bros Madrid) and Paramount (Terra Mitica) enter and leave the country. Those parks remain under domestic ownership. Now joint-owned by the Italian group Investindustrial and global investment firm KKR, PortAventura management is clearly doing something right.
PortAventura is located both on the coast and also close (an hour or so) to Barcelona. Its location is also surely a factor in its success. Just to remind motor sport fans of its proximity to the Catalan metropolis, with its Grand Prix status, PortAventura's home is identified as Barcelona in all Ferrari Land branding, rather than Salou as it was previously.
"The location is key as part of strategic marketing," notes PortAventura's chief commercial officer, Mark Robinson. "PortAventura World as a destination is clearly oriented towards an international market. We must make the most of the potential that the region can offer."
Golf courses, beach clubs, and a whole world of fun
Furthermore, PortAventura was re-branded last year as PortAventura World to highlight the scope of what the resort offers. There is the Costa Caribe waterpark and the five hotels (four 4-star and one 5-star property). Resort guests can also avail themselves of three golf courses, a convention centre and a beach club.
This summer, Cirque du Soleil returns with Varekai. With such an offering, PortAventura World's claim to be a world-class tourist destination is more than justified. As well as Spanish visitors, it is also popular with French, British and Russian guests. With the opening of Ferrari Land, the goal is to attract more tourists from Germany, the Netherlands, Scandinavia and, erm, Italy. Red Force will be the ride that gets them there. Ristorante Cavallino must keep them happy once they arrive.
A themed Ferrari hotel was part of the original plan for Ferrari Land. It is now being considered for the next phase of the park's development. And what about new rides and attractions? "What we can say at the moment is that there is plenty of land around PortAventura," teases Valencia. Prospective ride manufacturers had better stock up on red paint.