JRA has designed leading visitor attractions across the world. As the company celebrates 30 years in the themed entertainment business, we talk to executives Keith James, Dan Schultz and Randy Smith to discover how it has grown and matured with the industry.
We also hear from some of the recent new additions to the team about the fresh
experiences that lie ahead. Here's to the next three decades of creativity!
Actual pencils and pens
When JRA was founded October 1987, the attractions industry was a very different place. So too was the design process.
"Everyone designed with actual pencils and pens," says senior project director Randy Smith. "I think we might have used our first computer to take meeting minutes and do some spreadsheets, but we certainly didn't do any design with it. Producing media was a big deal, I mean, it was for movies, right? We built physical models of everything we designed. Nobody had a mobile phone. We met face to face a lot."
However primitive the tools of the trade or methods of communication, the job got done. And it was, with reflection, a pivotal time in the development of the industry.
"That was probably the beginning of the expansion of the industry overseas," says JRA chief executive officer Keith James. "The theme park industry was well established in North America and Europe. Other countries were beginning to take a strong interest in the experiential economy. Meanwhile other industries such as museums, zoos, waterparks, and corporations were starting to take notice of the impact that the entertainment industry was having on building brands."
Academic beginnings
James took the helm of what was formerly Jack Rouse Associates following the retirement of its eponymous co-founder in 2008. Both James and the late Amy Merrell, the firm's other founding partner, were former students of Rouse at the University of Cincinnati in Ohio.
Rouse and Merrell's first professional forays were into the trade show production business, for clients such as Chevron, The Upjohn Company and Novell BrainShare. Shortly thereafter, in 1990, the company completed its first museum project – the Public Landing Gallery at the Cincinnati History Museum. That year saw Jack and Amy return to their roots in the theatre. With the Heartsong Theater attraction at Dollywood they simultaneously opened the door to an industry sector that has been a key part of JRA's output ever since.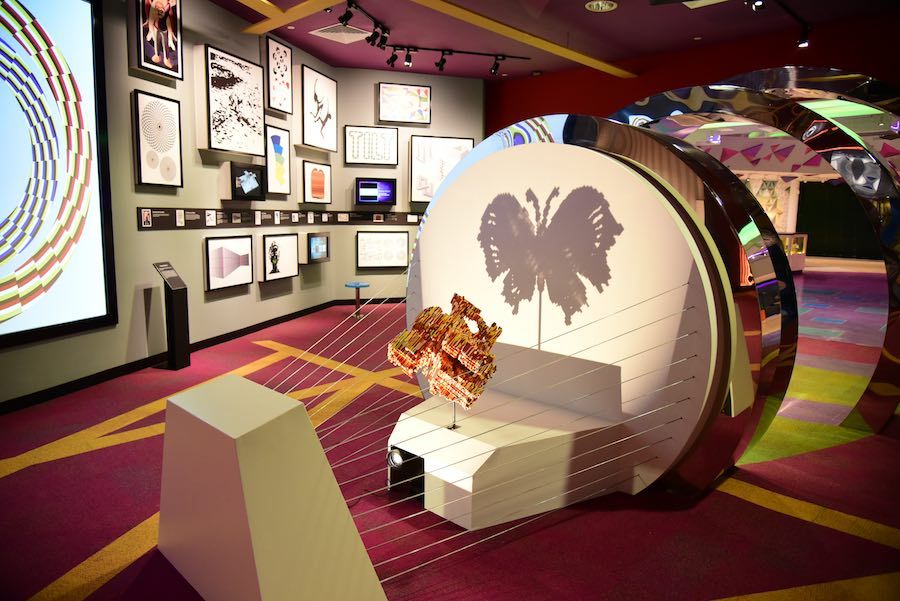 Keith James, who arrived with theme park experience thanks to his previous roles with Kings Island, Canada's Wonderland, Australia's Wonderland and Universal Studios Florida, joined the company as President in 1992. He is now owner as well CEO of the company.
In '92, JRA also joined The International Association of Amusement Parks and Attractions (IAAPA), and has been an enthusiastic supporter of the association's efforts ever since. As the industry evolved, Jack Rouse Associates and several of its current competitors and friends became members of the then fledgling Themed Entertainment Association (TEA), of which James later became president. Both organisations have abbreviated their names in recent years.
Starting a new chapter
"Jack and Amy built a tremendous foundation for a company that focused in all of our different industries," says James. "The decision to change the name to JRA was easy, given the fact that most of the world knew us that way anyway."
Today, JRA provides attraction master planning, design, project management, art direction and executive media production services. It has clients in four industries or industry sectors – entertainment, museum, brand and sport.
"We design and produce the guest experience – whatever the guests see, hear, smell and feel (both physically and emotionally)," says chief operating officer Dan Schultz. "I believe we provide great content, planning and design. That is the price of entry in this very competitive industry."
Any design firm with a good artist can knock up a drawing to impress their client. However Schultz says that, "we create experiences that are unique and actually realised and successful."
Movie parks, motorsports, whiskey and Coke
A few notable JRA projects include work for Universal Studios Florida, LEGOLAND parks in Windsor (UK) and California, the Land of Legends Theme Park in Turkey, Ferrari World Abu Dhabi, the Arab American National Museum, Science Centre Singapore, Space Center Houston's Independence Plaza and Mission Mars attractions, National Motorsports Hall of Fame (USA), Jim Beam American Stillhouse and Distillery Tour, The World of Coca-Cola, Crayola Experience, plus multiple children's museums worldwide. See more JRA projects here.
"I love going out to see our work, primarily after all the hoopla of the grand opening," says Smith. "One of my favourite times was taking both of my girls to Legoland California. They were probably 6 and 8. Watching your own kids thoroughly enjoy a place that you spent so much time and energy to get just right is fantastic."
Schultz says that touring the Cincinnati Reds Hall of Fame with his parents was a particular highlight. "They got to see first hand what their son's company did for their favourite baseball team. And, of course, I took all of the credit."
Yet projects this close to home are rare. Many these days are outside the US. "I think working internationally means that you must constantly be sensitive to cultural differences, both socially and in business, and you must be very patient," says Schultz. "I always tell our staff, listen first and talk second."
Older and wiser
"We have matured along with the industry," says Keith James. "We've grown up. We've grown old. Some of us have grown bald. But, our world is now touching everything, and we've had the privilege and luxury of growing with it."
James relishes the opportunity working globally brings. "The more work there is in the world, the better everyone will do," he says. "The Western firms are the ones that started in the industry, and it's our obligation to share that knowledge with everyone around the world."
Listen first, talk second
JRA is one of the few full service design firms in an industry and a world that is increasingly 'freelance' in the way it works. Yet Schultz believes the company is still flexible enough to take on most projects. "We have great contacts with specialists all over the world," he says. "This list of experts means that we can create the very best story and concept first. Then we can find the very best people to execute the project."
Recently JRA made a number of additions to its team in Cincinnati. The new creative talent includes a few reappointments. "Our new hires have been brought in due to their project expertise to strengthen our existing team," says Schultz. "We will also take advantage of their fresh perspectives so that we never become complacent or fall into the 'that's how we have done it in the past' trap."
New hires
As Executive Producer, Media, Anita Daugherty is charged with bringing concepts to life while ensuring clients receive the best creative and contractual terms possible. She's currently working on Lionsgate Movie World in South Korea, but has been involved with many previous JRA projects.
Also working on the Lionsgate park is Senior Designer Christie Gronauer. In between her stints at JRA, Christie served as a Senior Project Manager at The Brand Experience and provided services to Exhibit Concepts, Jora Vision and Designs by Alta.
Currently serving in an art direction capacity for Lionsgate Movie World is Tony Schmidt. He previously worked with JRA as a project designer, coordinator, and art director for Ferrari World Abu Dhabi and Restless Planet in the UAE. Prior to rejoining JRA, Schmidt worked at PGAV Destinations.
New hire Elizabeth Hancock arrives at JRA with 20 years' experience in planning, design and project management. Her first role is as Project Leader for Lionsgate Movie World. She was previously a Senior Project Manager for FRCH Design Worldwide and Standards Manager for Luxxotica Retail, North America.
A native of China, Wentao Huang began as a Design Intern and Assistant Art Director at JRA. This was as part of his studies at Savannah College of Art and Design (SCAD). He was hired full time as a Designer upon graduation from SCAD earlier this year.
Taking guests to another place
"After many years in retail design on both the client side and on the architecture/design firm side, I was searching for a new adventure," says Hancock. "I love a good puzzle (the 1,000 piece monochromatic kind to be specific). Theme parks and attractions are that kind of puzzle, blending the visitor entertainment/escape from reality with operational efficiency."
We'll tell them stories in a group setting
"There's no way to predict the future, I know that," says Randy Smith. "But in 10 years, I think our guests will still want us to take them to another place or time. They will still want us to tell them a good story. They will still want to spend some time with friends and family. We will probably use some new technology or other to do that. We'll tell them stories in a group setting. I feel pretty confident in that."
"I do feel that virtual reality and augmented reality, along with other technologies that we are not even aware of now, will continue to evolve and develop," says Schultz. "These will enable presentation techniques that can handle higher throughputs and capacities.
"However, and I am approaching almost 40 years in this business so I am 'old school,' I think there will still be appeal in touching a real artefact, feeling the wind in your face on a roller coaster, and riding through a highly themed dark ride."
One proven way to engage with guests it to make them laugh. And this, adds Schultz, is why he's been so excited to work recently with the National Comedy Center in Jamestown, New York. "The content is fascinating," he says. "Yet what makes people laugh is a much more challenging topic than it appears on the surface."
JRA – designing the attractions of tomorrow
The very nature of a company like the one Jack Rouse founded back in '87 is that it is involved in projects from an embryonic, often pre-conception, stage. Clients are often unwilling to share those projects with the outside world until they move closer to completion. Non Disclosure Agreements are common.
I look back with great admiration and profound gratitude
Here are a few projects from JRA to look out that are not subject to a NDA. The Children's Enlightenment Space at the China Soong Ching-ling Yourth and Science Culture Exchange Center will open in Beijing this November. In Siloah, Jamaica, the Appleton Rum Experience will be telling its brand story as from January. American Airlines' CRSmith Museum is set for a June 2018 debut in Dallas, Texas.
In the fall of next year, The Kodak Experience Center will welcome its first visitors in Rochester, New York. And that Lionsgate Movie World project in Korea that everyone is working so hard on? That will open sometime in 2019.
"From Singapore to Sioux City, from Istanbul to Saudi Arabia, and most places in between, we've enjoyed working with and creating projects for people all over the world," says Keith James. "I look back with great admiration and profound gratitude on what our team has accomplished these past three decades, and I can't wait to see what comes next."
All images courtesy JRA.