The appeal of Charles Schulz's creations is as immediate and compelling as the day Charlie Brown first appeared in print on 2 October 1950.
Two days later, a beagle named Snoopy padded through the panels with a flower on his head to join him and immortality was assured. Peanuts is still universally relevant today. This can be seen in its decades-long collaboration with NASA, as well as in the brand's partnerships with well-known companies, such as Apple, Cedar Fair, and Universal Studios Japan.
See also: 24.7.20 Peanuts Worldwide to open Snoopy Garden in South Korea / 26.2.20 Peanuts Worldwide and Kilburn Live team up to create new entertainment experience / 27.01.20  The McBride Company creates experiential dining concept 'Peanuts Café'
Blooloop spoke to Craig Herman, Senior Director, Category Management, Peanuts Worldwide, who told us about the Peanuts brand and its enduring appeal, as well as how it is ideally suited for adaptation by the location-based entertainment (LBE) sector. We also spoke with Melissa Menta, Senior Vice President of Marketing, Peanuts Worldwide LLC.
Long-standing partnerships
Peanuts began as a syndicated strip before moving into books, then television specials and movies. It has since been transformed into a 3D experience for the last 30 years in the Cedar Fair parks.
The relationship began at Knott's Berry Farm in Southern California and now stretches to Camp Snoopy and Planet Snoopy themed areas in Cedar Fair parks across the United States. Peanuts characters also serve as park mascots.
"The Peanuts brand is the only children's IP that Cedar Fair uses," says Herman. "It helps to drive families into the park."
A renewed agreement extends the license to 2025 at all 11 Cedar Fair parks. The Peanuts characters' association with Halloween, Christmas, and other holidays has also created new marketing opportunities for Cedar Fair. Peanuts-themed events attract thousands of visitors during off-season periods.
"Using that model as a jumping-off point, we have been busy building our LBE presence across the globe, seeking quality partnerships where we can extend the Peanuts brand experience," says Herman.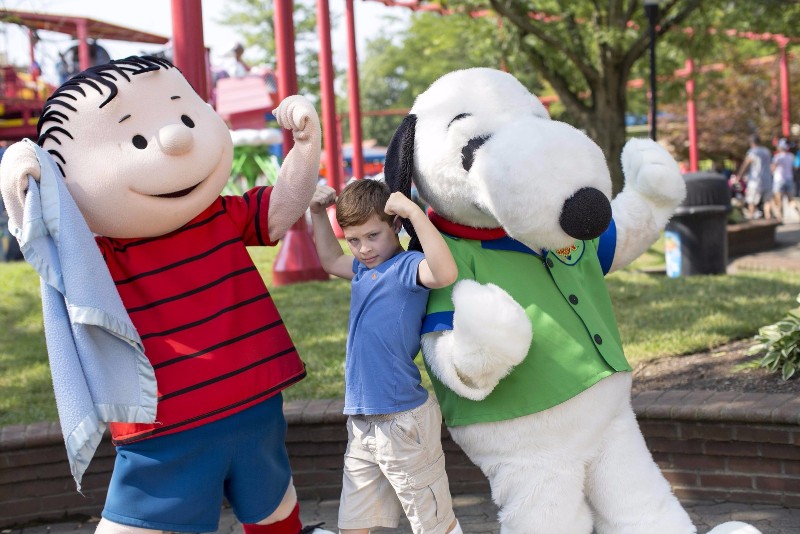 The Peanuts brand and Universal
Snoopy Studio debuted at Universal Studios in Osaka, Japan, when the park opened in 2001. It features the Flying Snoopy and Snoopy's Great Race rides, as well as the Snoopy Sound Stage Adventure. There are hands-on games and attractions.
Snoopy Studio proved so popular that the family area expanded into 'Universal Wonderland', adding additional family-friendly IP.
Seasonal activities include trick-or-treating with the Snoopy and Charlie Brown costume characters. There are also various arts and crafts projects.
Location-based entertainment
Herman says that the use of the Peanuts brand within the LBE sector is a dynamic phenomenon:
"It encompasses our popular cafes that are a hit in Asia. In addition, stage shows are becoming extremely important to the LBE category; a stage version of A Charlie Brown Christmas, now in its fourth year, will visit 45 cities across America."
The show runs from the 20th November to the 29th December 2019. The show is a Todd Gershwin Production, with a musical score by Vince Guaraldi.
The popularity of the Peanuts brand
"Having identified LBE as a growth area, I've been working with an outside advisor, George Wade [President of Bay Laurel Advisors, a leader in the development of high-end, mixed-use entertainment projects, and expert in branding and brand development within the LBE sector], and meeting with potential partners across the globe.
"The Peanuts brand is dynamic and is appealing to a very broad set of demographics, young children, millennials, parents and grandparents, which is especially appealing in the world of Location Based Entertainment.
"With the launch of our new animation on Apple +, we have received an excellent reception from potential LBE partners and have a number of projects in discussion"
View this post on Instagram
New projects in Asia
Peanuts celebrates its 70th Anniversary in 2020. In the run-up to this, two exciting new LBE projects will open in Asia.
One is Snoopy Garden, a botanical garden on Jeju Island in Korea. The second is the Baseball Hall of Fame and Museum in Taiwan.
These demonstrate the brand's unique potential for organic expansion and original creation. Each project reflects key values and content that have been part of the Peanuts universe from the beginning.
A home run for Charlie Brown
The target opening for the Baseball Hall of Fame and Museum and the adjacent hotel is November 2019.  "We were excited by this opportunity since baseball has always been a key storyline in Peanuts and is a fantastic way to make the guest experience to the Taiwan Baseball Hall of Fame even more dynamic," says Herman
The project is developed by the Brother Hotels Group. Its Chairman, Hung Teng-Sheng, is a former baseball star. He is the creator and organiser of the Taiwan national baseball league.
Two floors will be devoted to Peanuts, featuring a range of games and activities designed to test (and improve) guests' baseball and motor skills. There will also be a food service and dining area, a crafts area with activities for kids of all ages, and merchandise and retail spaces.
The adjacent Fame Hall Garden Hotel features ten individually Peanuts-themed rooms and includes sports-related décor, Peanuts-centric panels, bedding, and etched glass.
The trend for museum hotels
Jenwei Hong, president of the new development, told Blooloop:
"The Baseball Hall of Fame and Fame Hall Garden Hotel is catching up with the emerging trend of museum hotels.
"The museum itself is shaped like a baseball with a diameter of 32 meters. It consists of four floors and has a five-star hotel connected to it. The hotel boasts 128 rooms and a garden as well as gift shops, five restaurants, event and conference spaces.  There are also two baseball fields (outdoor and indoor) and one indoor badminton court.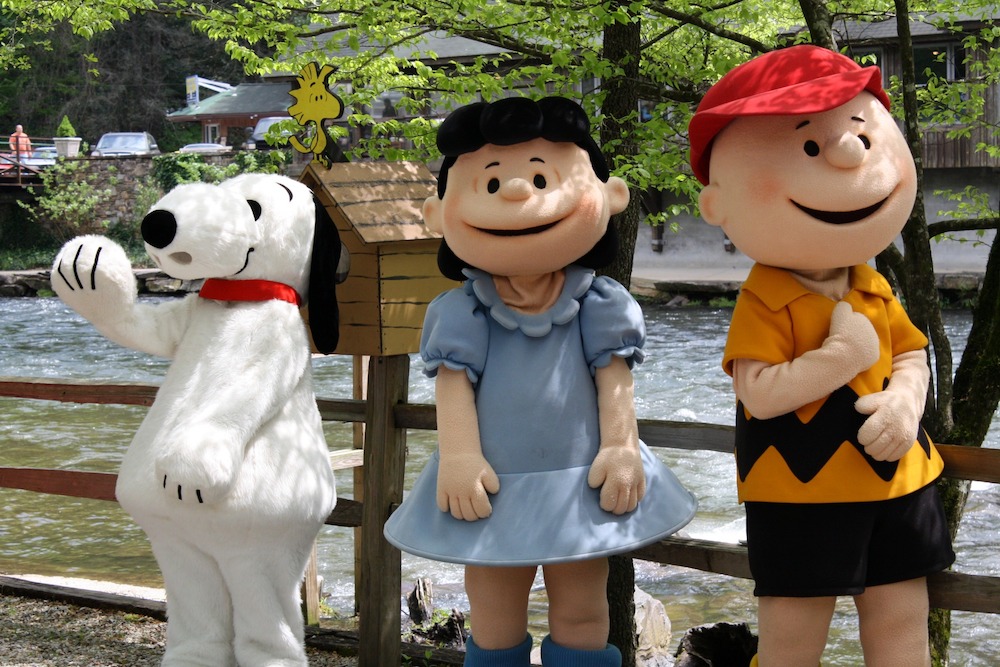 "Visitors need not be die-hard baseball fans. It will be a fun, engaging museum experience for people of all ages.
"We feel so excited to be able to work with the Peanuts brand and push the boundaries of innovation and creativity. We really look forward to seeing the concept come to realisation. It will be amazing."
The nature of Peanuts
The second major LBE project in Asia, Snoopy Garden, on Jeju Island, South Korea, will open in March 2020.
Jeju Island is a UNESCO World Heritage site famed for its natural beauty and volcanic landscape. It is also the sister city to Charles Schulz's home city of Santa Rosa, California,
Snoopy Garden is owned and operated by the family-owned Namhai Construction Corp. This is a nature-friendly, experience-themed garden following seasonal motifs from Peanuts. It covers 21,014 square feet of private arboretum.
A 20,000-square-foot Indoor Garden House serves as a welcome centre. Its theme, "Life Is," introduces the Peanuts characters and storylines for visitors.  Exhibits include Hello, Peanuts, which introduces the comic strip and characters, Snoopy Imagination, an artist showcase and the Happiness Is exhibition and workshop.

Merchandise will be available in the Peanuts Gang Store as well as food and drink in the Woodstock Café. Herman says, "The project allows guests to enjoy the natural beauty of Jeju while at the same time interact with the Peanuts gang. It is a great merger of entertainment and nature!"
Seasonal offerings at Snoopy Garden
The Outdoor Garden will feature seasonally changing plantings and 60 sculptures. 12 themed zones celebrate Snoopy and other Peanuts characters, as well as key themes from the storylines.
In addition, a host of family activities will be on offer in the idyllic surroundings. This includes seasonal Arts and Crafts, agricultural exhibits, hands-on learning experiences, movie screenings, and multiple food and beverage offerings.
Woo-Suek Kim, Founder of Snoopy Garden says:
"It brings me great joy and honour to have the opportunity to be part of such a great brand and to bring to life the first-ever Snoopy Garden. I hope that the Snoopy Garden will bring happiness to all visitors who experience it."
Not lost in translation
Melissa Menta says that one of the things that makes the world of Peanuts special is its capacity to be translated into so many different formats:
"We saw that when it went from the strip to the television specials, and now to the feature films and short-form content. Charles Schulz was ahead of his time. A four-panel strip is just a really short message that everyone can relate to.  This, along with the deceptively simple drawings, is why he resonates so well on social media channels. It is a form that works socially, and it also works in amusement parks."
Snoopy goes social
Peanuts is on Instagram, Facebook, and Twitter. Here, the brand proves a far-reaching, creative, and engaged social media presence. It has 16.5 million total fans/followers on Facebook, Twitter, and Instagram. The brand has over 2 million fans on Instagram alone and has an annual reach of over 2 billion.
"Peanuts resonates with multiple generations," says Herman. "An older generation identifies with Peanuts characters from the comic strip, whereas kids identify with Snoopy and his many personas.
"Whether male, female, younger, or older, there's something for everyone; consumers bring something of their own personality to Peanuts. And they each take something from the characters. Everybody finds a point of connection."
A bite of the Apple
Apple TV+ is the new content partner for Peanuts Worldwide. Under this new agreement, WildBrain, Peanuts' parent company, and Apple will create original content featuring the iconic characters. The first production, "Peanuts in Space: Secrets of Apollo 10," debuted on the Apple TV app in May 2019.
The original short film was directed by Oscar-winning director Morgan Neville and starred Jeff Goldblum and Ron Howard. "Snoopy in Space" will debut on Apple TV+ streaming service on November 1 across the world
Herman says: "Potential partners are really responding to the new content from Apple TV+ as there hasn't been new content since the 2015 Fox theatrical release, The Peanuts Movie.
"Going forward, we will continue to have new content on the streaming channel; I think what really hits home for us and resonates with our partners, is not only that Peanuts is still relevant, but looking into the future it is still a vibrant brand."
STEM education from Peanuts and NASA
Menta explains how the relationship with NASA began:
"Space travel was an unknown entity and a little scary to the public. So, the Peanuts gang was able to lend a friendly face."
"NASA went to Charles Schulz and asked if Snoopy could be the face of the safety campaign for the Apollo missions. It was so successful that they named their employee recognition award the Silver Snoopy in 1968.
"Astronauts on Apollo 10, the practice mission to the moon, asked Schulz if they could name the command module Charlie Brown and the lunar module Snoopy. So it is a collaboration that started in the mid-60s."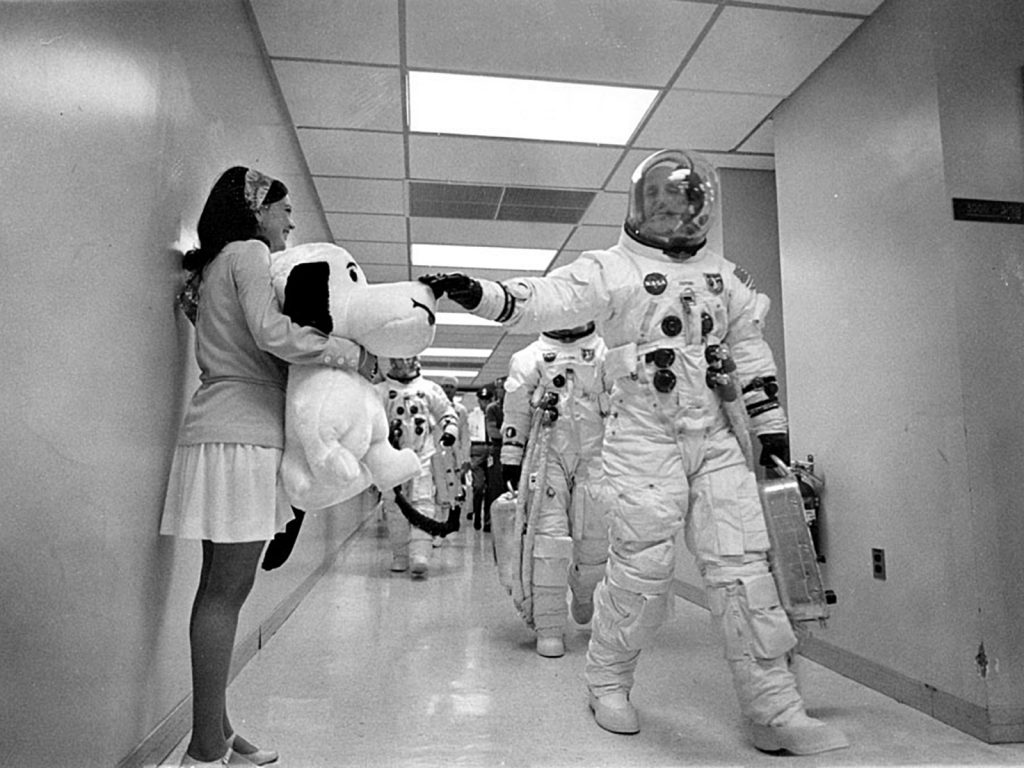 Continuing its 50+-year relationship, Peanuts and NASA are teaming up to inspire young people with Peanuts-centric STEM education focused on future space exploration. "The 'Snoopy in Space' series will be part of the STEM content that we are creating now with NASA," says Menta.
Standards-aligned school projects will offer students—under the guidance of Snoopy and Charlie Brown—the chance to create their own space vehicles and test hypotheses.
Halloween with Peanuts
"Regional activations play a big part in the LBE strategy for the Peanuts brand," Herman says. "A regional vintage rail operator presents events themed to Halloween and Valentine's Day, and the Dallas Arboretum just completed a Great Pumpkin-themed event.
"We have five individual events this year tied to the Great Pumpkin. That is complemented by the Dallas Arboretum's fall festival, focusing on It's the Great Pumpkin, Charlie Brown."
Dallas Arboretum featured a 'Great Pumpkin' covered in marigolds, topiary characters such as Linus, Sally, and Franklin looking through the pumpkin patch, and Snoopy and Woodstock topiaries on his doghouse; Lucy will be giving garden advice at her advice booth and Schroeder will be standing near his giant topiary piano.
Guests can snap selfies with Charlie Brown, Peppermint Patty, and Marcie behind the iconic brick wall. They can get lost with Pig Pen in the hay bale maze, and see the Peanuts Gang at their gourd-decorated schoolhouse for their autumn carnival.
A Charlie Brown Christmas on ice
Marriott's Gaylord Hotel will feature an exciting Ice Exhibit, giant ice carvings depicting scenes from A Charlie Brown Christmas. Now in its fourth year, the exhibit is a popular attraction in North America. It will be presented this year in Dallas, Texas.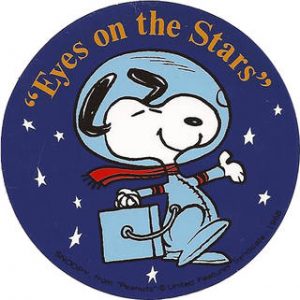 Peanuts previously participated in ICE! Shows in Orlando, Nashville, and the Washington, DC region. A Charlie Brown Christmas will include two-storey ice slides and larger-than-life ice sculptures. It will also feature hand-carved scenes from the Peanuts Christmas television special.
The enduring appeal of the Peanuts brand
"In any country, in any language, at any age, Peanuts creates shareable memories in our lives," says Herman. "That's why, after nearly 70 years, Peanuts continues to be relevant across the world.
"The platforms and venues and technologies may evolve, but every audience feels a kinship with the Peanuts characters. That is the essential, timeless genius of Charles Schulz."