Blooloop caught up with Raymond Hole of Ray Hole Architects, which specialises in cultural and lesiure based projects, on the launch of his innovative venture, the Pharah Foundation.
He spoke about his journey, the new Pharah Foundation, and the ethos that underpins a far-reaching philanthropic vision.
Not 'attractions', just work
Having qualified as a civil structural engineer, Hole worked in central government in a number of departments; from the Home Office to the (then) Ministry of Agriculture, Food and Fisheries to the MoD.
He tells Blooloop: "There were some interesting projects. We did Kew Gardens, as an example; the Princess of Wales Conservatory and the Palm house rebuild. We did the Tower of London. There were a number of similar projects we became involved in through various ministries. I didn't refer to them as 'attractions': they were just work."
A change of narrative
At the age of 26, Hole's career took a new direction.
"I decided that I needed to change narrative within the industry. So I went back to university for eight years, to become an architect. That gave me this interesting multidisciplinary grounding.
"In central government you are doing everything from a nuclear submarine base in Faslane to the forensic laboratories up at Sheffield; to Kew Gardens, to the Tower of London.
"It was an incredible time, but at that point I didn't appreciate it."
The acquisition of the government agency, Property Services Agency (PSA) by Tarmac Group Ltd led to more commercial work. Hole says:
"We were competing against others, and won a few interesting competitions. One was the rainforest house in Hanover. It was relatively straightforward, and introduced me to Volkswagen; who were paying for the project.
"And on the back of that, we did Autostadt in Wolfsburg, Germany; which is probably the best automotive experience in the world. And that really catapulted me into the world of visitor attractions."
A fantastic vision, but not for all
In the wake of the project, Hole joined the Autostadt content designers, Furneaux Stewart. He says: "The vision was that we would create something like a Bauhaus or a Royal College, where you had all disciplines represented."
But: "While it was a fantastic vision, clients wouldn't buy it."
Identifying the reason for this, he says: "Very rarely do clients choose a one-stop shop. It could be the best decision they made, or, alternatively, it could be a mixture of very bad decisions. And so they generally spread their risk across different consultants.
"But what we did win was the Snowdon (Hafo Eryri) Summit Visitor Centre project; one of the most successful projects in the country. It took nine years from inception to opening.
"That was a really long gestation."
Corporate DNA of Ray Hole Architects
Hole was engaging on a much broader platform of visitor attractions across the sectors.
At this point, John Furneaux became ill. Hole says: "He was the engine behind the brand. Without John, everything went downhill."
Hole took over the company, narrowing the focus to pure architecture.
"If you look at Companies House, it goes from Furneaux Steward Ltd, to RH Architects Ltd and then becomes Ray Hole Architects Ltd.
"So that, if you like, is the corporate DNA."
It was while considering the company's future trajectory that Hole met Joe Pine in Orlando.
The Experience Economy
"In 1999, Joe Pine and James Gilmore published an influential book entitled the Experience Economy – Work is Theatre and Every Business a Stage; in which they demonstrated that any business could enhance economic value and strength by staging engaging experiences.
"We appeared in that first edition, with the Volkswagen project.
"As Joe pointed out, there were a few people like ourselves who were intuitively applying the experience economy philosophy to projects, without having the vocabulary to express exactly what it was we were doing.
"What Joe provided was that vocabulary."
Since 1999, Hole and his associates have been applying that philosophy, which was to be the genesis of Ray Hole Architects.
Experience is a sexy word
Hole says: "Interestingly, in terms of commerciality, until 2008 we didn't have many projects to do.
"Everybody in the experience economy tended to focus on 'experience', because it's a sexy word.
"We focused on the economic aspect."
Until 2008, money was plentiful. This, Hole maintains led to some poor decisions. He cites the Millennium Projects as an example:
"They were somewhat over-funded projects with and an unsustainable business model.
"As soon as the economic crisis of 2008 hit, we have never been more in demand; because we put forward an economic base, centred on the experience. And, working with a number of other people, we created a strategic model which led to success.
"2008, although it hurt a lot of people, was actually an epiphany for us, as a business."
Beginnings of the Pharah Foundation
2018 sees the launch of the Pharah Foundation by Hole and his co-founder, Petya Angelova.
It is, according to the website, dedicated to 'reimagining, redefining, realising and rebalancing the habitats and the relationships between all the species of animals, plants and humans on the planet'.
Hole says: "Although we think we have an understanding of the experience economy, how to put those metrics together and so forth; very often what is missing from that equation is the soul."
In the past, Hole has occasionally – and reluctantly – walked away from projects. He explains:
"I hate doing that, because it is almost like failure. On occasion I have said, I don't think we can do this project, because while we can make it economically sound, I'm not sure it's going to have the integrity.
"The commercial, economic aspect is easy. But when you take on the emotional aspect, it is very draining."
The importance of giving back
Altruism has been a key motivation throughout Hole's career. He says:
"Giving back is important. I have been the recipient of so much altruism myself; from when I was back at school, and through my early career.
"So when somebody has come to me saying; can you help, or can you fund, or can you do something; I have put my hand in my pocket, or turned up somewhere, or given give advice, or whatever is needed. But it was all a bit ad hoc. There was no sort of navigation."
He realised that by establishing a foundation, he could manage and apply resources strategically.
"And that," he adds, "is quite empowering. The Pharah platform is that we are interested in any kind of scenario. It doesn't have to be project based, which creates a sweet spot from:
a social,
economic,
environmental,
and political standpoint.
"It can be asymmetric, where we become involved to create balance between those four criteria. On the website, there are projects there which adhere to those principles."
Footprints, Plastic and Wildlife
There are three projects the Pharah Foundation is focusing on initially: Pharah Footprints, Pharah Plastic and Pharah Wildlife.
Pharah Footprints is a project which aims to forge an emotional engagement in primary school children for endangered species. Ambitious in scope, the premise is simple.
Hole explains: "It grew out of a mini project we were doing for a beautiful little municipal zoo in Ealing; where a lot of the work is done by young offenders. And it just inspired me.
"Footprints came from the question: how can we very simply but quite poetically engage a young audience?"
Every year, the International Union for Conservation of Nature (IUCN) publishes its Red List of Threatened Species; the world's most comprehensive inventory of the global conservation status of biological species.
Hole says: "All the species have colour codes. We just create a piece in a playground, or on a wall, expressing that information through an array of footprints. The children that paint those stencils, in a very simple ceremony, are emotionally engaged because they know the remaining numbers of that antelope or rhino. And when they keep checking on the app or on the IUCN website, they can see whether the numbers have either declined further; which is an emotional moment, or have improved; which is also emotional."
The idea is to bring Pharah Footprints into every primary school.
Hole says: "There are 21,000 primary schools in Britain. These children will become citizens; the electorate, and the executive."
If every one of those children has painted a stencilled footprint and forged an emotional connection to the other species that share the planet, then positive change will happen.
"Initially, Footprints will start in schools and youth clubs known to us. I'd like commercial developers to put these as a centrepiece; rather than having some esoteric art piece that cost millions. I'd like to put all the extinct species in the ground plane."
Kids will get it, and they will love it.
"Plastic is the demon"
Pharah Plastic is a groundbreaking proposal which, by conflating two challenges, goes some way towards overcoming them.
Hole says: "If we pull this one off, I do think we really change the world."
He explains: "I always work on the basis that if there is something being demonised, it can't be the whole truth. At the moment, plastic is the demon.
"The government, has made two pledges which are going to be really difficult to deliver. One is to build one and a half million houses in four years, and the other to resolve the plastic issue within 25.
"As single issues, they are almost impossible to achieve."
The plastic issue
It occurred to Hole that it would be interesting to see if the issues could be made easier to solve by combining them.
https://www.youtube.com/watch?v=tEkOheG4vnk
"Everyone is thinking about stopping using plastic, and getting rid of it.
"We are still saying we will stop using plastic, which means there will still be a big plastic dump. It may be ring fenced, but it will still be a dump. Because we are still using fuel, and peak fuel won't change until around 2035, according to BP's projections.
"At some point we are going to have to find a use for the commodity that we currently use as fuel. And so why don't we build things that are really valuable?"
He continues: "The two most valuable things any of us buys are our houses and our vehicles.
"Ford are already looking at a total plastic car; including the engine, as we move to electric cars and dispense with the old combustion engine. And plastic is a product of the fuel that runs a combustion engine car.
"So we have a commodity that could make plastic, creating things that are really valuable."
Where do disposable plastics go?
As Hole points out, it is disposable plastic that is a problem.
"Firstly, it takes a hell of a long time to break down. And it breaks down into pieces, so we have microbeads and the fibres which are actually more dangerous than a plastic bag, in many instances.
"It gets into our food chain, it contaminates the oceans; and you can't budge it easily.
"If you put all those plastics into a house, the house doesn't go anywhere. You have locked up plastic and made something really useful.
"Effectively, using British waste we can solve the housing shortage, reverse the crisis, and have a sustainable commodity that will make about 7 ½ million houses."
A fascinating concept of transforming waste
He adds: "If you work out the tonnage required of trees, the cement, the gravel, the iron ore and the energy; and the measures that have to be taken because timber rots, metal rusts, glass deteriorates, concrete crumbles; you realise they are virtually Neanderthal materials.
"The genius of plastic is that it doesn't rot like timber, or rust like iron.
Not only do we not deplete the environment; at the same time we stop the plastic waste going into the environment because it is actually too valuable. If you put it all together, we have just transformed waste into a valuable asset. It's a fascinating concept."
Hole has put the metrics into a PowerPoint presentation which he has sent to Greg Clark, the strategic business minister; Kit Moorhouse, the new housing minister, and Michael Gove, the environment minister.
Finding the ecological balance between habitats
The third project Pharah Wildlife, comes from an acknowledgement that human habitats are impacting negatively on the habitats of other species; which, in a knock-on effect, is stressing our environment.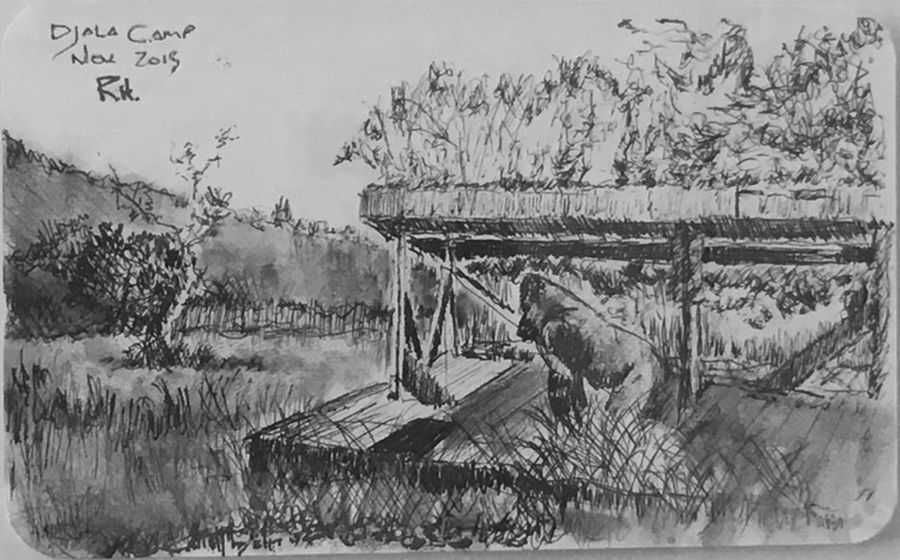 Hole says: "It's an uncomfortable existence. What we are trying to do is work to reintroduce animals to what was their indigenous environment, correcting the ecological balance.
"And how we do that is fascinating. I gave a talk at BIAZA (British and Irish Association of Zoos and Aquariums) where I took the trajectory of the notion of a zoo in a city to its ultimate conclusion; which is a city in a zoo. Here, nature is the canvas, and we happen to live within that balance and environment.
"That process is going to take generation upon generation, but that is why we must have citizen ecologists who are inspired when they are young."
The other platform is Pharah policy; working with government.
Hole says: "The whole of our Pharah platform is designed to bring about a truce where the planet can rebalance, replenish and repair.
"So that is where Pharah comes from, and effectively we have our own projects. We raise money to fund our own initiatives, and also to fund projects which are out there that need help."
Initiatives that Pharah are helping to fund appear on the website in the News section: the Campaign Against illegal Trade in Indonesian Songbirds, in association with Chester Zoo; Supporting Greater Adjutant Storks nesting sites in India, in association with Paignton Zoo; Not Just About Saving the Zebra, in association with Marwell Wildlife; a number of conservation initiatives in association with the Aspinall Foundation; the funding of a veterinary nurse to treat vultures attracted to and inadvertently injured by kites at the Indian Kite Festival.
"Education is at the heart of things"
The Pharah concept doesn't overlook the fact that humans are animals, too.
Hole explains: "My upbringing is very working class. I was brought up in Peckham, and have, through education, been able to be socially mobile. I was lucky enough to go to a good school, in south London; and then lucky enough to go to university again as a mature student.
"Education is at the heart of things, and it catches me on the raw when I see human environments where that is not the case.
"So one particular project close to my heart is the Pedro youth club. It is one of the oldest youth clubs in Britain, and is run by a friend of mine. I used to train him when he was an amateur boxer."
The friend in question, former European and British Super-Middleweight Boxing Champion, James Cook;  alerted to the plight of the Pedro Youth Club, set about organising a rescue programme. He formed a new management committee, and the Club reopened in 2003.
The Pedro Youth Club
The Club offers a variety of activities including boxing, football, singing, music, dance, fitness and art; and is an invaluable resource for local young people.
Its built landscape and infrastructure still requires refurbishment and improvement.
The Pharah Foundation assembled consultants to consult the local community, then process and obtain planning permission for the essential works, and is now fund raising. Hole says:
"The Pedro Youth Club is based in Hackney, and is almost ground zero in the Murder Mile.
"If you are a young black male in London, in many instances, you are an endangered species. It is another instance of predator and prey.
The program with James is based on trying to make Pedro into the most visible and acoustically loud beacon. Jim is doing a good job, but I just want to help him."
From endangered to beacons
At the other end of the human spectrum is the Nigel James Coaching Programme; an elite football academy, where the access is irrespective of economics:
"These young men and women come out of there not only with incredible sporting prowess, but as rounded citizens. It's a fantastic environment.
"So these last two projects concern endangered humans who can go on to become beacons. They are catalysts, so this program goes on beyond us. After all, they are all legacy projects."
The other half of the Pharah Foundation
Petya Angelova is the other founding member of the Pharah foundation, and Hole's practice administrator at R.H Architects. Describing her as "the other half of the equation", Hole says:
"She has sensitivities for certain nuances, coming from Bulgaria, a country where some practises at a human and an environmental level are not ideal. Having that mixture between us of culture, life experiences, age and gender is interesting, and informs what the foundation is about."
To inspire and change the world
Hole believes that often progress is prevented by the fact people feel compelled to behave within certain boundaries that are imposed by the four platforms he references: social, economic, environmental and political. He says:
"It is interesting, as a consultant, that we are servants to masters. Very often we find ourselves begging for the right thing to be done, but we know our place; and it is easy to make yourself commercially uncomfortable. If you can't get planning permission for something, or if the environmental costs are excessive, or you are driven into socially and politically difficult waters, guess what: the clients are hamstrung as well. I have, on occasion, as I said, walked away from projects.
"But the beautiful thing about a Foundation is that at one level it is a box in the Speakers' Corner: nobody can tell me to shut up.
"What we are doing with our resources, really, is to inspire. And perhaps we will change the world."
All images courtesy of Ray Hole Architects, Pharah Foundation, Pedro Youth Club and Nigel James Elite Coaching.