Aardman Animations Ltd., the award-winning UK studio, is teaming up with Fictioneers to deliver an augmented reality Wallace & Gromit story this autumn.
Aardman Animations Ltd. is pleased to announce that the first-ever augmented reality (AR) Wallace & Gromit story will be released this autumn, in collaboration with Fictioneers. The Big Fix Up is a first of a kind story featuring the iconic duo and will bring fans directly into the adventure, thanks to AR technology.
Fictioneers is a consortium of British companies including Potato, Sugar Creative and Tiny Rebel Games. In partnership with Aardman and with research support from the University of South Wales, the team is creating an AR and mixed reality experience featuring the much-loved characters, backed by funding from UK Research & Innovation (UKRI).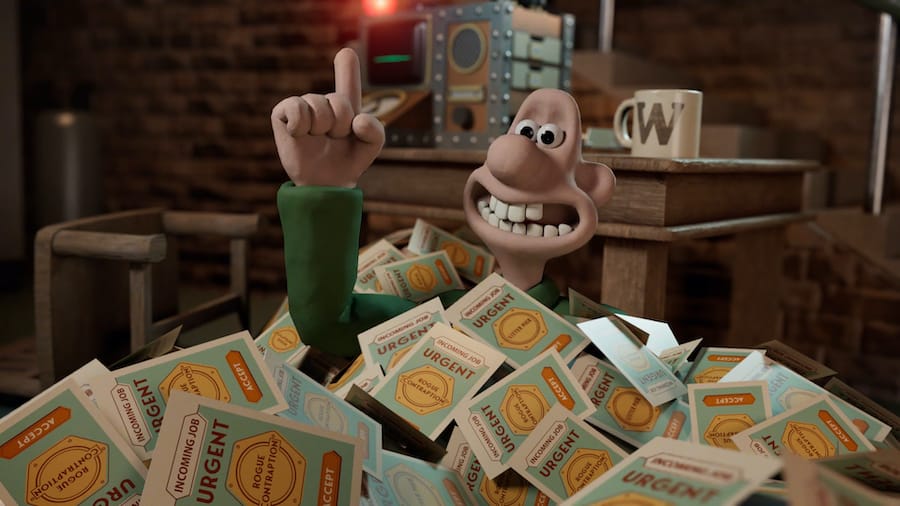 Wallace & Gromit: The Big Fix Up
This new experience will bring Wallace & Gromit to life using the latest storytelling technology, allowing fans to interact with them in an exciting new way. This autumn, the pair's latest business project, Spick and Spanners, will be taking on the job of a lifetime: to 'fix up' Bristol. Fans can play along from home through a free app, taking on the role of an employee.
The storyline will unfold through multi-user AR gameplay, new CG animations, in character phone calls, comic strips, Extended Reality (XR) portals and more, all through one app. It is set in Aardman's home city of Bristol, UK, but players can join in from home wherever they are. All they need is a smartphone. Following the UK launch in the autumn, Fictioneers aims to roll out The Big Fix Up globally.
Immersive adventure
Fictioneers was chosen by UKRI as part of its Audience of the Future program, part of the Government's Creative Industries Sector Deal. The consortium was awarded a multimillion-pound R&D grant to explore and pioneer cutting-edge immersive experiences. The Big Fix Up is also part of Boundless Creativity. This Arts and Humanities Research Council campaign explores the impact of lockdown on culture and the creative economy.
Susan Cummings, Co-Founder of Fictioneers and Managing Director of Tiny Rebel Games, says: "We're thrilled to be working with our friends at Aardman to deliver the first augmented Wallace & Gromit story. We, at Fictioneers, are on a mission to innovate storytelling with our groundbreaking methodology.
"It is a rare privilege to be able to do so with some of the most beloved animated characters in the world and to give fans the first opportunity to join in Wallace & Gromit's story."
Aardman's Merlin Crossingham, Creative Director of Wallace & Gromit says: "Aardman is a multi-faceted creative studio and is just as happy with classic film making as it is with new and emerging technologies. Wallace and Gromit's heart and soul is in stop motion, but they have often dabbled in the cutting-edge of tech, and this is one of those occasions.
"We are delighted to join forces with the amazing folk at Fictioneers to take Wallace and Gromit on a new adventure in such a groundbreaking way."
Earlier this year, Aardman Animations announced it was collaborating with the University of Liverpool's Centre for Architecture and Visual Arts (CAVA) to develop an immersive Shaun the Sheep experience for China.