The world's first Cartoon Network Hotel is set to open in June 2020, with the website now taking reservations for next summer. The themed accommodation is the result of a partnership between Cartoon Network and Palace Entertainment.
Cartoon Network Hotel is designed by Cartoon Network's in-house creative/marketing team, and with RHETRO & Co, a global leader in entertainment design and brand strategies for the attractions industry.
The hotel will have 165 guest rooms and 'dream suites' inspired by Cartoon Network characters from shows including Adventure Time, We Bare Bears, and The Powerpuff Girls.
Each guest room and suite will feature interchangeable show theming that can be customised to suit children's preferences.
"The Cartoon Network Hotel will be unlike any other property in the region," said Rolf Paegert, chief operating officer of Palace Entertainment.
Rooms will feature theming that can be customised
"Cartoon Network characters and theming will bring the property to life and offer magical, interactive experiences around every turn.
"This hotel is going to set the standard for guest-focused, themed lodging immersion."
The nine-acre destination will also include a restaurant called Cartoon Kitchen, an indoor pool, games room and kids play area.
Other facilities include an interactive lobby, a resort-style pool and water play zone, an outdoor amphitheater with an oversized movie screen, lawn games, and fire pits.
Dutch Wonderland theme park adjacent to hotel
According to the website, Cartoon Network Hotel is "everything you love about Cartoon Network in one fun family resort".
The Cartoon Network Hotel is located in Lancaster County, Pennsylvania. It is adjacent to the Dutch Wonderland theme park.
"This is going to be a game changer," Paegert said in October 2018. "With sleek contemporary designs that parents will appreciate and Easter egg type surprises for kids throughout the resort, the entire family will love this place.
"Cartoon Network's stories and themes appeal to everyone in a fun whimsical way."
Cartoon Network characters and theming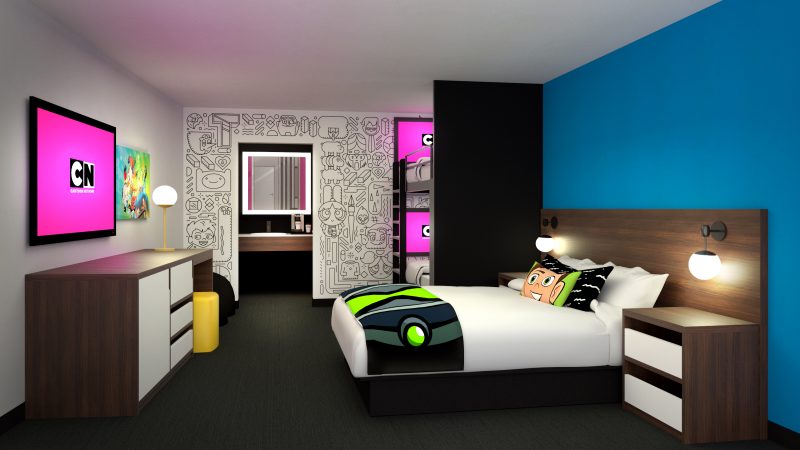 In more hotel news, Liseberg has been given the green light for the Grand Curiosa Hotel, while the Legoland Pirate Island Hotel is opening in 2020 at Legoland Florida Resort.
Elsewhere, Disneyland is planning a new 350-room Disney Vacation Club timeshare project. The 12-storey tower will be located adjacent to the Disneyland Hotel in Anaheim.
Images: Cartoon Network