Leading experience design company, Holovis, is celebrating the opening of brand new attraction, Justice League: A Call for Heroes, at Madame Tussauds Orlando.
The walk-through attraction is one of the most immersive experiences ever produced by the Madame Tussauds brand worldwide. Guests engage with the wax figures on a whole new level, thanks to interactive sequences using a combination of projection mapping, enhanced audio and SFX.
Holovis worked closely with the Merlin Magic Making team to design, produce and deliver the AV, show lighting and interactive elements for Justice League: A Call for Heroes. The Holovis media team created the bespoke immersive content and show scenes, working with the iconic IP from the 2017 Warner Bros film.
"This attraction is breaking the mould for Madame Tussauds by letting guests interact with and star in the attraction alongside the wax figures in a way never before experienced," explains Jon Tozer, Experience Designer at Holovis.
"We believe that the best technology is invisible, facilitating an amazing experience but without the guests being aware of the high-tech environment around them, and that is exactly what has been delivered. Guests are immersed in complex AV and interactive technology, but they remain the star and the focus throughout."
The narrative begins with the premise that LexCorp's experimental technology has gone haywire and is threatening the world. Guests are invited to help The Justice League save the innocent citizens of Metropolis and Gotham City. At the same time, they need to discover a way to stop Lex Luthor's out-of-control experiment before it's too late.
'Madame Tussauds like you've never experienced'
Interactive elements include striking Wonder Woman's signature power pose and helping Man of Steel to lift a helicopter to save it from crashing. Of course, only Superman has the power to thrust the helicopter back into the sky – at which point, guests will be the first to experience a dynamic, fully-articulated Madame Tussauds figure that actually moves.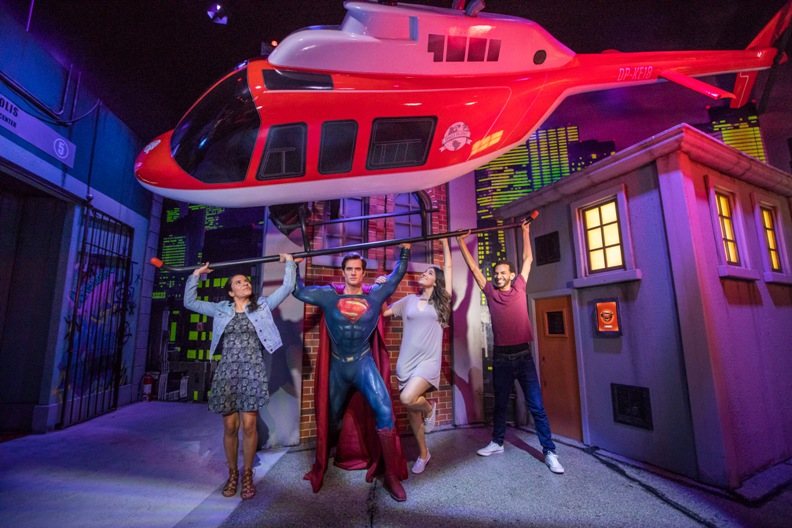 "You have to see it to believe it!" enthused James Paulding, Regional General Manager – South East – North America at Merlin Entertainments.
"From the unbeatable roster of DC Super Heroes to all of the sensational, high-tech elements – this is Madame Tussauds like you've never experienced."