The first Licensing Week Virtual, organised by the Global Licensing Group and Licensing International, took place from June 15-19. The event brought 4,477 licensing industry professionals together from around the world.
On average, attendees spent over 23 hours on the platform, engaging with an average of seven pieces of content. In total, there were 32,000 unique content views throughout the week. This highlights the need for industry education and network-building at the moment.
Virtual meetings were popular
There was a mixture of live and on-demand sessions on a variety of topics, from esports to what licenses need to do to survive and thrive in a post-coronavirus world.
Top global retailers attended the event, from John Lewis to Moonpig, Primark, C&A, Target and more.
42& of attendees stated that they finalise and make the purchase decisions for their company. A further 39% said they influence or recommend purchase decisions.
This high-level of senior attendees at Licensing Week Virtual led to 2,933 virtual meetings. This is nearly the same number of meetings that took place at the live Licensing Expo and shows the importance of networking within the industry, even if they are virtual.
Industry trends
The event looked at new industry trends, that were split into four categories: Brands & Lifestyle, Character & Entertainment, Art & Design and Emerging Categories.
As brands try to navigate a post-coronavirus world, attendees at the event learned that consumers look to nostalgia for support during turbulent times. Brands should, therefore, leverage their power of nostalgia.
Furthermore, consumers are increasingly concerned with the ethics of brands. Those that stand for human rights, sustainability and other social causes will see their interest rise from younger consumers.
Meanwhile, video streaming is steadily increasing which opens the door for character and entertainment licensing. E-commerce became incredibly important during the pandemic and this shift means that direct-to-consumer opportunities will be even more important for licenses.
Esports and video game influencer are growing rapidly. Brands that partner with this emerging trend have found a lot of promise in these partnerships.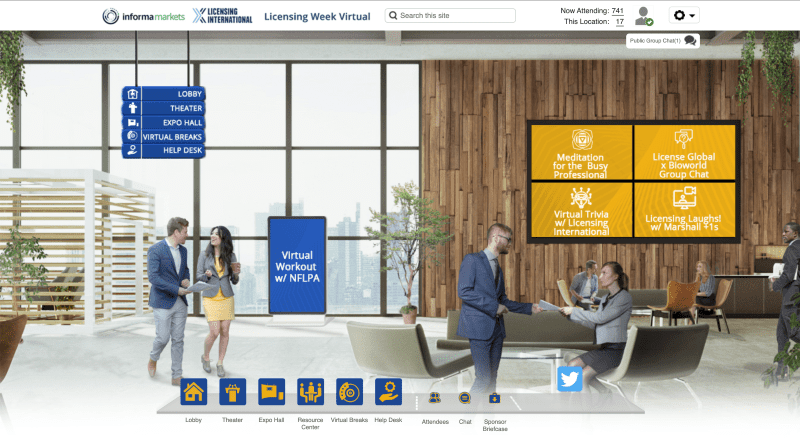 The needs of the community was the priority
"This business is built from connections and the fact that the number of meetings coordinated during the event virtually mirrors the number set up in-person at our live events showcases the industry's immense need for connections and learning, " said Anna Knight, Global Licensing Group Vice President, Informa Markets.
She continued, saying "The most critical part of setting up a virtual event such as this was keeping our community needs at top-of-mind—also realising that not every single element of a live trade show can transfer over to a digital event beat-for-beat. We're pleased with the results of Licensing Week Virtual and will continue to complement live events with digital offerings to continue to reach the broad and agile licensing community."
The Pitch the Brands contest gave investors the chance to present their product to a panel of leading brands. Adam and Misti Fyffe, a husband and wife team, won with their Gentle Soother.