The London Eye celebrates its 20th birthday in March, and will be transforming its pods into immersive experiences for the 'ultimate party'. Visitors will get to ride in a garden, pub, and Buckingham Palace.
The attraction is giving visitors the opportunity to ride in 20 uniquely themed pods from March 6 to March 9, 2020.
Some of the pods will be decorated to reflect London's offerings, while others will host one-off experiences celebrating culture, arts and entertainment in London.
In one pod, guests can take a selfie with the Queen Elizabeth figure from Madame Tussauds while sitting on a royal throne with the backdrop of Buckingham Palace.
Enjoy a beverage in The King Vic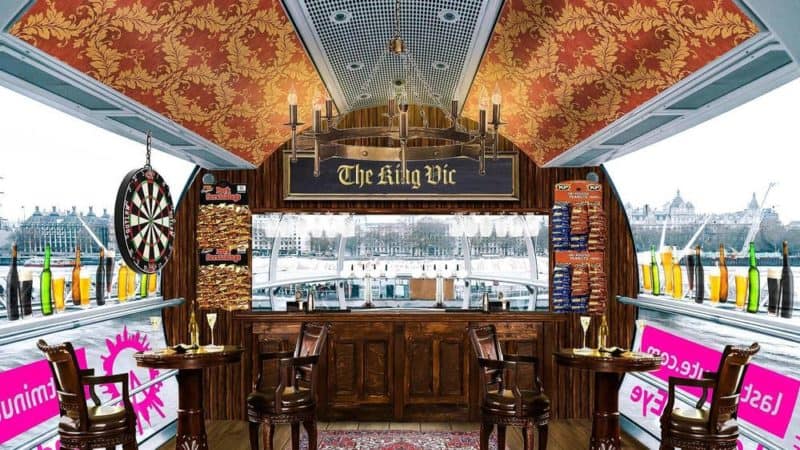 In another, guests can immerse themselves in flowers in a pod inspired by London's Royal Parks, while a third will offer performances of songs from the West End, and a fourth will become the world's first elevated British pub.
Additional experiences include a spinning class with Boom Cycle Waterloo, music sessions with artists from Busk London, a silent disco in the sky, and stories for kids with Hamleys.
More experiences in the London Eye's pods:
Enjoy a glass of Pommery champagne and canapés
Taste craft beers with Five Points Brewing Company
Music, giant party poppers and balloons in the birthday pod
Mixologist brothers create cocktails for guests
Express yoga session with Tri-Yoga
Listen to a quartet from the London Philharmonic Orchestra
Sweet treats for visitors with a sweet tooth
Tea for two thanks to Lyaness at Sea Containers London and Beefeater Gin
Celebrate equality in a pod in honour of London's Pride community
Get pampered with Blow Ltd
The ultimate birthday party for kids with balloons and face painting
The 20th pod is encased in an original design by street artist Ben Eine
Take a selfie with Queen Elizabeth
All proceeds from the London Eye's birthday will be donated to Merlin's Magic Wand, a children's charity that makes Merlin Entertainments attractions accessible to children facing serious illness, disability or adversity.
For more information and to buy tickets, click here.