The city of Roermond and the province of Limberg approached Painting with Light to update the dark pedestrian underpass between the city centre and the Designer Outlet Roermond, transforming it into a fun and informative experience.
Nine million people take a trip to Designer Outlet Roermond each year, and a quarter of these visitors also walk into the city. The company created a new concept with fresh lighting and animations, and also undertook the full technical installation for the project. Now, those who walk through the underpass will see a large print detailing Roermond's tourist highlights.
In addition to this, "Roermondje", an animated mascot, guides visitors as they journey through the walkway, showcasing key landmarks in the city. The installation also highlights the importance of the river Mass and the Roer, and how they play a key role in the city's skyline.
An immersive and educational installation
To achieve this immersive result, Painting with Light used advanced projection mapping technology, with seven projectors and energy-efficient LED lighting. The lighting also changes from day to night, with LED-lines that cover the ceiling and change the atmosphere from daytime to evening.
"This animation is really pulling visitors from the outlet centre to the city centre, triggering them into a visit," says Andy Dritty, Delegate of the Province of Limburg. "Roermond is one of the cities in Limburg, that is very well known, both in Germany and Belgium."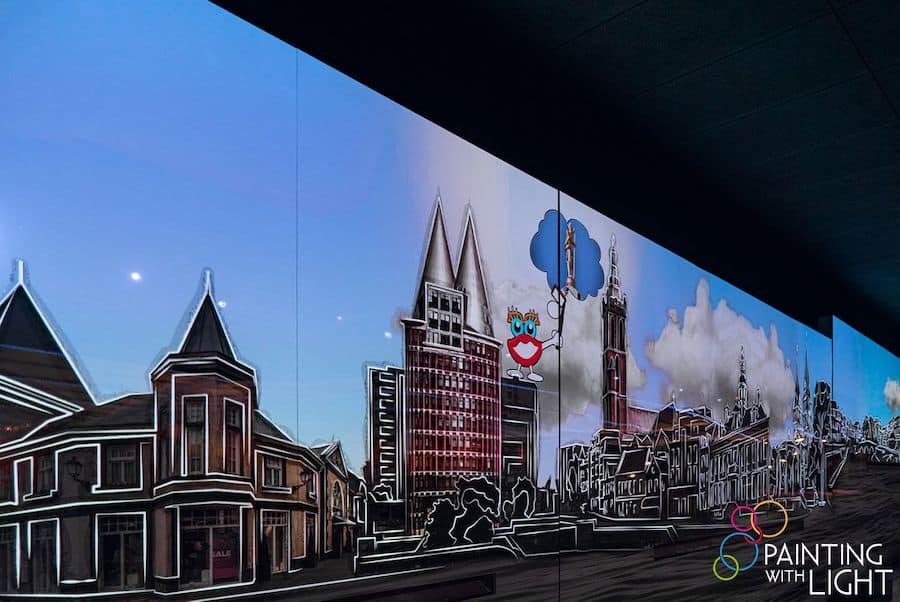 "The connection with the city centre is impressive and really reflects what it stands for – all of Roermond´s highlights are beautifully pictured in a moving and innovative way," adds Rudolf Van Gompel, Director of the Designer Outlet Roermond. "I find the whole installation very inspiring and really believe it makes people happy!"
Painting with Light also recently designed a festive WinterGlow trail in Bruges, Belgium.