Red Frog Digital, a world leader in AR apps & AR glasses specifically for the visitor attractions market, has partnered with PrimEvil for the world's first AR Glasses Horror Experience – The Zombie Holomaze.
PrimEvil, Norfolk's biggest Scare experience, is now into its 9th year. It has grown to become a stand-alone premium event in Norfolk, incorporating the Halloween festival vibe with 5 on site scare mazes "Haunts".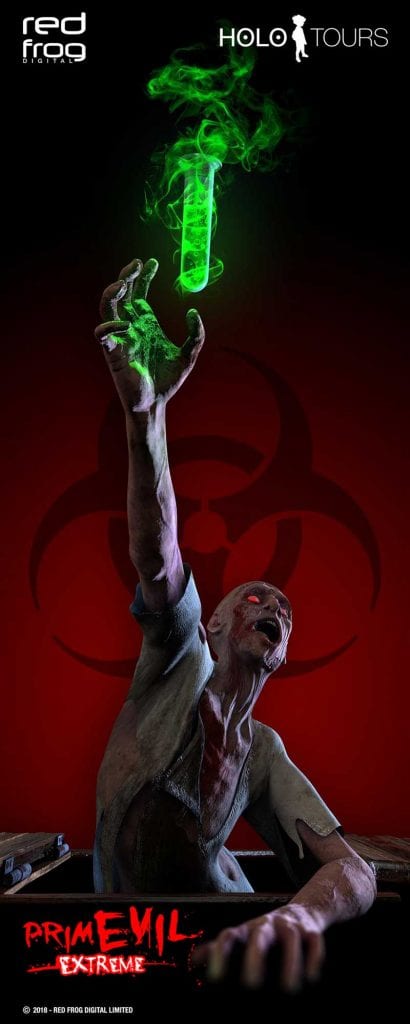 This year the park has also introduced PrimEvil Extreme: two nights when the Park is for
over 18's only and the Haunts will be taken to their Extreme alongside a firework display.
The attraction needed to find something else to give these two evenings an edge and to showcase something new. Red Frog Digital were able to provide exactly that with the Holomaze.
In a statement, PrimEvil said: "Having the
Holomaze at the extreme events mixed with real actors is going to be brilliant way to get a new dimension on the scare entertainment."
Visitors to the attraction will be armed with a head mounted shotgun and be tasked with fending off the hordes of zombies. There will be a points structure with a high score competition running across the event.
Describing the Zombie Holomaze as a cross between a horror maze and an escape room, Red Frog Digital has created the small-footprint solution for venues such as theme parks and malls – anywhere looking to refresh their offering with a horror attraction. The company also points out that one of the key benefits of an AR solution is that there's no need to hire and train live actors.
Based in the UK, Red Frog Digital is an award-winning digital studio specialising in augmented reality, AR glasses and stunning 3D content.
PrimEvil is Norfolk's largest scare experience located at Norfolk Dinosaur Park. It had over 20,000 visitors over 16 nights in 2017.
Images and video courtesy Red Frog Digital