Carnival Cruise Line will introduce the world's first rollercoaster at sea aboard their Mardi Gras ship when it debuts in 2020.
The ride will be built by Munich-based Maurer Rides, and called BOLT: Ultimate Sea Coaster. The ride will feature 800 feet of twists, turns and drops, reaching top speeds of up to 40 miles per hour.
The all-electric rollercoaster sees two riders in each motor-cycle vehicle, travelling 187 feet above sea level. Features include a high-speed launch, as well as a hair-pin turn around Carnival's iconic funnel. Guests can set their own speed, making each ride unique.
Christine Duffy, president of Carnival Cruise Line, said: "Mardi Gras will be our most innovative ship ever with some truly special features and attractions, highlighted by BOLT, the first roller coaster at sea," said Duffy. "BOLT will continue the tradition of Carnival providing exciting new ways for our guests to 'Choose Fun.' We are so thrilled to introduce this one-of-a-kind, game-changing, exhilarating attraction – our guests are going to love it!"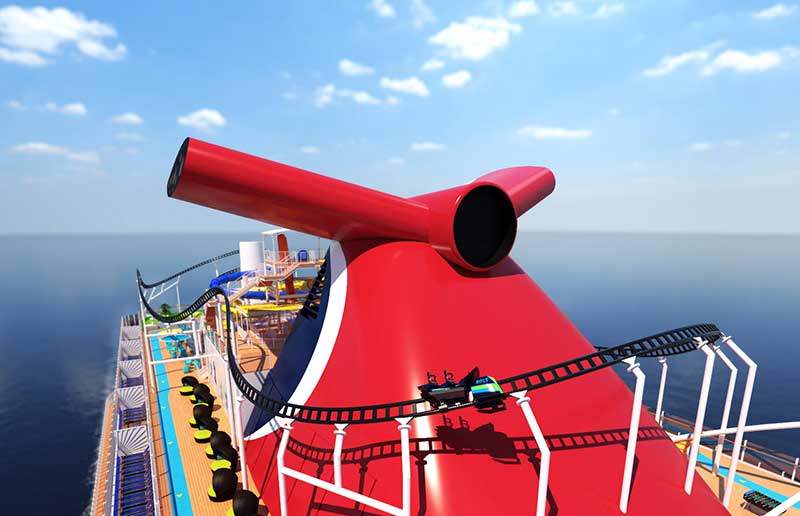 Earlier this month, Cirque du Soleil announced two new Cirque shows at sea.
The shows will be called SYMA – Sail beyond Imagination and VARÉLIA – Love in Full Colour. They will only be performed on board the MSC Bellissima and can't be viewed anywhere else. They will be performed in a purpose built lounge on board the ship.