New images, a video and further details have been revealed about the eagerly awaited Star Wars themed lands coming to the two Disney parks in Orlando and California.
Disney Chairman and Chief Executive, Bob Iger, recently described the new Star Wars expansion at Walt Disney World and Disneyland as 'jaw-dropping'.  And Disney is keeping fans updated with teasing construction images and renderings indicating what attractions and scenes from the popular movie series they will encounter in the new themed lands when they open in 2019.
Star Wars themed lands the "most epic attraction"
During a panel discussion at Orlando's Orange County Convention Center, six key Disney creatives outlined plans for the Star wars themed lands. Here are some of the new renderings, older images and further insights from the panelists.
A Galaxy in the Making
The creatives came from both Disney Imagineering and Lucasfilm. The panel was called, 'Star Wars and Disney Parks: A Galaxy in the Making'. The panelists were Scott Trowbridge, Wendy Anderson, Asa Kalama and Chris Beatty (from Disney) and Pablo Hidalgo and film designer Doug Chiang from Lucasfilm.
A remote frontier outpost
Of the 14 acre Star Wars Themed lands, Trowbridge said, "We wanted to build new Star Wars stories, new Star Wars destinations. But this time you could be in that story that required us to go to a new place. It's a new planet, it's a new place. It's this remote frontier outpost."
A great spot for "interesting people"
The panel said that the location of the new attraction is a planet in the Star Wars universe. It is in the Outer Rim in the Unknown Regions.
Trowbridge said, "This used to be a vibrant trading port back in the old sub-lightspeed days. But now with advent of hyperspace, its prominence has kind of fallen and faded a little bit which has made it a great spot for those who didn't want to be on that kind of mainstream path. The smugglers, the bounty hunters, the rogue adventurers looking to crew up, the people who don't want to be found. Basically all the interesting people."
Exploring Star Wars land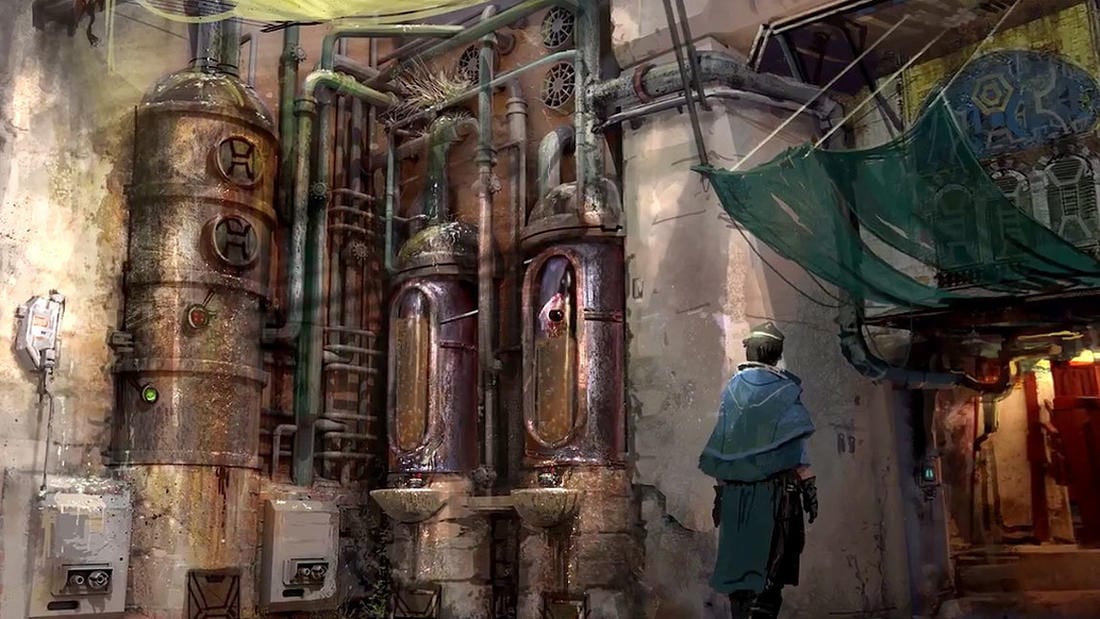 The new renderings revealed showed what visitors would find when they explored the shops in the village. Beatty highlighted the one showing a meat vendor using a pod racer engine to cook the meat.
Strange meat concoctions
Beatty says, "We're going to let you actually go and explore these streets and these markets and buy strange meat concoctions and hold up in you know weird vessels that you can walk around and eat and of course have to have a glass of blue milk. That might have been a pod race engine that we've rigged up and you know maybe that's cooking the meat in this market.
"We're really trying to make sure there's something in this land for everyone that no matter where you come in to the story or into this saga that there's something there that will resonate with you."
Star Wars fans, he added, always big on detail, won't be disappointed.
Launch bay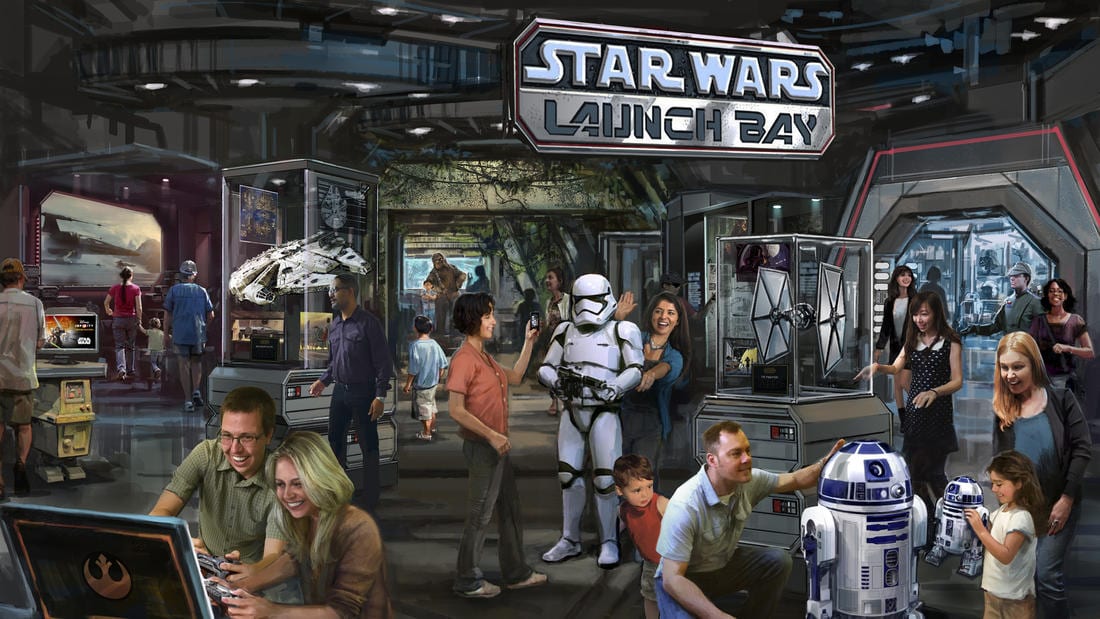 The rendering above shows the Star Wars Launch Bay. This promises to be interactive experience featuring special exhibits and peeks behind the scenes. There will be merchandise, favourite Star Wars characters to meet and food and drink. It will be at Tomorrowland in Disneyland and in the Animation Courtyard at Disney's Hollywood Studios.
Droids add heart and humour
Kalama says, "Droids are such an important part of the Star Wars universe. They add so much heart and humor and they're so great for fans of all ages and our little corner of the galaxy is no different.
"We are going to see some droids that we know and love from screen as well as get the opportunity to meet some brand new droids we've never seen before, each with their own unique sort of personality and character. They're going to be really sort of bustling around this village … and bringing it to life in a fun and exciting way."
The image above and those following were revealed during ABC's Disneyland 60th anniversary special February 21, 2016.
Millennium Falcon
Kalama is working on one of the two rides, which allows visitors to take control of the Millennium Falcon.
He says, "It's entirely up to you and your flight crew. Chances are you're going to make it to your destination on the other end. The ship just may be a little more damaged than when you begin," he said. "It's really up to you. You can bring her in without a scratch on her or if you want to — you know if you're a practitioner of bumper bowling and you want to try to maneuver off a couple of those rock faces.
"There are consequences to your actions in this world so you know if you bring a ship pretty heavily damaged, chances are you know somebody's not going to be too happy about that.
"So again for those who are really interested in delving a little bit deeper, we're excited for opportunities where you know an experience might begin on board the Millennium Falcon and follow you right out the door of the attraction and into the local watering hole."
The local watering hole
Hildalgo said, "With every new Star Wars story it's like coming back home but finding a new corner of that home you've never explored before. When it came to developing this location…not only figuring out where this place is on the galactic map but what its history has been throughout galactic history.
"It's been there for thousands and thousands of years. You're going to discover that. You're going to be able to get a sense of the history of the place when you go there."
"In the Star Wars"
One ride coming to the Star Wars themed lands will puts visitors right in middle of a battle between the Resistance and The First Order. Anderson is working on that one. She expanded on the level of interactivity on the ride.
"We're using rooftops, we're using ladders. It's all kinds of fun stuff that we'll be able to talk about in more detail later. Man, you're going to feel like you're in the thick of it. You're not going to sit in a chair and watch it happening. You're going to be standing right in front of it, you're in the Star Wars."
Construction
Finally, Disney released this images of construction work on the Star Wars themed lands. It shows the shells of two AT-AT walkers. These are big part of one of the new rides. They first appeared in the "The Empire Strikes Back."
"It's the most epic attraction we've ever undertaken," Trowbridge said.
All images copyright Disney.