Warner Bros. has announced that fans will be able to explore the Slytherin common room for the first time at Warner Bros. Studio Tour London.
From 3 April to 6 September 2020, Harry Potter fans will be able to discover the home of Hogwart's Slytherin House at Warner Bros. Studio Tour London. Famed for their ambition and love of dark magic, Slytherins relax in their common room in the castle's dungeons.
Visitors are invited to find out the stories behind some of the iconic costumes and props from Slytherin house, home to some of the greatest wizards.
Discover the dungeon hideout
For the first time, guests at Warner Bros. Studio Tour London will be able to get up close to the Slytherin common room, as they witness the grand fireplace where Ron's Polyjouce potion began to wear off, unveiling his ginger hair. A 25-foot high section of this impressive set will be on show, featuring authentic props, furnishings and decorations.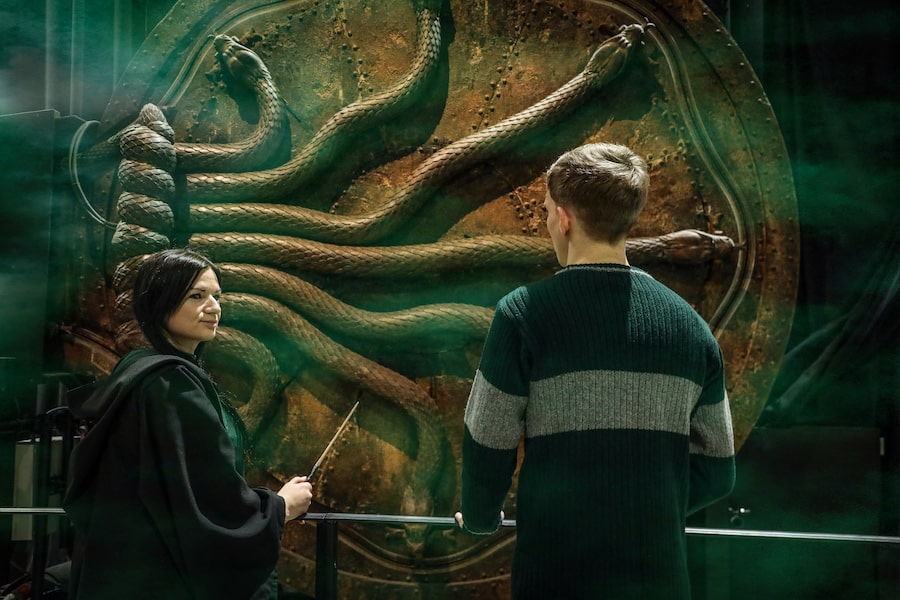 Production Designer Stuart Craig designed the set to look like a dungeon carved out of solid rock. This is in order to create a contrast to the warm, welcoming Gryffindor common room. The walls feature hand-designed wall tapestries with the red tones removed, celebrating the Slytherin house colours, green and silver.
Slytherin decorations and costumes on show
Visitors will be transported to a scene from Harry Potter and the Philosopher's Stone as they enter the Great Hall to see the green and silver Slytherin banners from the film series hanging from the enchanted ceiling. However, red and gold banners are on show over the teacher's table, referencing the moment when Dumbledore awards last-minute points to Gryffindor and Harry's house takes the House Cup.
Several costumes worn by the Malfoy family will be on show, displayed to demonstrate how the designed evolved with the family's rise and fall, alongside the most famous Slytherin of all – Lord Voldemort. Voldemort's costumes will also be part of the special feature, exploring his journey from the orphaned Tom Riddle to the most feared wizard in the land.
Warner Bros. Studio Tour London's Celebration of Slytherin feature is open from 3 April to 6 September and all additions are included in the ticket price.
In 2019, Warner Bros. Studio Tour London – The Making of Harry Potter unveiled the Gringotts Wizarding Bank. This was the attraction's biggest expansion to date.
Meanwhile, Hagrid's Magical Creatures Motorbike Adventure has been wowing fans at Universal Orlando Resort since it opened last summer.