I have written about Harrison "Buzz" Price before. He was best known as the man who found the location for Disneyland, Walt Disney World, and Tokyo Disneyland. He was so important to the theme park industry that the TEA Thea Lifetime Achievement award is named after him. But did you know that Buzz Price invented the Universal Studios Tour?
By Sam Gennawey (right)
Back in 1961, Albert Dorskind brought Price in to determine whether (Universal Studios owner) MCA should get into the industrial tour business. MCA recently purchase Universal City and its 411-acres. Price told Dorskind that tourism was Southern California's third-largest industry. "Southern California residents and tourists have always maintained an interest in visiting the studios in the area without much opportunity to do so because of restrictions and prohibitions on visitor traffic," wrote Price.
People were interested in movie and television production and Universal was in a unique position to appeal to this demand. Price noted that over the years the property had "developed into the most extensive and elaborate set complex in Southern California." He recognized that MCA owned "thematic settings [that] combine to form a fascinating chronology and history of the movie business." Because no other studio was providing a tour, he figured there would be very little competition. Price was confident that the market was ripe for the type of entertainment Universal could offer.
https://www.youtube.com/watch?v=KVeMQOsMITc
Analysing the competition
At the time, the biggest player in the brand-new thematic outdoor show business was Disneyland. According to Price, they "revolutionized tourist habits, and established a new approach to showmanship." What Walt Disney and his design team created was "a radical change from the conventional amusement park, fair, tour or fun zone." It was "a living stage for a great variety of entertainment and recreation, some old things dressed up, some fantastic new ideas in recreation but all of them done with great taste and showmanship."
Knott's Berry Farm in Buena Park was a popular destination. Price said Knott's success was "built on the quality food products and one family's interest in the heritage of California." Located on a magnificent site on the Palos Verde peninsula along the Pacific coast was Marineland. The aquatic park opened in 1954, one year before Disneyland. ERA (the research company found by Buzz in 1958) considered it "basically an aquarium environment but made unique and successful by the high-quality show value of trained mammals performing in a marine theater." Other popular attractions included Hearst Castle, Griffith Observatory, the San Diego Zoo, Sea World, and Los Angeles's farmers' market.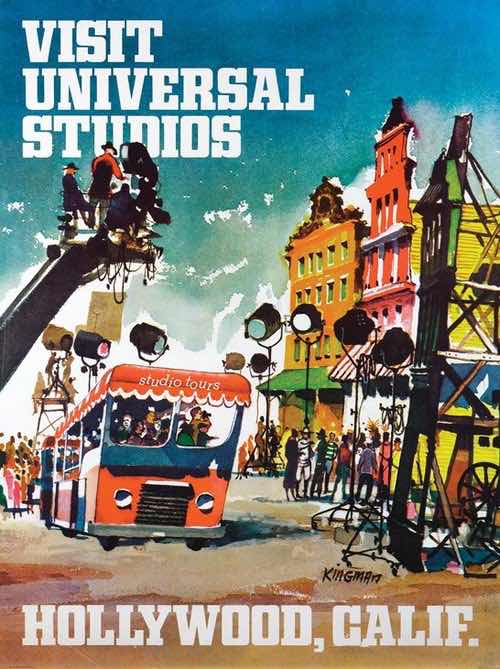 Price concluded a successful Hollywood industrial tour would consist of two elements. First, an exhibition of the vast number and different types of sets used in producing movies and television shows. Second, "a visual inspection of the actual techniques used in shooting movies and television scenes." To achieve the second objective the studio would need to build a special area set aside for tourists and live shows.
Location, location, location!
One of Universal City's greatest strengths was location. Adjacent to Cahuenga Pass, the studio had direct access to an extensive and growing network of freeways. The Hollywood and Ventura Freeways provided access to the site, and through connections with the Golden State, San Diego, and other freeways, the studio was reachable by all parts of the Los Angeles metropolitan area. It was within 12 minutes driving time from downtown Los Angeles and the Civic Center, 4 minutes from the Hollywood area, and 15 minutes from Beverly Hills and Wilshire Boulevard areas. More than 100,000 cars a day passed by the studio along the Hollywood Freeway.
Price recommended that visitor parking be located at the corner of Lankershim Boulevard and the Hollywood Freeway. Guests would board the tour vehicles at that location. From there, they would be escorted through the back lot, and at the halfway point arrive at the Visitors Center. The recommended location for the Visitor Center was on the Hope property at the intersection of Barham Boulevard and Forest Lawn Drive. This location would not interfere with production or the local residential areas. Dorskind would disregard this recommendation.
He looked at a variety of tour vehicles, including conventional buses, a semi-tractor and a bus trailer, and trams. Conventional buses were ruled out because of the obstructed views. A semi-tractor and a bus trailer were also ruled out for the same reason. Trams had unobstructed views, were quieter than buses, a smaller turning radius, and would be quicker to load and unload. Both diesel and electric trams were considered, but the steep slopes on the property made the electric vehicles impracticable. Therefore, diesel trams won out and would become one of the defining features of the tour.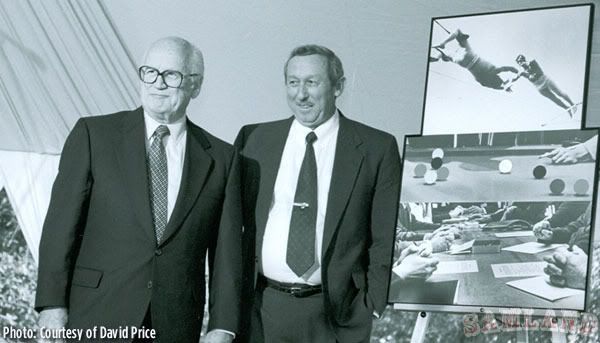 Perhaps a little bullish
Price's recommendation to Dorskind was to invest up to $1 million for site preparation and another $2 million to build a visitor attraction center. The plan called for only one parking lot to avoid confusion on the guests' behalf. Price assumed that the tour would start in 1965 and concluded that the demand would be large and growing. In fact, he suggested the market potential could be as many as 2.3 million visitors a year, but operational limitations within an active production studio would only allow for a maximum of 1.5 million visitors. He predicted that the tour could draw 800,000 visitors in its first year and that it would increase to 1 to 1.2 million during the second and third years of operation, respectively.
Looking back, Price said, "Actually, we were a little bullish. The tour hit 428,000 in its first year, 750,000 in its second year, and 880,000 in its third year. It did hit 1.2 million 1968."
King Kong 360 3D courtesy Universal Studios Hollywood.