For attractions struggling to adapt to the impact of the global pandemic, is outsourcing retail the answer?
by Veronica Nicholas, Event Network
The COVID-19 pandemic caught the world by surprise, and all businesses continue to adapt in some form in order to weather the storm.
Most institutions – from art, science and history museums to zoos, aquariums, gardens and other destination attractions – are processing the financial effect. Many are considering creative ideas to generate revenue, engage guests and reevaluate their operations. And most have made very difficult decisions to manage expenses and maintain fiscal health.
While re-opening and planning for the future, limited resources can present challenges for daily operations, particularly for non-core disciplines like retail. For those attractions still self-operating, the consideration of outsourcing retail operations may not be a new one. However, the timing may be just right at this moment.
Outsourcing retail to free up resources
Operating retail that has complexity (which is often greater with more significant sales volume) can be a drain. It requires:
The sourcing and creation of unique and custom goods that are reflective of brand, mission and content.
Inventory management – efficient and intelligent purchasing to maintain proper open to buy, sales tracking/reporting, replenishment and discipline (i.e., loss prevention, not carrying dead inventory along year to year).
Investment in visual merchandising and retail infrastructure (maintenance and freshness).
Investment in information technology and systems to manage all of the above and data security/PCI compliance, which is critically important.
Ongoing development of staff – hiring, training, coaching, managing accountability and career pathing a team to ensure consistent quality of operations and enable retention.
The breadth of resources and tentacles in the marketplace, both on the supply chain side as well as through the stores themselves (i.e., lots of transactions), means better data to make better decisions. Timeliness to market for key opportunities is another advantage the right partner brings when outsourcing attractions retail.
Focus on what you do well
An intangible: How much more effective would my organization become if we freed up resources to focus directly on the institution rather than the daily management of retail operations?
Inventory, people, systems, retail infrastructure…all are labelled as assets. But they can quickly become liabilities if not managed properly. When outsourcing attractions retail, the right partner removes the risks and optimizes the opportunities. This generates significantly greater cash flow to support your mission and enterprise in the near term and over time.
Protecting the uniqueness of your destination
Becoming homogenized or cookie-cutter is often a real fear for those contemplating a third-party retail solution.  The right partner won't let that happen!
The store presentation, product assortment and visual merchandising should reflect the mission and purpose of your organization, regardless of who is merchandising and operating your store(s).
A few determining factors are collaboration and the wherewithal and sophistication of your partner. Product displays should be refreshed often and be dynamic enough to extend the experience. Unique content (exhibits), mission/purpose and branding elements are always fodder for customization.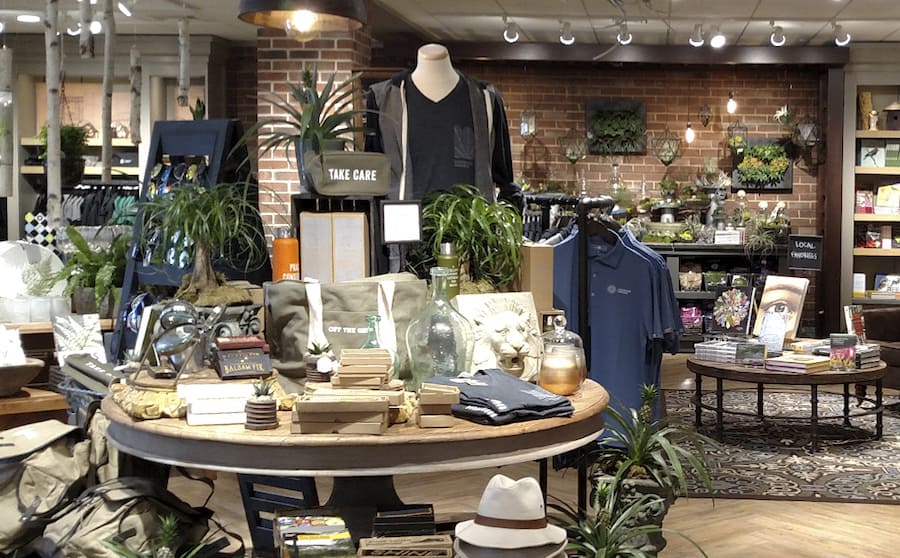 What to ask:  Ask your potential partner to show examples of custom products and visual merchandising displays that represent and preserve the unique themes, mission, values, character and goals of your venue. 
Outsourcing attractions retail
Maintaining the status quo is sometimes comfortable. But now is a time to seek better solutions to build for tomorrow. The world has changed. It's time to:
Acknowledge the resources needed in order to operate retail at the highest level.
Provide a fully immersive and seamlessly integrated experience that captivates guests.
Utilize a creative engine that delivers specialized product worthy of your brand.
Reduce the burden on your organization by eliminating liabilities associated with retail.
Maximize the full potential of your retail shop to please guests and drive significantly more revenue and returns.