The American Alliance of Museums Association (AAM) welcomed attendees to the 2018 Annual Show and Expo held May 6th through May 9th in Phoenix, Arizona.
The host city has over 70 museums and a vibrant attractions scene including the Heard Museum, The Arizona Science Center, The Phoenix Zoo and the Desert Botanical Gardens.
This year's conference theme was Museums on the Rise- Educate, Engage, Elevate which Laura Lott, President of AAM addressed in her welcoming speech, focusing in part on the important role that museums have in the education system.
"1/4 of kids entering kindergarten this year won't graduate on time. The US is struggling to fill 6 million skilled jobs as the workforce isn't educated for it" said Lott.
"Museums matter to these kids to provide memorable experiences, inspire them, spark creativity and importantly keep learning fun!"
"Too often educators and museums develop programmes separately in a vacuum. However, museums need to be fabricated into the school system to really make effective change. A museum visit shouldn't just be a field day at the end of term" Lott said.
Museums are also contributing largely to the US economy, AAM's Museums as Economic Engines report shows museums add $50 billion to the US GDP, 726,000 jobs and $12 billion in revenue tax.
Inclusion- means everyone
As part of the AAM's Diversity, Equality, Accessibility and Inclusion (DEAI) initiative, Dr Johnnetta Cole and Dr Nicole Ivy recently launched the Facing Change Report addressing race, LGBTQ+ and inclusion issues facing staff, visitors and leaders in the industry.
AAM had considered the inclusion of everyone in every aspect of the show. The opening ceremony had a native blessing and sessions started with an appreciation of the stolen land the session was taking place on. If applicable, sessions also started by acknowledging the white privilege of the speakers. There were pro-noun ribbons for badges and restroom signs to make the conference a safe space for all who attended it.
All stories matter
Kevin Jennings, President of the Tenement Museum and Former Assistant Deputy Secretary of Education in the Obama administration, was the first keynote talk. He told attendees about his Uncle Mickey who drank himself to death. It was only after his death that Jennings find out Uncle Mickey was also gay. He could no longer bear the oppression he faced, hiding who he really was. He died the same age that Jennings is now. However, their lives have been very different as the world has evolved to be more accepting towards the LGBTQ+ community.
Jenning's Uncle taught him family values and that all stories matter – something he embodies at the Tenement Museum. The museum is located in a large block of apartments in New York. Between the 19th and 21st centuries over 7,000 people from 20 nations lived in the building. The museum celebrates the stories of working class immigrants who have lived in the building, restoring rooms to various periods of time.
"Who chooses who's lives get preserved and retold? Every life deserves respect and lives of the poor deserve as much historical support as the rich and famous" said Jennings.
Black Panthers and the T Word
This was also echoed in Ericka Huggins' keynote address to attendees. "Whose lens commentates on an era? Who is uplifted in the history books or dismissed? Who speaks for me and tells my story?" she said.
Huggins is an activist, educator, former political prisoner & former leader in the Black Panther Party. She grew up in Washington DC and went on field trips at the end of the year to museums.
She said, "School told me we were deprived of culture, but I said which culture?"
After attending Lincoln University, and meeting her husband John Huggins, she left to join the Black Panther Party in Los Angeles.
"Women didn't 'have a role' in the Black Panther Movement, they ran the Black Panther Party" Huggins joked.
Three weeks after the birth of her daughter, Huggin's husband John and friend Bunchy Carter were assassinated. Just three months later, Huggins herself was jailed for 2 years. The charges were eventually dropped and Huggins moved to Oakland where she became Director of the Black Panther Party's Oakland Community School.
"The children were asking us for insight into their cultures as they weren't finding the answers in the history books. In a pre-internet world, we brought the history to the children and larger community" said Huggins.
Now Huggins works with schools and museums to work on all their coinciding identities.
"Knowledge wanes without action. Action without knowledge is shallow" she added.
Action was at the forefront of a lot of sessions. "Have you all forgotten the T word- Trump?" joked Sharon Heal, Director of the UK-based Museum Association.
"We are watching the situation in America closely as it affects us all. We have had protests in the UK. Some museums have also added placards to exhibitions to add to the communities conversation."
Curators of conversations
Consultation with the wider community is vital for museums. Two new artic exhibits at the Anchorage Museum and the Canadian Museum of Nature were both created by reaching out to the indigenous people for their guidance and asking what they want from the museum.
"Its not about listening to the community once" said Ailsa Barry, Vice President, Canadian Museum of Nature. "We need to keep asking and tweaking".
"Museums should go from being a holder of knowledge to a facilitator of knowledge, from a curator of objects to a curator of conversations" said Julie Decker, Director and Chief Executive Officer at the Anchorage Museum in Alaska.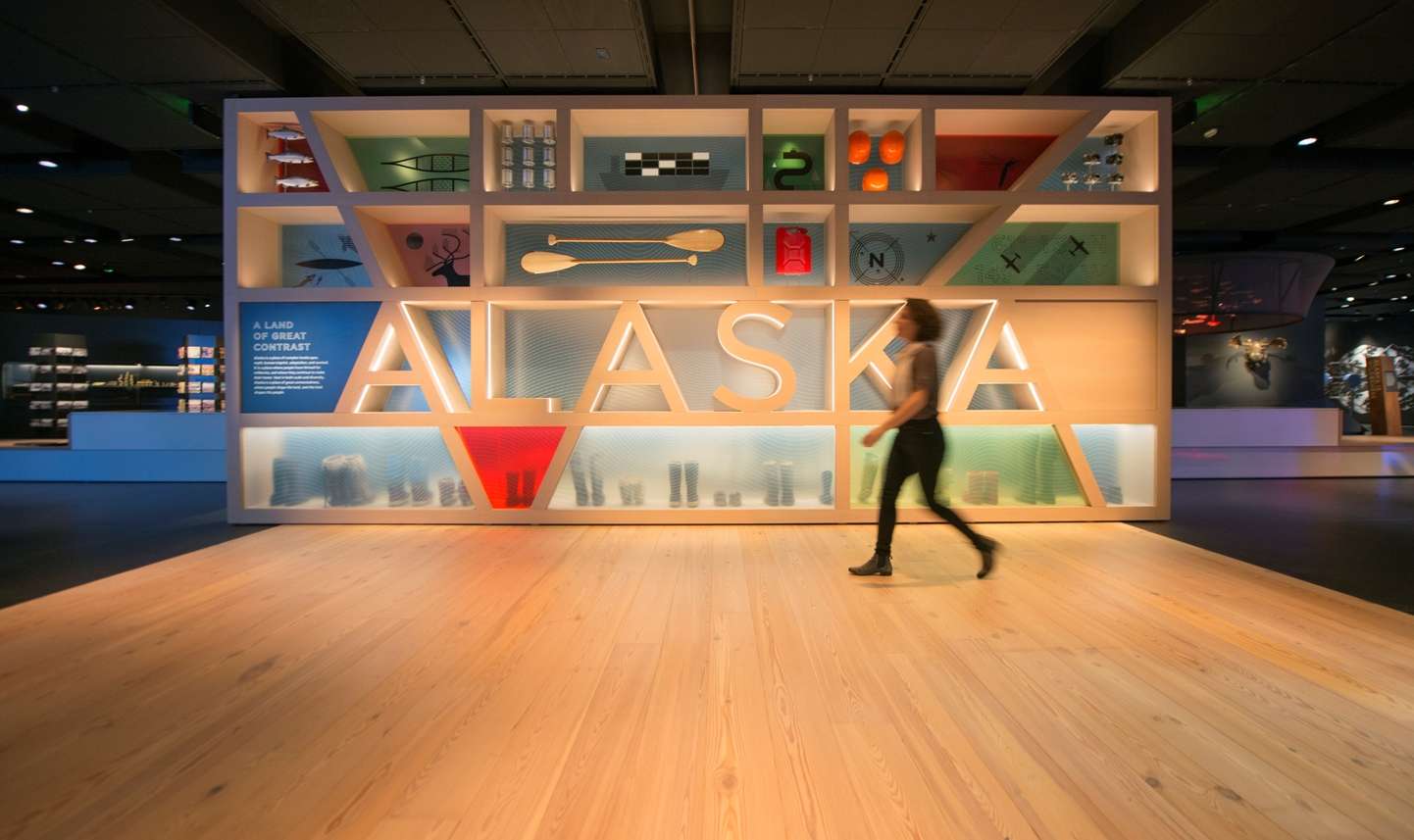 The Alaska Exhibit at the Anchorage Museum, a turnkey project by GSM Projects, showcased the identity of Alaska through 13 zones and interactive content, in particular showing what life is like for the people living there. The space will also host storytelling, performances and special events.
"The arctic is not empty, the museum has a critical role in changing it's representation. People have been adapting in the arctic for thousands of years. It's a place of resilience and a place to educate the wider world" said Decker. GSM Project also did concept design for the Canadian Museum of Nature's Arctic exhibit.
Rise up- Activism in museums
Jessica Turtle, is co-founder of the Museum of Homelessness (MoH), which is a community that explores the art, history and culture of homelessness to make a tangible difference for homeless people today. Turtle herself was born on the streets, with many of the staff having experienced homelessness too.
"The MoH is a social injustice museum. Our organisation's goal is to take systemic prejudice and social stigma out of being homeless. We also aim to promote understanding, tolerance and a new way for people to learn through research, collecting and public engagement".
In particular Turtle highlighted the 'Beast from the East' storm which hit the country, and made conditions so hard for the homeless that people were dying. Street Kitchen, a grass roots group, took over a luxury apartment building in development during the storm to house 160 rough sleepers, and ultimately saved lives.
Activism within museums is growing but so is mobilisation of the workers into communities within the sector. Sara Wajid, Head of Engagement at the Museum of London, founded Museum Detox a network for Black, Asian, Minority or Ethnic professionals in the UK to voice opinions and share experiences within the cultural sector.
Similarly in themed entertainment, Harriet B's Daughters, is a network for women working across the industry. It is named after Harriet Burns, the first female hired at Walt Disney Imagineering. The group mentors and fosters relationships and advocates for equality, diversity and inclusion.
Work hard-play hard
Company culture is also vital to foster creativity and productivity, something St Louis based PGAV Destinations does very well. Diane Locher, Vice President and Tom Owen, Senior Designer at PGAV spoke to attendees how their company culture involves a cross pollination of people and practice across all sectors of the business. There are nerf gun fights, storytelling time and the PGAV Go program. This is a stipend for staff to travel or take classes in something they are interested. This could be anything from Disneyland to Calligraphy classes.
Technology was also a big talking point on the Expo Floor and in sessions during the show. Intel and the Smithsonian American Art Museum have announced their latest virtual reality immersive experience which was showcased at VRLA just days before. Augmented reality expert, Guru's Founder and CEO Paul Burke spoke with the Dieter Fenkart-Froeschl, Chief Operating Officer at the San Diego Museum of Art about their AR collaboration.
Dinosaurs and cacti
"80% of our audience was 59 years or older. How could we attract new audiences and get the most out of our existing collection? AR was a way to step into the virtual world without 'disneyfying' the experience" said Fenkart-Froeschl. Ultimately attendance at the museum doubled over the last few years since Guru's implementation.
The expo floor at AAM had over 200 exhibitors including JRA, ACME Ticketing, Electrosonic, Lexington, a Nassal Company, Science North, and many more. In addition, high-profile events included an opening reception held at the beautiful Desert Botanical Gardens, GSM Project's party and closing reception at the Children's Museum of Phoenix. The Themed Entertainment Association also had the largest mixer in AAM history at the Duce, complete with lawn games and alcoholic milkshakes – they know their audience! Finally, we squeezed in a trip to the remarkable Phoenix Zoo, which has just completed its successful Dinosaur in the Desert trail.
Next year, AAM sets it's sights on New Orleans with the conference held 19-22 May 2019. We look forward to another insightful conference.
Image credit: Ericka Huggins, Museum of Homelessness. Main image: Desert Botanical Garden, Adam Rodriguez.