How do you make a good museum great? If anyone knows the answer it's Janet Vitmayer, CEO of the Horniman Museum in South London.
Since assuming her role in 1999, the museum has undergone major redevelopment to create new galleries, educational spaces, a shop and café, and has seen visitor numbers treble.
With an exciting new anthropology gallery in the offing, Blooloop spoke to Janet Vitmayer CBE about the role of a museum in the 21st century, developing diverse audiences and why the Horniman's collections are more relevant than ever.
Developing Audiences, Defining Function
Vitmayer has been involved in the museum sector since 1976, joining the Imperial War Museum straight from university:
"It was a good fit because I speak French and German and I'd done History, " she says. "Once I was inside the museum, I realised how amazing museums were, and was really taken with how important the museum was for people, and the impact that it had on them.
"It was a very strong sense of the importance of the museum to people that first captured my interest."
That spark of interest ignited a passion for the sector that has carried her to the top of her profession and seen her assume a wide variety of roles including Director of the Livesey Museum for Children; Chair of the Women Leaders in Museums Network; Trustee of the Museum Libraries and Archives Council London; Membership of the Heritage Lottery Fund Expert Panel; Trustee of the London Transport Museum and Trustee of the Collections Trust.
She was also on the Project Board for the Wellcome Trust's new public building, and Chair of the Medicine, History and Society Capital Awards Committee for the Wellcome Trust from 2008-10.
She joined the Horniman in 1993, becoming CEO six years later and is currently also a Visitor to the University of Oxford (Committee for Pitt Rivers Museum) and Trustee of the Hunterian Collection
When Vitmayer arrived at the Horniman, it was already in an exciting place, with good directors and a strong board. The museum was well-used and locally popular – a part of South London life.
"The education service was very evolved, and just about every school child had passed through it in an exciting way, because there was a handling collection: it was quite forward-looking."
A Foundation for Success
The real challenges to be overcome were the limitations of the buildings, the need to display more material, and to link the building with the gardens which were, at that point, run completely separately.
"That was a huge challenge and opportunity, building on lots of strengths: the opportunity to look at a master-plan, and say, if you really invested in this, how could you move it forward big-time?
"Without a doubt, the very large Heritage Lottery-funded project that we completed in 2002 is the foundation of our success."
It was a project that enabled Vitmayer and her team to sweep away poor extensions attached to the beautiful, historic building, and to expand the galleries, public spaces and public facilities.
"This was the chance to assess what does a twentieth century (at that time) museum audience need, and how do we realise the potential of our collections and our wonderful learning experiences and all the rest? What we needed was a completely extended building."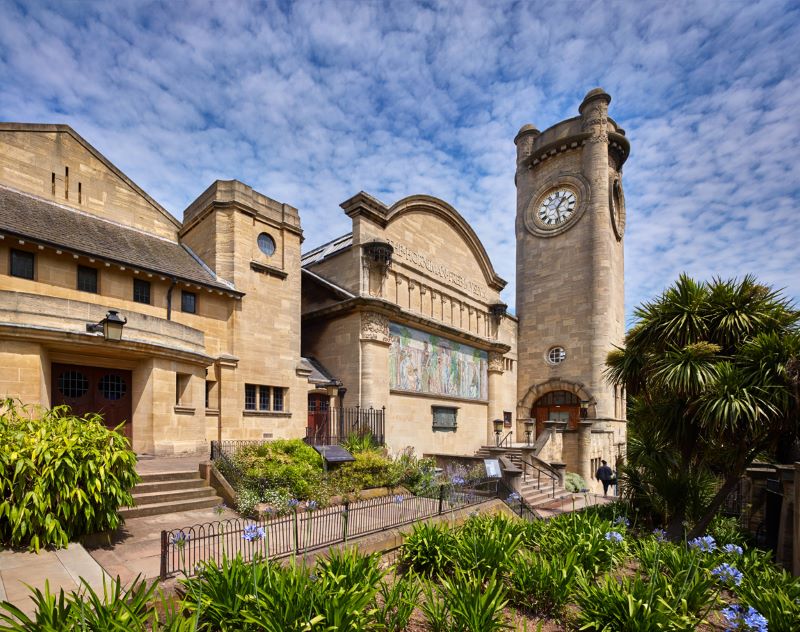 Furthermore, the sixteen and a half acres of superb gardens were neither visible nor accessible from the museum. They were, effectively, a separate little park.
"And that was never the intention, " says Vitmayer.
"When the museum and gardens were given as a gift by Frederick Horniman the one thing he said was that he wanted them treated as a unity. The idea had always been, from the beginning, that they would function as a unity. So the ability to solve those problems in one big project was transformational."
Evolving the Audience Relationship
Since the 1970s, Vitmayer has witnessed and been a part of some fundamental changes within the sector. Arguably, the most profound has been the museum's relationship with the audience, something that is continuing to evolve.
"At the Imperial War Museum I moved into research and exhibitions, and was there for about eight to ten years. I remember doing the first ever audience survey in the gallery with my clipboard: things have moved on a long way since then.
"The focus on understanding the audience, understanding what they're getting from whatever it is you're doing, has moved from that basic 'who is the audience and what are they doing here, '  through a  whole series of stages to a position now where it's much more about giving platforms to audiences or communities.
"There has been a whole move from just delivering stuff to involving people, sometimes co-curating, and then empowering involvement and discussion between parties: quite a sophisticated moving of the trajectory, I think, and one which has lots of potential for development still.
"We're not by any means at the end of it: it's a progression."
As these changes have occurred, so the popularity of museums has grown. In 2014/15, there were 71 million visits to Britain's national and major regional museums alone.
"Museums have never been more popular, and that is because the relationship between audience – a whole series of audiences –   and the museum has evolved, really quite brilliantly. And, it is a world acknowledged thing. We host a lot of visits from foreign museum groups, and this work with audience is something that UK museums are really known for internationally.
"The concept of the participatory museum is running its threads through different museums in different ways and it is a very interesting development, evolving and developing all the time."
A priority to preserve, collect and display
Despite this evolution, Vitmayer is clear that the number one function of a modern museum is, as it always has been, to preserve, collect and display.
"Preservation is really important – what distinguishes museums is that we are in it for the long term, and are thinking as much about future generations as we are about current ones – or we should be, if we're holding unique and important collections.
"That purpose is still there. The bit that has changed is the involvement and empowerment of those whom we work with, partner with and engage with. And that has made it a very complex landscape, but a very rich one."
She also believes that the essential diversity of museums precludes any 'one size fits all' formula.
The fundamental questions each museum needs to address are: What are its collections? What is its mission? Where is it? Who is it wanting to reach?
Participation and Engagement
"My personal approach to museums is that great respect for the diversity of what they are and what they can be is important. So I'd start with that. I think participation and engagement is really important to many audiences but, in terms of interactivity, there are so many different ways that that can be played out.
"For instance, we have always been a very object-rich and object-focused, collection-focused museum, so we have very little technology."
That is largely by choice, and not dictated by purely financial considerations.
While other museums may have a bigger role for interactive technology – for expressing science concepts, for instance:
"We are relying ever more heavily on our wonderful handling collection, and on our increasing volunteer base to deliver quite a lot of that handling. So our models are evolving in terms of how can we facilitate and how can we resource the type of participation that works for our audiences."
Social Media – Making Connections
Where the Horniman has used technology, it has been used very specifically.
"We do see digital as a huge opportunity, but at the moment we're more focused on social media communities and engaging people via the web and social media.
"A major leap forward for us, and something that connects into the galleries and our net gallery development, is our debate into exactly how to use the wonderful power of social media and the internet and blend it into the gallery without putting lots of technology kit in there."
The potential benefits would be not only the creation of a virtual collection, accessible online, but the ability to link with people globally:
"We do a lot of international work, and that can change and be shaped by the opportunities of the internet."
In order to keep the experience fresh for visitors, the museum's displays must be in a constant state of revision and updating.
"One of the advantages that we have is that we are set up in such a way that we have a strong board and fantastic staff, and the constraints on us, where there are constraints, are not too stringent. They allow us to develop and move forward, to test out and to do action learning, and reach out and change – albeit not, perhaps, as fast as sometimes we feel we should.
"Some museums are very burdened by inability to move forward even when they know what it is they should be doing or want to be doing – I think that's one of the big challenges in the sector.
"There are some local authority museums where I think there needs to be a real rethink of how they can be, in a sense, liberated to move more swiftly. Because it is a very fast-changing environment, and although there are a lot of basics that still need to be done, and even in those basics things are improving and developing, I have the sense that things have speeded up very significantly.
"That's one of the hallmarks, I would say, of the last thirty years: things have really sped up in terms of change."
One of the Last Truly Universal Museums
How would Vitmayer encapsulate the essence of the Horniman?
"I would start by pinching from one of our patrons' statements, and saying that the Horniman is one of the few remaining truly universal museums, that can show all aspects of the world around us. The diversity of our collection and estate mean that we have living collections, we have parks and gardens, we have items that show the diversity of the natural world and the diversity of the human world. We are one of the few museums that covers all of that ground still."
Historically, many of the major museums have divided what used to be united collections.
"For instance, the Natural History Museum split off from the British Museum: those collections used to be together, and the Ashmolean used to have the natural history that is now separate. So we at the Horniman are holding this rather amazing array of human and natural history, both living and dead. And stuffed. So that's pretty unique."
The second element that sets the Horniman apart:
" – is that we have got really fine, internationally important collections, and have always had very strong , high quality curatorial research on the collections, combined with cutting-edge engagement. We've had a lengthy development of community engagement across schools, across community groups, and a powerful and respected place in the local community.
"Alongside that we have the high level research, and the globally well-networked collections. I think those things together add up to our USP."
In everyday terms, the Horniman is also a visitor-friendly day-out destination, winning the Telegraph Family-Friendly Museum Award in 2013.
Vitmayer says, "We are straddling that territory of being very accessible, very family-friendly, but also having very strong curatorial, knowledge-based and high quality collections."
Engaging with New Audiences
According to Vitmayer, the Horniman is continually building its audiences, continually looking at the changing demographic, and working with marginalised and hard-to-reach communities, as well as mainstream visitors.  That focused work on the margins, which needs both extra resourcing and a different approach, enables Vitmayer and her team to build on and develop diversity, incorporating new, non-traditional audiences.
"The big issue for me has always been, once you have engaged those people, do you have an environment in which they feel comfortable, which is friendly, which they want to make part of their lives?"
It is, she says, a question of the culture of the organisation and the impression it gives to a whole diversity.
"The classic example I always use is, you spend ages cultivating youth, or whatever, and then one kid comes in with his hoodie up and is followed around by anxious looking guards. That's not happened here, but you get the point."
Identifying the culture of the organisation is critical, says Vitmayer, in continuing to build diverse audiences.
Collections, People, Stories
Next on the cards is the museum's new capital development project which will hopefully win Stage 2 approval from the Heritage Lottery Fund in March.
'Collections, People, Stories' is a new anthropology gallery that looks at what it means to be human.
"It's looking to make the strange familiar, and, meanwhile, the familiar strange, " says Vitmayer. "It's a questioning of what is it to live a life on this planet, and how various people are doing it, and have done it. It's a celebration of human creativity, imagination and adaptability.
"A lot of the collections we hold are about people adapting their environments in a creative way, and this project explores the beauty and diversity of the world's many cultures, but is also quite challenging in the assumptions we make about the world."
What makes it relevant to modern audiences is that it's not just about reflecting the global world. It's about acknowledging the cultures living on this planet and demonstrating that the people represented are sharing the present with us.https://www.youtube.com/watch?v=3L4CtJ0uU74
"We have spent a lot of time researching our collections with global colleagues and setting a context for this gallery, " says Vitmayer.
Time has also been spent working with community groups but, as Vitmayer points out, London is a very diverse community, and people are therefore able to engage with these collections in a different way.
"It's not like it used to be 100 years ago where no-one had ever seen other countries and communities.
"The background to this work has been very complex and very rich, and out of that emerges not just the new gallery but also a completely new set of programming and activities, that allows more connection between peoples with us convening it."
"It's such a rich project – we could talk for days about it. I have a lead anthropologist on it, who is fascinating, as well as other lead people on the engagement programmes.
"For instance, we run a refugee programme where refugees now are presenting all sorts of aspects of their world and their culture themselves to our big audience, and this gallery is an opportunity to build in more of that: to have more people debating and sharing personal experiences with each other.
"It is another step-change in this movement, relationships with audience.
"We do think this is part of this big picture of progression, and it's our offering in that respect."
Images kind courtesy the Horniman Museum, Sophia Spring, Joel Knight, Megan Taylor, Caroline Hughes and Ludo des Cognets.