Dan Hicks, FSA is a British archaeologist and anthropologist. He is Professor of Contemporary Archaeology at the University of Oxford, Curator at the Pitt Rivers Museum, and a Fellow of St Cross College, Oxford.
Dan Hicks spoke to blooloop about his background, the role of a museum like the Pitt Rivers Museum in the contemporary world, his new book, and the spotlight that current events and insights have been shining on collections and their provenance.
Hicks has been at the Pitt Rivers as curator for 13 years.
"Before that," he says, "I had a background in local authority, archaeology and museums. I worked for some of the County Council archaeology units and museum services, and also in the private sector, originally as a gardens archaeologist.
"Right at the beginning of my career, I was the sort of archaeologist digging up gardens for the National Trust and other historic houses and landscapes in order to inform the restoration of those gardens.
"That's how I cut my teeth. I then worked more generally in the commercial archaeology sector working on every period of the human past in advance of road schemes, housing developments, in people's back gardens when they were building an extension.
"This introduced me to the range of the material presence of all the different layers of the past, from the medieval to the Roman, into the later prehistoric, including the recent past, which remains my interest."
The Pitt Rivers Museum
Describing the Pitt Rivers Museum and its evolution from its founding to the present day, he says:
"It is an institution founded by Henry Lane Fox Pitt Rivers, an archaeologist; at the time, he would have called himself an ethnologist. The years of his life map almost exactly onto the Victorian period. He was born in 1827 and was 10 years old when Queen Victoria came to the throne. He died in 1900, a year before the end of her reign."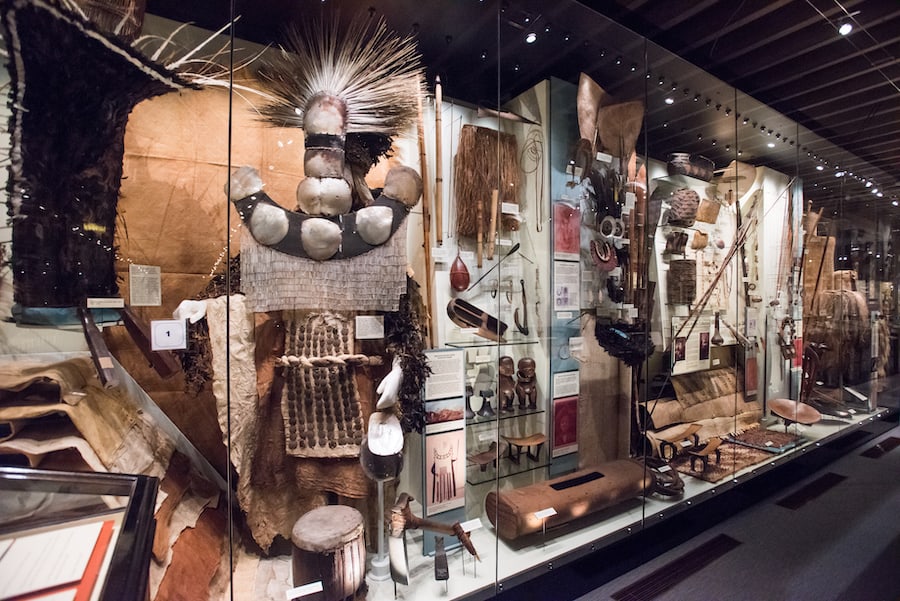 The Pitt Rivers was founded in 1884  during the time of British colonial expansion. In many ways, Dan Hicks says, is a quintessentially Victorian museum:
"It drew together the two disciplines of anthropology and archaeology as they were being formalized in terms of their modern disciplinary shape, but it was also typical in relation to empire. He acquired objects not only from excavating in the United Kingdom and Ireland, but he also purchased objects which were washing up in London and other locations in Europe from the empire.
"And one of the great problematic parts of his sort of thinking was that he was comparing the ethnological objects from the Global South in the present with the prehistoric objects that he was excavating from the past. That interrelationship between past and present anthropology and archaeology continues to be something with which we wrestle today."
Pitt Rivers – a modern world culture museum
What does a world culture museum look like in the 21st century?
"It's a challenge that faces a lot of institutions," says Hicks. "How do you ensure that you face up to the full range of what your institution was in the past, warts and all, while also taking steps not only to tell those histories but, where appropriate, to dismantle them, to repurpose them and to reimagine them for the present."
We have never needed world culture museums more, Hicks says, than we do in the contemporary world:
"These are spaces in which we can tell a non-Eurocentric account of art and culture, and of things that people have made and continue to make into the present from around the world.
"But at the same time, at certain points in the history of the institution, it has been involved in ideas of scientific racism in the display of objects, taken with violence from Africa and elsewhere in the Global South, and in the display of human remains.
"Those are all parts of what we're wrestling with, and, hopefully, we are trying our best to offer some leadership on, in the wider heritage, arts and culture sector."
New ways of telling stories
This will, presumably, lead to a new strategy in terms of storytelling and interpretation as well as restitution.
Dan Hicks agrees:
"I think the role of the curator is fundamentally changing in our contemporary world. Not simply because our audiences are changing and the world is changing around us, though that is maybe the initial reason. I think in museums we often imagine that our role is to keep things the same, to conserve, to abate any sense of change because that might be decay, or moths eating the fabric, and so on."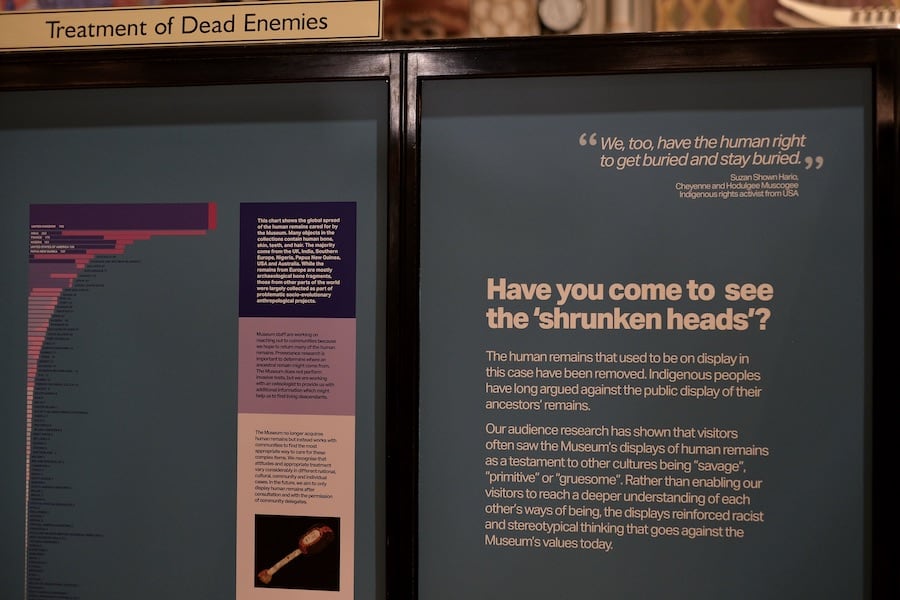 "But, of course, no curator can stop the world around their museum changing."
Realising that, listening to audiences and to stakeholders, and sourcing communities of objects, are all key.
"The display of human remains," he adds:
"Is a classic example of how something really unacceptable to so many of our visitors somehow persisted. Because it feels so much harder – perhaps harder than it is – to take down a display than it is to put one up."
Decolonisation and restitution
The feeling that came to a head with the Black Lives Matter movement has contributed to the fact museums are now talking about decolonization and restitution.
"Decolonisation is not a word that I like very much," says Hicks. "I think there are better words out there, but it is a useful headline.
"The reason I'm uncomfortable with the term is that it is rather too often favoured by museums who see this as either a great PR opportunity or a way of hiding their past by telling the story better so that somehow it goes away and that's enough."
"The academic Ann Laura Stoler talks about not the ruins of empire, but the ongoing ruinations of empire; the ongoing violence.
"It's not in the past; colonialism isn't over, and we experience it, we see it, we enact it in the museum in the forms of institutional racism, of allowing certain displays or certain practices, in the lack of diversity within our workforce, the fact we don't in any adequate way represent those wider communities that we serve."
Pitt Rivers uses profile and platform to address issues
That is not, Hicks says, by chance:
"That is because this institution has a relationship with the wider Imperial project. What that means for a museum, I think, needs to be a different thing for different institutions. It depends on their histories and their presence.
Across the UK, there are museums filled with looted African objects. There is a real job to be done in terms of facing up to those histories
"The Pitt Rivers is a university museum. We are a museum in Oxford; we are a museum of world culture, but we've also got a profile and a platform through which we can try our best to offer leadership. Or, at least, ask some hard questions for world culture museums around the country."
"In the UK, most of the great cities have a world culture museum. Or a world culture collection in their museum. Across the UK, there are museums filled with looted African objects. There is a real job to be done in terms of facing up to those histories. And in thinking about the status of these objects in the contemporary world."
Dan Hicks and The Brutish Museums
5 November 2020 saw the release of Dan Hicks' new book, The Brutish Museums. This an exploration of cultural restitution and repatriation. In this, he addresses the outstanding debt of colonialism and makes a compelling case for the urgent return of such spoils of Empire. For example, the Benin Bronzes, pillaged during a British naval attack in 1897.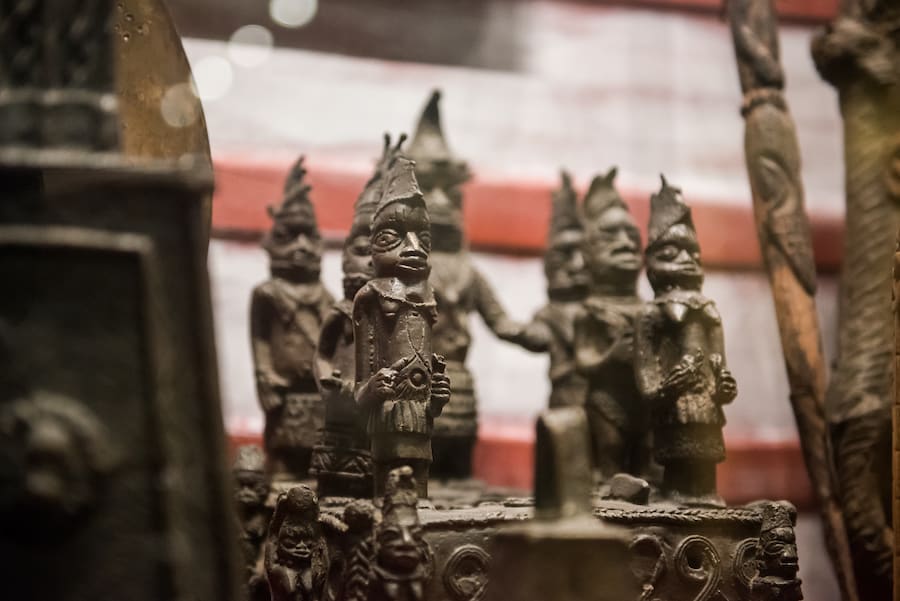 He says:
"Of course, under current conditions, I'm having to do a virtual book tour. I will be digitally going to a series of different venues over November to January to talk to different audiences. Almost all of the talks will be open to all comers; there will be details on my Twitter feed.
"The Brutish Museums is a first attempt to use my knowledge of the collections of the Pitt Rivers. I wanted to tell a story about one instance of the violent looting of African art, the ways in which it has been a part of the exhibition complex of a university museum for over 130 years, and what that means in the present for restitution.
Cultural restitution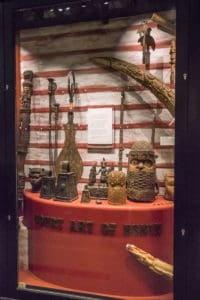 "For me, and I think for everyone interested in this topic, cultural restitution has to involve a case-by-case approach.
"This old idea of 'empty galleries…' 'send it all back? Where will it end?' is something we hear from some of the extremists at the ultra-retentionist end. They see conversations about restitution as iconoclasm; as a challenge to the museum; as an attack upon museums.
"That has no relation at all to what the real conversations among professionals like myself really involve. Those are about how we listen, how we do our job, how we share knowledge of the objects in our care at present and how, when those objects are asked to be given back, we listen to those claims, take them seriously, but don't just engage in dialogue. We see that dialogue as potentially leading to action."
#MuseumsUnlocked
Dan Hicks was the developer and instigator of the innovative 100-day Twitter lockdown project, #MuseumsUnlocked.
"The first COVID-19 lockdown was an emotional moment for everyone in the cultural and heritage sector. A lot of our colleagues were put on furlough. I wasn't physically able to go into the museum, even into my office. Our visitors couldn't access the museums. But neither could the artists, the curators, the people who work in or with museums, the front of house staff, the education teams, the conservators.
"So I, and what turned into a wider community, started to share a series of themed days. We tried to offer something on the digital side of heritage and culture that isn't naff."
To kick off Day 113 of #MuseumsUnlocked (Weds 18 Nov) on the theme of CONTEMPORARY ART FROM THE GLOBAL SOUTH — Christian Thompson's 2016 photographic work "Othering the Ethnologist, Augustus Pitt Rivers" (@Pitt_Rivers collections) pic.twitter.com/kjLzOBdzFj

— Dan Hicks (@profdanhicks) November 17, 2020
"In late March, there were directors of large and important museums calling in their digital teams over Zoom. They were saying, 'where's our online content? What can we create? How do we do something in this moment?'
"And of course, if they didn't have any decent online content at that point, it wasn't going to happen under those conditions. With people home-schooling, with people self-isolating, and having to cope with the sheer anxiety of it all.
Building a community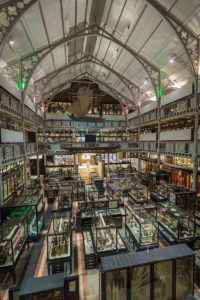 "There were a number of very successful projects that responded in different ways to lockdown. And I hope that #MuseumsUnlocked was one of them. It did something that I think lockdown more generally did for the economy and society; it speeded up processes and threw into relief processes which were actually already happening.
"In my world, something that was already going on was a letting-go of curatorial authority. Of the inward-looking notion of how we think about museums, how we curate content."
Someone said to me, at one point, that it was a crowdsourcing project. It was, in fact, much more of a community-building project. The idea was that each day would have a different theme. Just inviting people to share photographs from their hard drives, their iPhone, their memories of certain cultural sites, and locations.
"Initially, we began with a geographical approach. We visited the British Museum and the V&A. Then we started visiting different cities and regions of the UK. There was one weekend where we took a little holiday. We went to Venice and to New York on a Saturday and Sunday. It worked incredibly well, with people sharing and celebrating."
The power of social media
The community was initially Dan Hicks' own Twitter community.
"But then it became a growing community of people with real expertise; artists, curators, furloughed museum workers, unable to tweet or write or engage with their own museum because of conditions of furlough, but able to share their photographs of the sites they love in Devon and Cornwall, or in the Highlands and Islands, or wherever."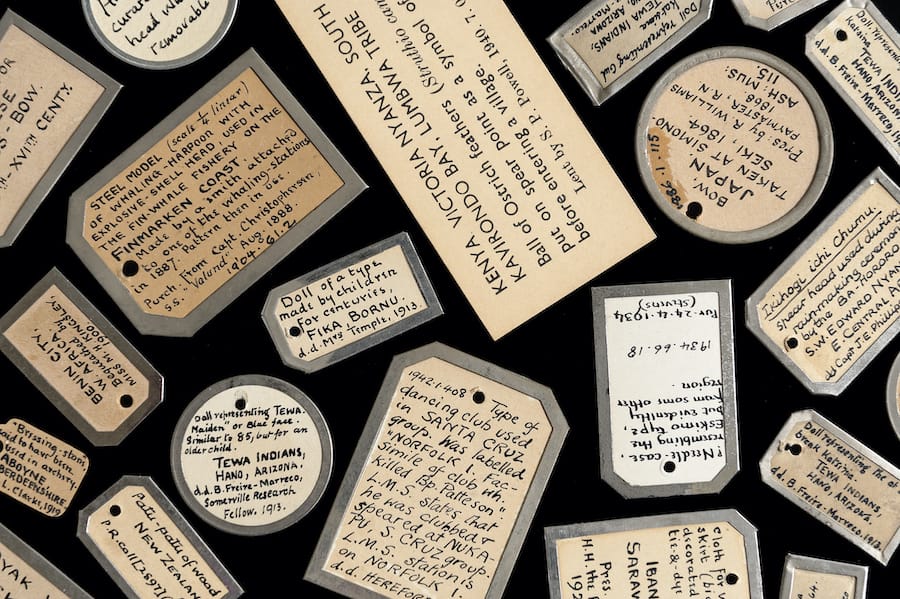 "For me, it was a visual project. It was about sharing. We weren't seeing each other physically, suddenly;  we couldn't walk, we couldn't even go out of the house, at some points. It was all screen-led, and sharing photographs became an incredibly important way of doing it.
"The project was both about memory and celebration of the places that we loved. But also about looking forwards to the places we want to go when all this horrible time is over."
Moving away from traditional curatorship
The project feeds into the notion of a shift away from the traditionally didactic curatorial role.
"The intention was to do a hundred days of #MuseumsUnlocked," says Hicks. "And, indeed, a hundred days are now archived on the Twitter handle @MuseumsUnlocked, where, in each of these 'moments' we spent a lot of time archiving each of the tweets."
⚡️MuseumsUnlocked Day 113 (Part 1) – CONTEMPORARY ART OF THE GLOBAL SOUTHhttps://t.co/PX6gYepps2

— Museums Unlocked (@MuseumsUnlocked) November 17, 2020
"I thanked everybody for that, which sounds like a silly thing. But actually thanking people for their contributions, which took me about an hour and a half every evening, was an incredibly important part of the process.
"Those hundred days became, in retrospect, quite an interesting contrast with the other famous 'hundred themes' way of looking at museums, which is the Neil MacGregor A History of the World in 100 Objects, the ultra example of the idea of the curatorial voice as the authority. Here is the great story of the world, but I'm going to illustrate it with these objects."
A community creation
The 100 days of the #MuseumsUnlocked project worked in the opposite way.
Hicks says:
"I came up with a theme, at the beginning. Towards the end, sometimes we voted on themes, but largely, my curatorial role was to think of some good themes. People then took it in all sorts of directions."
I offered some steers; I encouraged people not to share images of human remains, for example; there were various questions over the coverage of the Global South in this, and, just as in any museum space, around the diversity of voices and so on, but really, it was up to people; it was up to the community to co-create this space."
Lande: The Calais 'Jungle' and Beyond at the Pitt Rivers
To some degree, this was something Dan Hicks learned in 2018 to 19 in the co-creation process for the Lande: The Calais 'Jungle' and Beyond temporary exhibition at the Pitt Rivers:
"It was co-curated by four men who had made an irregular crossing. They had spent time living at the Calais Jungle and they were now in the UK trying to make a career in arts and, in one case, archaeology. And there were four women who had been at the Jungle as charity volunteers."
View this post on Instagram
"There, the choice of objects, the choice of images, the stories that were told, were being led very much by putting me absolutely out of my comfort zone; by allowing those people to really decide on what the exhibit looked like."
For #MuseumsUnlocked, in a different way, the approach was equitable.
Digital technologies
Dan Hicks sees digital technologies indicating a new pathway:
"There is something, too, about the Zoom call. Maybe I'm overly optimistic, but it seems all these technologies, to some degree, ensure everyone gets their little box. And the boxes are all the same size as each other.
"If we get this moment right, maybe this acceleration of the digital in arts and heritage and culture can be a time where we can have genuinely new conversations where differences – the difference between the avocational and the professional, the difference between someone in the North of England and in London; the difference between somebody elsewhere in the world, the normal prejudices over gender, ethnicity, etc – maybe they're going."
⚡️#MuseumsUnlocked Day 102 (Part 1) – CATShttps://t.co/BVv53UwhZS

— Museums Unlocked (@MuseumsUnlocked) November 7, 2020
He feels that with the #MuseumsUnlocked project, a different sort of equitable space was created.
"It was an experiment. It was open-ended; I'm not sure it's over. I think there were lots of ideas, lots of approaches from people about what to do with the #MuseumsUnlocked idea. I'm sure something will happen with it in the future. But I'm a great fan of thinking of museums as spaces of hesitation.
"And I'm hesitating with #MuseumsUnlocked, just to think about where it might go next."
Images kind courtesy of the Pitt Rivers Museum. Background image by Ian Wallman