In the wake of COVID-19, what AV trends will we see in the attractions industry as it adapts to the new normal?
By Emma Kolasinska, Moonraker VFX
The attraction world, like so many other industries, has been hugely impacted by the pandemic and attraction management teams are having to rethink how they get customers through the door, while also ensuring their safety.
In a world where we can't touch but we crave shared experiences more than ever, AV immersive technologies are providing the perfect solution. They enable us to create storytelling experiences that inspire and amaze, whilst using visuals and audio alone to enhance our interaction with these spaces.
At Moonraker, our collective experience means we've been working in the audiovisual space now for over 20 years. During this time, we have delivered projects for some of the biggest attractions around the globe. Located in Bristol, alongside the big players in natural history programming, our expertise is founded in using these immersive technologies to tell remarkable stories about our planet.
Enhancing the stories of these landmarks and attractions in a way that is both safe and spectacular will be key to the future of the industry. And there's no better way to do this than with the right audiovisual implementation.
Top AV trends in the attractions industry
From augmented reality to holographic imaging, here are the biggest AV trends innovating the industry.
1. VR and AR
Back in January, everyone was singing the praises of VR. It was set to revolutionise the museum and attraction space. However, like everything else – Covid happened – and our 2020 predictions were turned on their head.
While we were in lockdown in our homes, VR was instrumental in continuing to connect us with museums. It enables us to insert ourselves into museum worlds and engage with these spaces, despite restrictions. But as more of us eventually start to return to attractions in person, sanitised headsets will become an increasing challenge for the industry.
Augmented reality technologies, however, are providing a solution. While using our own devices, AR enables us to experience a deeper immersive experience by digitally layering images over the physical world. This helps us to visualise environments as they were before.
This time last year, our team had the objective to transform Carrickfergus Castle in Northern Ireland into a highly immersive experience. We made it possible for visitors to use AR technology to create immersive, 360-scenes and step back in time to iconic moments of the Castle's rich history. Visitors have the opportunity to fire an ancient cannon, to walk a historical path from the 12th century to the present day and to see behind closed walls into the Castle's Keep.
Increasingly, attractions are looking to incorporate similar AR formats to diversify their offering, stay relevant and enhance the spectacle and overall experience for visitors.
2. Projection mapping
Projection mapping is also another big AV trend, revitalising revenue streams and drawing new visitors to attractions. Available in 2D or 3D formats, the technology is bringing buildings and designs sets to life. It is able to transform physical spaces and objects into spectacular and immersive experiences.
You can also integrate projections with other formats. Last month, we finished collaborating with Sarner International on the Bodmin Jail redevelopment project. Our task was to deliver over 20 different bespoke formats. These range from large scale projections to holograms and were blended seamlessly into the scenic background of the design set.
These projections were key to retelling the criminal stories of its eerie past. They also help to create an atmospheric and memorable journey through the Jail's labyrinth of walkways.
By changing the way people see and interact with these spaces through immersive projections, you are able to enhance the emotional and physical response to the history that visitors see.
3. Holographic imaging
Holographic imaging is also another AV trend to look out for as we enter 2021. The technology enables you to incorporate actors and objects into sets and spaces. This dramatically enhances the visitors' experiences.
Just this year, we collaborated with 3D visualisation consultants, Animmersion, to develop beautiful 3D imagery that can be projected using their 'Deep Frame' technology. The finished visual brings real scientific data to life. It allows visitors to see and interact with a stunning, high quality and three-dimensional image right before their eyes.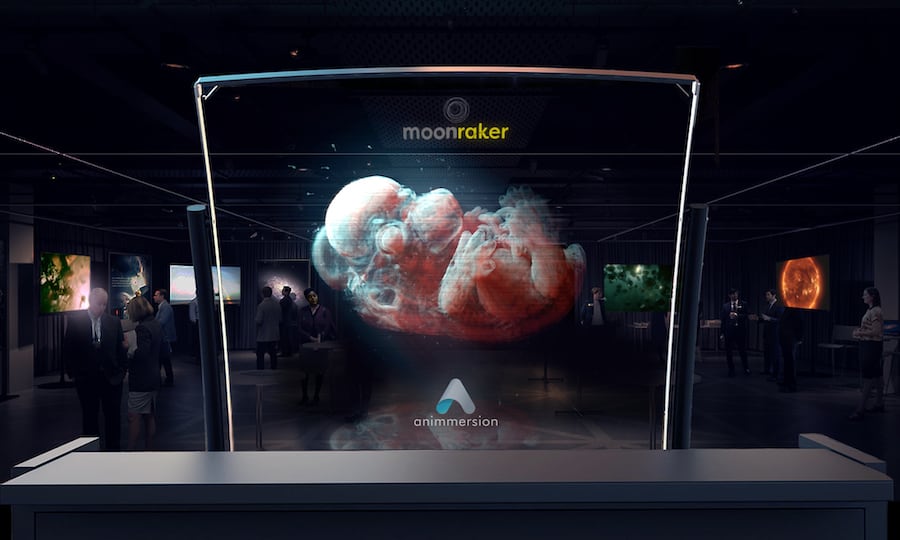 Holograms can also help to create effective ghostly images that can retell the histories of museums and old landmarks. This is one feature that was part of our project at Bodmin Jail.
Beyond the spectacle too, it's educational potential – created by using raw scientific data to create 3D images – means it's a popular choice for museums. On its own, these spaces exist purely as a physical entity. However, holographic imaging is a fantastic way to bring exhibitions and design sets to life, capturing and immersing audiences on a whole new level.
4. Large screen formats
Last but not least on our list of AV trends to watch, large screen formats – whether that be interactive screens or 4K, 60-foot half-dome screens – have been dramatically transforming attractions. These screens can be a part of museum exhibitions or can even form the attraction alone.
Last year, our team worked on a project to refresh the dramatic exhibit at the Fram Museum in Oslo. The aim was to expand and enrich the history of the Fram Ship for those experiencing the exhibition. We did this by creating an epic storm sequence and photoreal ice fields for the 18k, 280-degree field of view projection space viewed from the deck of the ship.
The huge benefit of large screens is that you can adapt them to the scale and size of the space. This creates a truly unique and fully immersive and sensory perspective on the environment. The key is finding the most suitable screen which can be seamlessly integrated into the experience.
AV trends – diversify your offering
Today, visitors want more than just an educational experience. In a world of hyperstimulation, museums and attractions must adapt to changing customer expectations. They can increasingly diversify their offering with immersive and audiovisual technology to stay relevant.
Don't make the mistake of using technology just for the sake of it
That being said, it's so important to carefully consider the size and space. Don't make the mistake of using technology just for the sake of it. If you're considering incorporating audiovisual technology, it's a good idea to get a specialist on board as soon as possible. They can advise you on what is best for your space and budget.
What works in one place won't necessarily work in another. Plus, be subtle with it – the best audiovisual experiences are those which are seamlessly integrated into the existing environment.