Foster + Partners has been selected to design the €18.6m (£16.6m, $20.1m) expansion and remodelling of Spain's Bilbao Fine Arts Museum.
The proposal by Foster + Partners and LM Uriarte Arkitektura S.L.P was chosen from a shortlist of six, ahead of entries by BIG, Snøhetta, Sanaa, Nieto Sobejano Arquitectos and Rafael Moneo.
The jury said Foster + Partners' proposal "carefully respects the existing, recovering the historical values of the museum and projecting it towards the future with a new grand gallery that rises over the constructions of 1945, 1970 and 2001 to write a new chapter in the life of the institution".
The project's priorities include making more room to extend the display of collections, and to promote its exhibition and education programmes.
Restoring entrance and spaces of 1945 building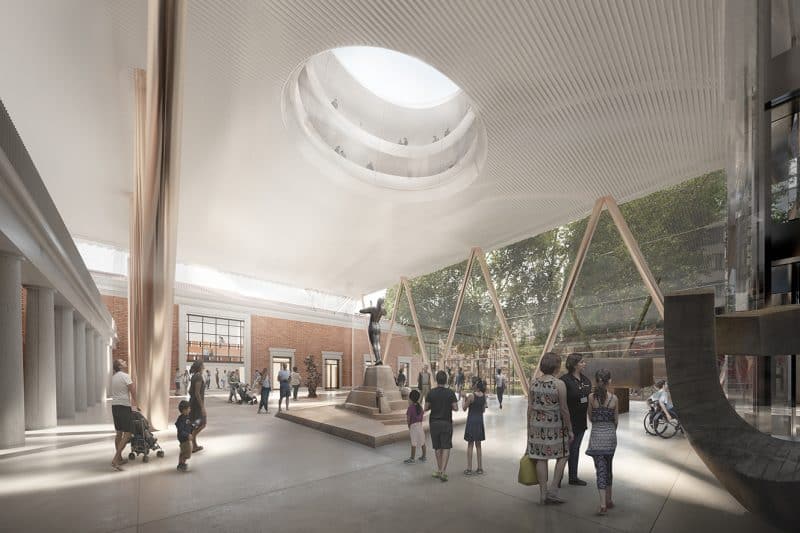 The company will restore the façade of the existing building and make it more permeable. The project also aims to restore the original entrance and spaces of the 1945 building.
A new structure will rest over the 1945 and 1970 buildings, giving the museum 2,000 sqm of new galleries on one open, flexible floor.
The new gallery will feature a rooflight, letting in plenty of light, while the levels on the ground floor will be joined and made more accessible.
Foster + Partners' Norman Foster said: "We are delighted to have this opportunity to create a major new extension and remodel the Bilbao Fine Arts Museum.
New flexible gallery space at Bilbao Fine Arts Museum
"Our design will restore the existing mid-twentieth century building and setting to its original glory, create a new publicly accessible atrium space and add major new galleries for contemporary art in a floating pavilion.
"We, with Luis María Uriarte, look forward to working with the director, Miguel Zugaza and his team to create a museum fit for this forward-looking city."
Images: Bilbao Fine Arts Museum