Linen Mill Studios has secured £3.5 million of funding for the Game of Thrones Studio Tour, an interactive attraction located in Banbridge, County Down, Northern Ireland.
Linen Mill Studios secured £3.5 million of funding through Whiterock Finance's Growth Finance Fund and Growth Loan Fund II towards the cost of the GoT destination (via Belfast Telegraph).
The company has agreed a £2m loan from the Growth Finance Fund and a £1.5m loan from Growth Loan Fund II, both of which are managed by Whiterock Finance.
"We are delighted to have secured funding from Whiterock and I would like to thank David and the wider team at Whiterock for their strong support of the project, and indeed for their positive approach throughout," said Andrew Webb, director at Linen Mill Studios.
'One of the most exciting attractions' in Northern Ireland
"Momentum is now gathering towards the creation of one of the most exciting visitor attractions in Northern Ireland's history, one that will draw thousands of visitors from near and far, provide a host of direct and indirect jobs and underpin Northern Ireland's economy at a crucial time.
"The Game of Thrones Studio Tour has already generated huge excitement and interest among fans around the world and we expect it to play a significant part in rejuvenating the tourism sector on the island of Ireland in the wake of the coronavirus pandemic."
The GoT Studio Tour plans to employ 200 people, and owners claim it will help generate approximately £400 million of tourism revenue annually.
The immersive attraction will include sets of Dragonstone's Throne Room and Map Room, Castle Black's Mess Room, Cersei's Courtyard in King's Landing, and Winterfell.
Sets from Dragonstone, Castle Black and Winterfell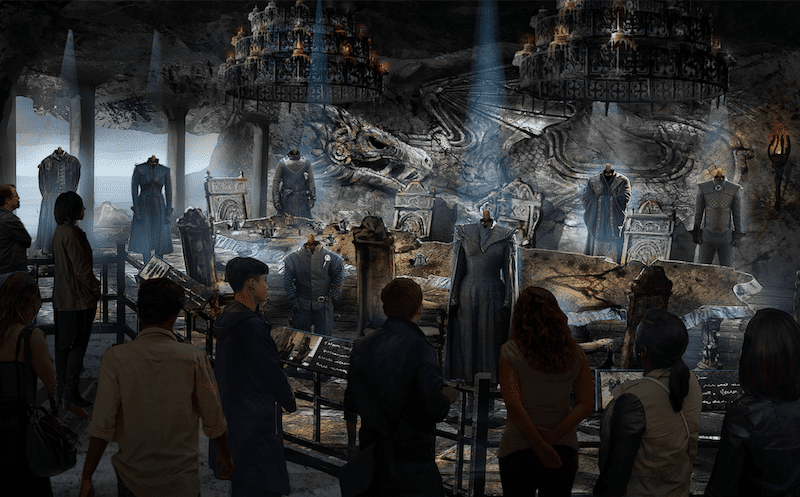 In addition, there will be an extended tour area and ticketing base, pre-show experience, retail area selling GoT merchandise, and a restaurant, terrace and cafe area.
"We are really excited to have been able to play a part in helping Andrew and the Linen Mill Studios team bring this landmark new tourist attraction to life," said David McCurley, director of Whiterock Finance.
"When it opens next year, the Studio Tour will provide a significant boost to the local economy and benefit the whole of the Northern Ireland tourism industry.
"The Game of Thrones Studio Tour is one of the more unique projects we have supported but it demonstrates the wide variety of businesses that continue to avail of both the Growth Finance Fund and Growth Loan Fund II."
Planning permission granted for GoT Studio Tour
Last month, councillors granted planning permission for the Game of Thrones Studio Tour, with proposals for the £24 million attraction accepted by Armagh City, Banbridge and Craigavon Borough Council.