Universal Studios Japan has held the opening ceremony of the new Mario Cafe & Store, with a special appearance from Mario and Luigi, ahead of the launch of Super Nintendo World in spring 2021.
Mario Cafe & Store offers guests exclusive themed food and merchandise in an immersive and authentic experience at Universal Studios Japan.
The exterior of the cafe and shop features oversized Mario and Luigi cap sculptures, while the interior boasts checkered floors, LED signs and a luminous sky ceiling.
"Congratulations on the opening of the cafe and store," said Hiroshi Mizohata, president of the Osaka Convention & Tourism Bureau.
"I am very excited to hear that Super Nintendo World will open in early 2021 and I believe this new area will be the saviour of sightseeing in Osaka.
Nintendo characters at Mario Cafe & Store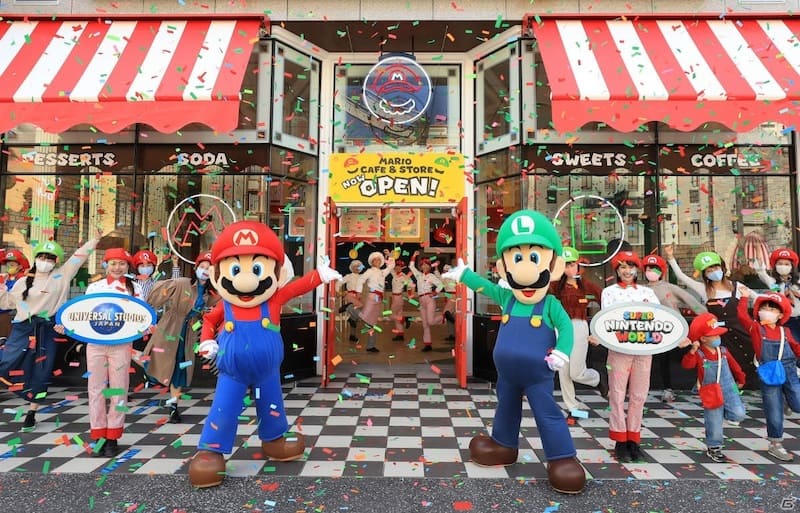 "I sincerely hope that the Mario Cafe & Store will become a success and appeal not only Mario lovers but also to adults and children."
Universal Studios Japan unveiled themed food including fruit cream sodas and pancake sandwiches, inspired by the signature caps worn by Mario and Luigi.
As for merchandise, Mario Cafe & Store will be offering themed cushions, keychains, coin purses, cakes, T-shirts, hats and vinyl pouches.
"The new Mario Cafe & Store provides our guests with a fun and authentic way to immerse themselves into Mario's world," said Taku Murayama, executive VP and CMO of USJ.
Exclusive themed food and merchandise at USJ
"And it's the perfect way to do so before we open Super Nintendo World in 2021," added Murayama.
"Super Nintendo World will take our guests to a whole new level, immersing them in an interactive world filled with incredibly themed rides, attractions, shops and restaurants."
Nintendo and Universal Studios Japan recently confirmed that Super Nintendo World is opening in spring 2021. It will feature state-of-the-art Super Mario Kart and Yoshi's Adventure rides, shops and a restaurant, Bowser's Castle and Peach's Castle.
Universal Studios Japan will be the first Universal theme park to feature Super Nintendo World, followed by expansions in Hollywood, Orlando and Singapore.
Images: USJ