Horner Science Group, the company behind the Jack Horner Dinosaurs brand, has announced the launch of a new collection of NFT artworks, designed to challenge the Hollywood version of dinosaurs.
Jack Horner's Dinosaurs – The Origin Collection is a brand new collection of dinosaur artworks that turns the traditional portrayal of dull green and brown creatures in its head, focusing on some of the eye-catching colours and bird-like features and behaviours identified by leading Palaeontologist Jack Horner.
New NFTs show different ideas
The artworks, which are the result of a collaboration between Jack Horner and Italian Paleo artist Fabio Pastori, are being sold as NFTs. Some of the proceeds will go towards the Horner Science Group Palaeontology Research and Education Foundation, as well as supporting the work of Horner Science Group. This organisation is on a mission to spark interest, understanding, and passion for dinosaurs, palaeontology, and all sciences through personal discovery.
10 animated NFTs will also be donated to museums and science centres.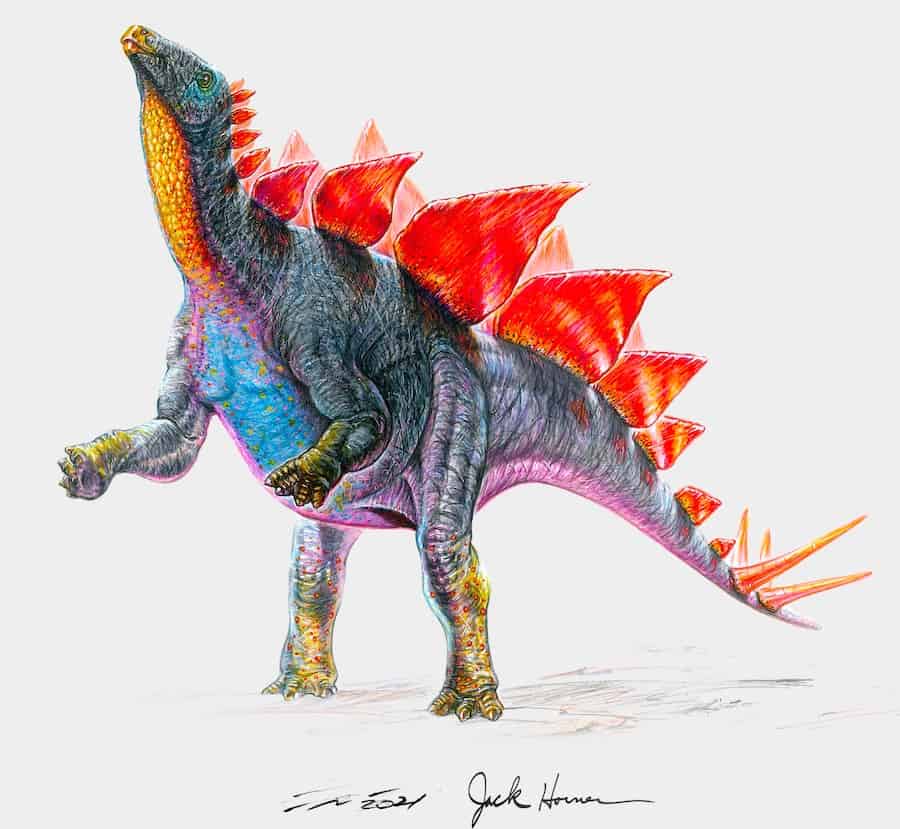 The first drop will include 10 Dinosaurs, 10 Series and 100 NFTs. Highlights include a T.rex head that shows its role as an opportunistic feeder instead of just a predator, featuring wattles and a soft tissue comb on its nose like a condor, for visual display. There is also a full-body T.rex that embodies the theory that this dinosaur was a colourful, birdlike creature.
Other artworks include an Einiosaurus with a face covered in Keratin, like the beak of a bird, a Stegosaurus that shows how the tail and plates were used for display, and a feather-covered Allosaurus.
Jack Horner
Michael Crichton used Horner as the inspiration for Dr Alan Grant in Jurassic Park, and Horner himself serves as a technical advisor to the subsequent film franchise. Now, with the Jack Horner's Dinosaurs – The Origin Collection he has been able to bring to life some of his long-held theories about the way dinosaurs looked and behaved.
"Since I found my first dinosaur skeleton in Montana when I was 13 years old and until I initiated the Hell Creek Project which was the largest field expedition for dinosaurs in the world, I have never stopped thinking or challenging our perceptions of dinosaurs – from how they behaved to what they might have looked like," says Horner.
"The science has moved on since Jurassic Park was made in 1993 but the way we see dinosaurs portrayed on screen or in print really hasn't caught up! That is why I was so happy to work with Fabio Pastori who has really helped me to take what was in my mind and create amazing artistic visualisations out of those thoughts based on my many years of research.
"I can't overemphasise what a meeting of minds it was, and just how he has captured the way I personally think about how dinosaurs may have looked astonishes me, as it will the public. This is nothing like the dinosaurs of Jurassic Park/World fame – my dinosaurs are flamboyant and colourful just like birds!
"I was so amazed by our results that Horner Science Group has decided to launch these dinosaurs as 10 digital works of art as NFTs, including animated special effects."
The Museum Series
Furthermore, Horner Science Group will be donating 10 animated NFTs to 10 museums or science centres around the world, in order to start conversations, inspire an interest in the topic and assist with their research and fundraising efforts.
The first artworks will be available from 21 October on the OpenSea NFT marketplace. There will be a series of different drops taking place at a variety of prices, as well as an auction. This includes the Legendary Series, the Variation Series, and the White Series.
Audrey O'Connell, Co-Founder and Business Director at Horner Science Group said "Horner Science Group are constantly looking at new ways to engage audiences in science and that really comes from the way Jack looks at the world which is always about continuous discovery.
"He has been talking about the birdlike looks and behaviours of dinosaurs for some time now, but these amazing artworks originally created by Jack in close collaboration with an established Paleo-artist in 2020, have powerfully captured his theories.
"Creating an NFT collection has presented itself as an ideal way to raise funds for Palaeontology research and education while at the same time reaching a new and wider audience for our message about the thrill of science. 
"We are delighted to announce that The Origin Collection, our combination of art, science, and technology, will contain a Museum Series. Through an open call, we are looking for ten innovative museums and science or research centres across the globe who would like to receive a complimentary 'airdrop' of one of our animated artworks for their own use and benefit."
The Museum Series of 10 animated NFTs will be donated by the company to 10 museums, science or research centres across the globe. The Horner Science Group has issued an open call, asking institutions to apply if they want to get an airdrop of one of these rare digital artworks.
Jack Horner's Dinosaurs – The Origin Collection has been made possible with the support of Nolan Heimann LLP; Culture Communications Collective; Crabfood Motion Media; John Arthur Little (Science Media Producer), Clare Colley Ochoa, and Jeremy Kenisky.
Dinosaurs are becoming an increasingly popular topic for permanent and travelling exhibitions. Plus, earlier this year, Universal Orlando opened its new VelociCoaster attraction.