Meet Vincent van Gogh, the award-winning touring Van Gogh Museum experience, is heading to leading cultural destinations around the world after a successful 2019.
The Meet Vincent van Gogh Experience is a multi-award-winning exhibition, telling the story of the much-loved artist's life and work. Created by the Van Gogh Museum in Amsterdam, it aims to share his unique life story with audiences around the globe. The Meet Vincent van Gogh Experience has already been inspiring audiences in Seoul and Barcelona with its playfulness, interactivity and fascinating story.
"2019 has been an exceptional year for the live Van Gogh Museum Experience division," says Arnold van de Water, General Manager of the Meet Vincent van Gogh Experience. "The Experience's innovative combination of interactives, cultural storytelling, edutainment and retail introduces the Van Gogh Museum's world-leading collection and research on this beloved artist to new target audiences around the world."
"Meet Vincent's success is defined by a seal of quality and authority not only from the iconic Van Gogh Museum but also by our wider team of cutting-edge international suppliers, hosts and support staff."
Meet Vincent van Gogh in Europe
The exhibition's European launch took place in Barcelona from April to July 2019. Locals and tourists alike were drawn to the Meet Vincent van Gogh Experience, held at the superyacht habour, Port Vell. During its time in the Spanish city, it attracted an audience of over 161,000 visitors and was even extended for an additional month due to popular demand.
Meet Vincent van Gogh Barcelona was promoted by ProActiv: Live Entertainment & Brand Events, Spain's leading entertainment promoter.
"The paintings of the artist are more alive than ever, his thoughts and inspirations narrated by himself and his life projected before your eyes." – La Mono Magazine, 7 February 2019
Meet Vincent van Gogh in Seoul
In addition to its run in Barcelona, Meet Vincent van Gogh had an Asian tour stop at Seoul's Woojung Arts Center in mid-April 2019, where it delighted a range of visitors.
"Meet Vincent van Gogh is a completely multisensory experience that people can touch, look at and hear- altogether a new paradigm," says Yong K. Kim, CEO of the Experience's local partner, MAST Media & Entertainment. "The fact that people can take selfies freely throughout the exhibit led the Experience to become a hotspot for social media savvy youngsters, as well as families and students."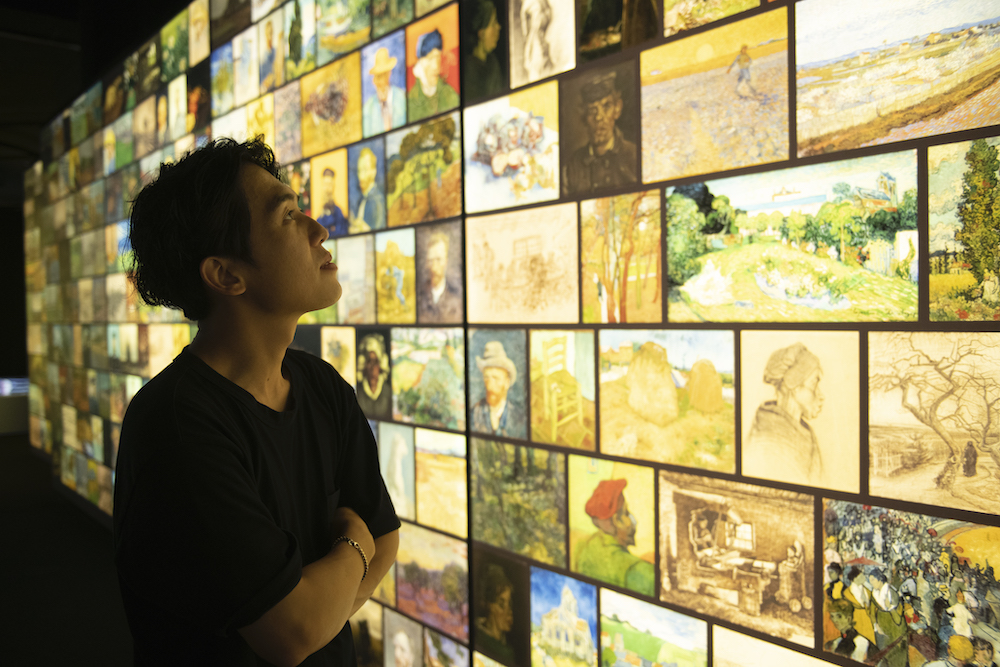 As well as the exhibition itself, the Van Gogh Museum offers a range of experiential concepts, ideal for retailtainment opportunities and cultural exhibition spaces. For example, the Van Gogh Museum Edition Pop-Up.
This is an innovative retailtainment concept that brings together an insight into the art and life of Van Gogh with a fully-stocked Van Gogh Museum merchandise store. The pop-up has been touring the leading retail destinations in the United States since 2018.
Looking ahead to London and Lisbon
Two exciting new stops have now been announced for the Meet Vincent van Gogh Experience, the dynamic cultural cities of London and Lisbon.
Visitors will be able to enjoy Meet Vincent van Gogh Lisbon from 28 February 2020 when it arrives in the city's historic Belém district. The area is home to several much-loved national landmarks, such as the majestic Presidential Gardens, and is sure to be a draw for locals and international visitors alike. It is produced in collaboration with UAU Produtora.
The multisensory and immersive experience will also visit the buzzing cultural hub of London soon.
Interested in hosting the Experience and becoming a part of the success? Register here for a free copy of the Meet Vincent van Gogh promoter's book to learn the answers to all your questions: from technical production and design, to how the Van Gogh Museum's distinctive branding can maximize the Experience's impact in your city