Severn Lamb, a leader in the manufacture and supply of leisure, resort and amusement transport, has announced that it has created and delivered two new road trains to Royal Botanical Gardens, Kew. The new trains arrived at the popular UK attraction last week, and commissioning is scheduled for the end of April.
Kew Gardens, in southwest London, is home to the largest and most diverse botanical collection in the world, including around 50,000 living plants as well as more than 8.5 million preserved plant and fungal specimens. It dates back to 1840 and features beautiful gardens and glasshouses set across 132 hectares. Kew Gardens is also a world-renowned science and conservation organisation.
See also: Richard Deverell: the science and evolution of Kew
Explore Kew in style
The new Kew Explorer, which will officially launch on 17 May, will allow guests to enjoy the stunning gardens in comfort and style and will be running just in time for the great British summer. Visitors will be able to relax and take in a guided tour, learning about Kew's flora and fauna, as well as its historic buildings and vital conservation work.
Highlights of a visit to Kew include the Alpine House, the Palm House, the Princess of Wales Conservatory, the Waterlily House, Queen Charlotte's Cottage, Kew Palace and the Royal Kitchens and more.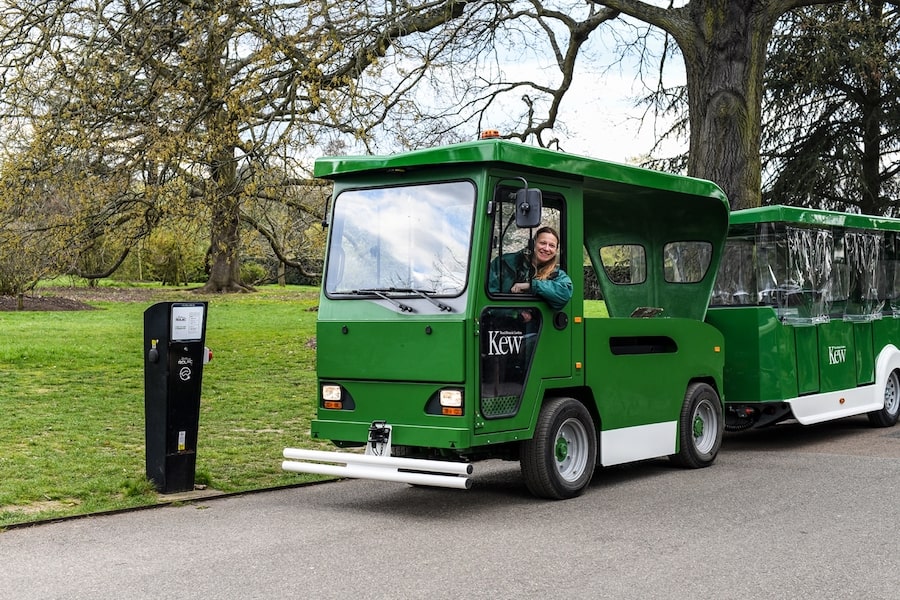 Last August, Severn Lamb also revealed the final look and design of Southend Pier's new trains. This followed a public consultation in early 2020 on three potential designs, conducted by Southend Borough Council.
Southend Pier's new trains will feature a cutting-edge audio-visual experience, increased capacity (including for wheelchairs), onboard Wi-FI and UBS charging points, speakers and display monitors, GPS triggered audio announcements and a hearing loop system and braille driver alert.
The company also recently completed projects at Colchester Zoo, Marwell Zoo and the National Railway Museum.