Sysco Productions, a world class experience delivery company, has provided AV solutions for the V&A's exhibition Ocean Liners: Speed & Style.
The Ocean Liners: Speed & Style exhibition at the V&A museum examines the design and cultural impact of the golden age of ocean travel.  All aspects of ship design are explored from engineering innovations through architecture and interiors to the fashion and lifestyle aboard, in the context of five key themes: Promotion, Politics of Style, Engineering, Life on Board and The Metaphor of the Liner.
More than 250 exhibits are on display including paintings, sculpture and ship models in addition to objects from shipyards, wall panels, furniture, fashion, textiles, photographs, posters and film.
"Story engineers", Sysco Productions worked closely with the design teams to help realise their vision for the exhibition.  A careful and considered approach was required to incorporate the audiovisual technology around the exhibits, many of which are delicate.
Audiovisual solutions
Multiple audio soundscapes were created to match the narrative of each area, using discreetly mounted loudspeakers.  The familiar coastal sounds of birds, distant waves and
music from bygone are designed to evoke an atmosphere of adventure and onboard glamour.  In Engineering, an active subwoofer creates heavy reverberations and depth of sound, mimicking an authentic engine room setting.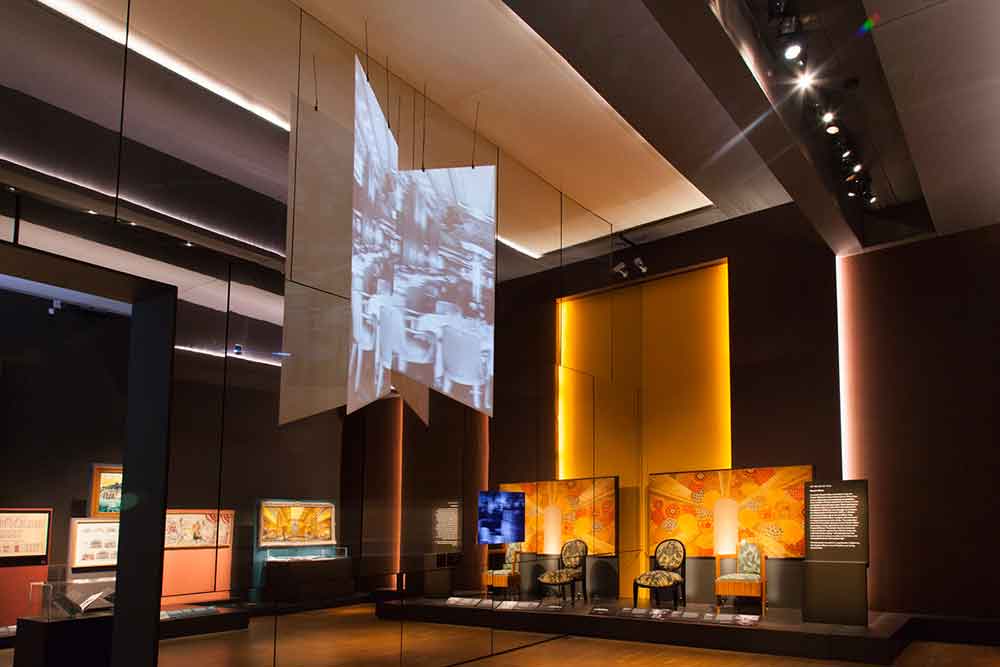 Throughout the exhibition, archival photographs, movie footage and other media are presented through LCD displays and projections.  Politics of Style includes a rare preview of the Queen Mary with the ship's interiors displayed through a portrait projection on to an elevated angular screen.  A contrasting  perspective on ship design and intricate decoration is provided by a display of French Art Deco Liners.
In Life on Board, visitors are transported back in time to an age of elegance, through setworks, grand installations and magnificent exhibits. The Seascape Panorama comprises of two seamlessly blended short throw laser projections that are perfectly scaled and overlaid with the setworks to deliver a beautiful sea view. Visitors can gaze out to sea as they promenade on deck, watching a cruise liner glide across the ocean.
The decadence and glamour of an evening onboard is recreated with 4 synchronised projections
of a man and woman in evening attire descending a sweeping staircase for the Grande Descente.  The projection screens are suspended asymmetrically in a night sky of LED starry walls.  The looping media content and perfect geometry correction have been achieved with a 6-channel rack mounted watchout server.
The Metaphor of the Liner considers the fascination with the Titanic and a longing for a lost age of glamour.  On display is a fragment of a wooden panel fragment from an overdoor in the first-class lounge on Titanic.  Lighting levels were carefully considered to safeguard this beautiful and fragile artefact.  The piece sits beneath 2 ceiling mounted projectors, which merge a projected visual of flowing water.
Sysco were contracted to deliver the layers of audiovisual solutions around the V&A by Empty SL, working closely with Flemming Associates and Casson Mann to develop the design and integrate the technology seamlessly amongst artefacts and exhibits. The interactive media was creatively designed by Lightmap, with lighting provided by Studio ZNA and the White Wall Company.