On 29 April, Gateway Ticketing Systems hosted the seventh instalment of its Webinar Wednesdays series, addressing best practice for communicating post-COVID-19 procedures with staff and guests while you prepare to reopen.
By Greg Banecker, Gateway Ticketing Systems
The latest Webinar Wednesdays session, Recreating Trust with your Guests and Retraining your Team, addressed best practices for communicating your updated COVID-19 safety and cleanliness policies and procedures to your guests right now, before you reopen. It also looked at how to ensure your current, furloughed or laid-off staff are ready to promote those procedures.
Several industry experts took part, including Josh Liebman and Matt Heller from the AttractionPros Podcast. There were several key takeaways that are worth reiterating.
Communicate existing procedures as well as extra COVID-19 measures in your reopening language
Ngong Ping 360, a cable car on Lantau Island in Hong Kong, reopened on 30 April. The webinar highlighted the attraction's pre-opening communications. These focused on strengthening the safety and cleanliness measures that had existed since the attraction was open.
"Guests had a passive expectation of cleanliness prior to this," said Liebman. "There was an ultimate understanding that you were keeping your attraction clean. That is no longer the case."
This is a hospitality industry, and attractions have always been leaders in cleanliness and safety. Operators now need to focus on communicating the procedures they have always followed and then make sure to address the additional COVID-19 measures they are taking now and when reopening.
Overcommunication is the right amount of communication here. Heller said: "We used to want that fantasy where people just walk into our attraction and things are sparkling clean. Now we're saying, let's do this right in front of our guests."
Communicate with empathy, not with facts
Jeff Chatterton is an expert in crisis management. He spoke on an IAAPA webinar last week, and one of his primary points is that we need to avoid answering questions with facts. We need to respond with empathy.
He gave the example of a child who is afraid of monsters under the bed. The parent could enter the room, categorically explain how monsters aren't real and then put the child back to sleep.
But that probably doesn't calm them. If the parent responds with empathy, saying something like – "I used to be scared of monsters under the bed too, and here is how I dealt with it" – the child is much more likely to calm down and go to sleep.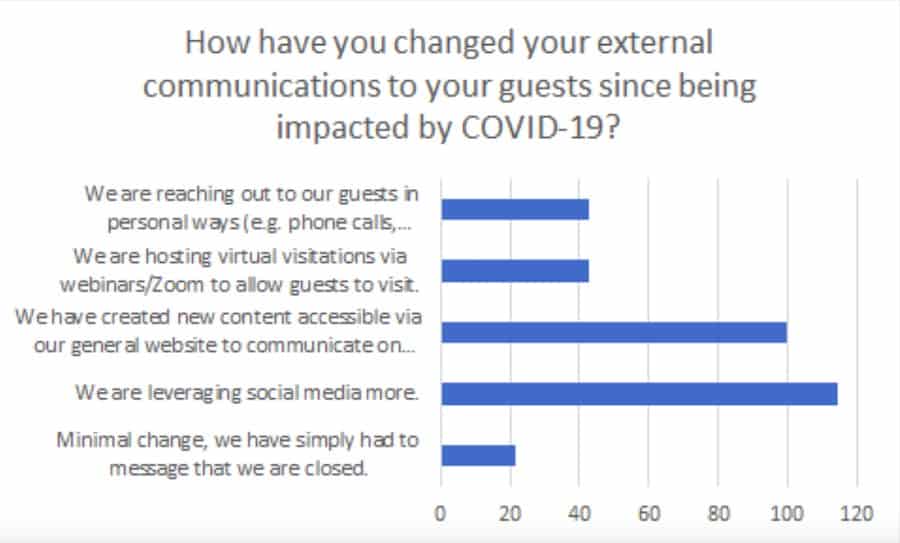 There is a time and place in our new world to list the number of times you are cleaning the bathroom and the measures staff are taking every thirty minutes to ensure things are safe.
But everyone is in the same situation and is scared – including you. Respond from that perspective and you're much more likely to regain your guests' trust.
Reach your guests right now
Liebman said: "Pre-COVID, the guest experience and social media were two separate functions. Over the last several weeks, they've been exactly the same."
Diana Vega also spoke on the webinar. She is the Guest Services Manager at Zoo Miami. The Zoo has been running a social series called Keeper Catch-Up where zookeepers are introducing animals to the audience in a fun and engaging way.
One interesting topic they covered: quarantine may be new to us, but it's nothing new to the animal world. When a new animal comes to the zoo they go through a quarantine period which usually lasts for 30 days to ensure they don't have any health issues. This helps with the safety and protection of the resident animals at the zoo.
The Zoo is also targeting parents stuck at home with their kids on social media by providing educational content around their mission, with included lesson plans (like arts and crafts, or yoga with animal-related poses).
Many attractions are also leveraging social media to show their employees practising new safety and cleanliness measures. Again, this goes back to the point that there is no limit to the channels or touchpoints you could use to communicate your post-COVID-19 procedures when reopening.
The personal touch
Many if not all attractions will have soft, capacity managed reopening. This is the perfect time to reach out to your most loyal customers via email or phone to personally invite them back. "Don't just look at it from a marketing standpoint, but from a hospitality standpoint," says Liebman. "Recognize their loyalty and show appreciation."
Can you brand the changes you're making? This will help reinforce your new procedures with guests, and even with your employees
Kelly Bules is an Account Manager at Gateway who has experience on the operator side in New Orleans after Hurricane Katrina. She offered her input: "People won't just want to get out. They'll want to start helping you recover." Use this idea to influence your messaging.
Can you brand the changes you're making? This will help reinforce your new procedures with guests, and even with your employees. Hilton is calling it their "Clean Stay" program.
Finally, when communicating your COVID-19 procedures on reopening, don't let your signage get lost in the shuffle. Many places will be required to post new rules and regulations right at the entrance. Others should consider doing it themselves. Also, make sure to leave a phone number, email address or some other way to contact a key staff member. This means that any issues can be addressed immediately.
Join or set up a task force with other area attractions
Zoo Miami is creating a task force with other attractions in the area to develop a cohesive guest experience that will help train guests on following new procedures.
Imagine if all these attractions used the same language, the same imagery, and posted in similar places within their venue. How powerful of a message would that be to guests?
Engage your employees
Heller listed his three actions you need to take right now to reengage your current, furloughed or laid-off staff:
1. Give them positive attention. It's not enough to tell them to call or email if they have a question. Be proactive and reach out with information or just a personal check-in. A call is more powerful than an email.
2. Connect people, and with people. Facilitate connections among your staff. Normally they work side by side, and now they haven't seen each other in weeks. Schedule a Zoom happy hour. Keep conversations going on social media. Keep your people connected.
3. Provide purpose. Your employees will need to have a purpose when they come back to work. For example, Six Flags just had a group of employees go out and thank front line workers (socially distanced, of course, and with masks and gloves). Make sure your staff knows the bigger picture they are contributing to when they return to work.
Bring your front-line staff in right now (and even your volunteers)
Don't wait until new COVID-19 strategies, policies and reopening procedures have already been proposed, dissected, approved and set into action before you communicate with and solicit feedback from your front-line staff. These are the people who likely know best how a new rule will play out in the real world.
Additionally, these are the people who need to be just as reassured as your guests that you are taking the appropriate measures to ensure they don't get sick.
"But don't just focus on the front-line," Heller warns. "You need to reassure and re-train supervisors, managers, and every level of leadership so everyone is on the same page."
Some other Webinar Wednesdays wonderings
Ngong Ping 360 always had a special VIP experience where for an extra cost you could book a cable car all to yourself. This has now become the norm. But they've wrapped a nice promotion around this special feature now available to everyone. Do you have any opportunities like this?
Heller had a great quote: "When someone is upset, you can get angry with them, but not at them."
Are you using virtual backgrounds on conference calls to help promote your venue?
Many attractions will be focusing a portion of reopening efforts on first responders and healthcare workers. What is your opportunity here? An added benefit: these people are already familiar with social distancing and cleanliness best practices.
Collect your COVID KPIs: Use social media, email and phone calls to poll your most loyal customers about what they need to feel comfortable returning to your attraction. Don't stop this when you reopen.
Ride training – do employees need to be recertified?
Watch the whole webinar
The whole webinar is available to watch here. Gateway Ticketing Systems is running weekly webinars on Wednesdays addressing how attractions can deliver their best guest experience now and when they reopen, despite coronavirus. The next webinar is on Wednesday 6 May at 2 pm EST. It will explore how to price the guest experience in a post-COVID-19 world. You can register here.