The rise of Lates, after hour events, has revolutionised how museums and attractions are reaching new audiences. They are also a great way of increasing engagement with visitors.
From sleeping overnight at the Natural History Museum, to a boozy evening among the animals at London Zoo, attractions are thinking of new ways to "sweat their buildings" and utilise the assets they have. Night time events are generating big money, £70 billion a year in the UK according to the Night Time Industries Association, so its no wonder attractions, particularly budget constricted museums are wanting a slice of the night time economy.
I recently attended the first-ever 'Culture of Lates' conference held at the National Gallery, London to explore best practice and trends in the growing phenomenon. The event was hosted by Culture24, which does fantastic work supporting UK cultural attractions in reaching new audiences. It also helps initiate, develop and improve policy.
The Godmother of Lates
The conference had speakers from attractions in Sydney to Russia, from world class institutions such as the V&A, the National Gallery, Natural History Museum and Tate Modern, as well as organisations like Air BnB and Time Out.
There is a lot of truth behind Tim Ross, Comedian and organiser of Man about the House's comment that he does "entertainment for middle-class people who want something to talk about at dinner parties" but there is also no denying the opportunity for Lates to reach young people with disposable income.
Lates started back in the 2000's with Susan McCormak who began the very first Lates programme at the V&A. McCormak was awarded a sash and tiara and crowned the Godmother of Lates during the conference. Another early adopter was Ashlie Hunter, Producer Public Programmes, Art Gallery of New South Wales, who has done lates every Wednesday for 13 years- that is a lot of content every single week!
Through a lot of interesting sessions there were three main takeaways.
Museums are part of the 'night time high street' 
Many innovations have rocked retail: the fridge ruined the daily shop, the car and out of town malls ruined the local shops, and online shopping is now a huge threat. There is a gap for museums and attractions to become part of the city centre. They can help them thrive, especially so at night. The solutions will help more than just their own revenue. They wlll also help regenerate whole areas, generate jobs, and standards of living.
Business improvement districts (BID) are also a vital part of many museum's strategy. A good example is  Museums Sheffield, which works with local authorities, transport, retail and other stakeholders for a greater nighttime offering. Museums shouldn't work in a vacuum.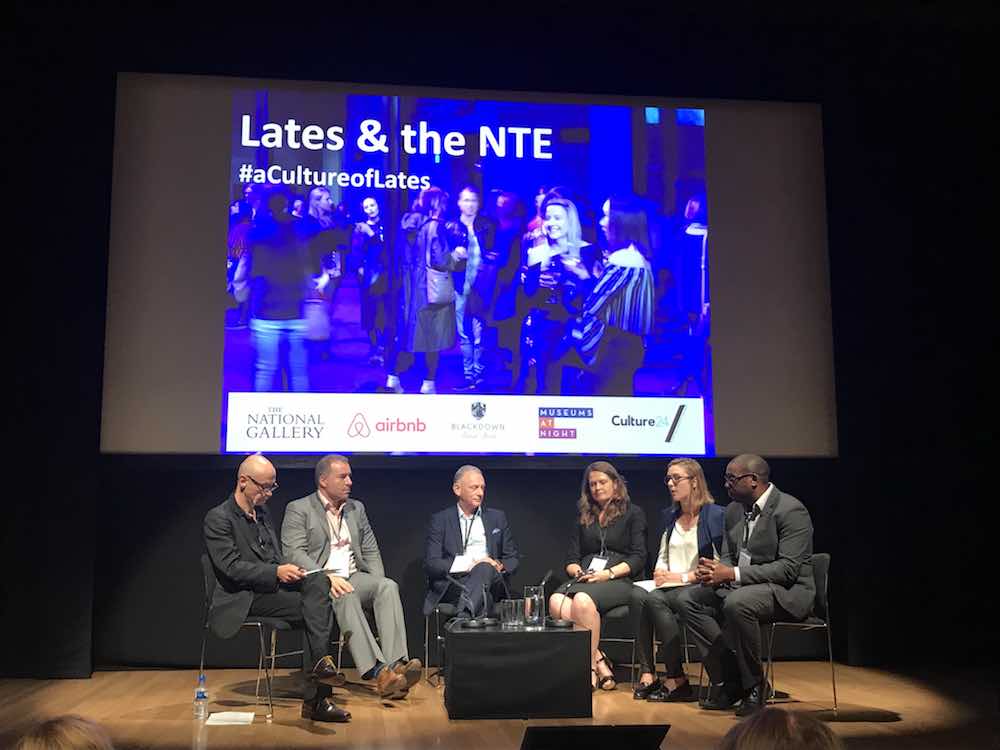 Lates help reach a different audience
Lates is late for a reason. 18-35's are working 9-5pm Mon- Fri and often can't get to museum or attraction in their normal opening times. As a result, Lates are aimed at these young millennials. They are hungry for content and to develop their own ideas and identity. They also have disposable income and no family commitments.
It is important to put on new and exciting events but not alienate your existing visitor demographic. Lates programmes can be varied to try new things. Not everything will work smoothly. However, the key is consistency (eg same day and venue) and quality.
To charge or not to charge?
There isn't a right answer to this question. Most museums in the UK are free. The idea is that they are open to all and arguably lates should be too. Revenue can be generated on the drinks, food and retail. The initial cost of the event can be seen as an investment in engaging a wider audience for the museum.  Mistakes or failures in the event can be forgiven easier if the ticket price is free.
Some argued that charging for a ticket means people value the event more. As a result, there are fewer no shows. Ultimately ticket revenue will be fed back into the museum's core programmes. 
At the conference, Culture24 also launched their own new project. This is Otherworld, a two day festival in June 2019. It will bring venues across London together to showcase all sorts of lates events. Ultimately, the fact that there is now an industry event all about Lates shows that the trend is not slowing. We can therefore expect all sorts of attractions to put on a huge variety of events over the next year.
Image Credit: Header- Ruth Armstrong Photography, and V&A.