We spoke to the team about how the customer experience is at the heart of everything they do.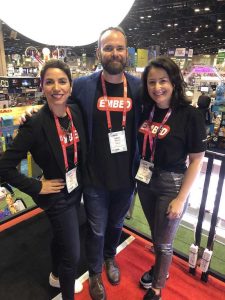 The Embed team was easily visible at IAAPA Expo 2019, thanks to the large white balloon that floated above the two-storey booth on the trade show floor. During the event, Renee Welsh, Chief Executive Officer, Andy Welsh, Chief Technology Officer and Sara Paz, Chief Marketing Officer took some time out to talk to Blooloop about the company's new marketing strategy, as well as their latest innovations and the importance of the customer experience.
The customer experience comes first
Over the last 12 months, Embed has been overhauling its brand and marketing strategy to ensure that the customer experience is central to its ethos. Sara Paz has been the architect of this project, and explains why she was attracted to the industry:
"I joined the company in January. I came from the high-tech sector, which is a very fast-moving and highly competitive industry. And when I was interviewing for the role, it was clear and apparent to me that this industry, the whole entertainment and amusement category, was on the cusp of this massive explosion in innovation and technological advancement.
"It is not like any other industry that is on the verge of being touched by the combination of technology and creativity. I also knew that it was going to be a clean slate where I could architect a marketing strategy and the marketing function.
"What is wonderful is that I feel like I am building on this amazing business. Embed is a combination of industry insiders, people who have been with the company for 20+ years, and also high-tech mavericks.
"Together, we are unified in our belief in the transformative power of our business solutions and the impact on the guest experience. Everything we do is focused on the customer experience. Because ultimately, that is the way to futureproof an FEC business. That is what will drive return visits, and enable that seamless immersion in play and entertainment."
Technology inspired by guests' needs
Renee Welsh also spoke about how this focus on what the customer wants has helped Embed to come up with fresh ideas, including the Mobile Wallet, a world-first.
"We have been doing this for a very long time and our technology was borne out of a close relationship with operators," she says. "So, from a B2B perspective, we have a very feature-rich experience for our operators.
"But more and more, as you look at technology trends and how consumers are actually using technology, what we realised is that we also need to look at the guest experience, beyond when they just arrive.
"For example, how do we interact with that guest prior to their arrival? How do we build a relationship with that guest so that our operators know who they are, know how much they spend and know how many times they visit? That data and that customer experience is becoming a really big thing for operators.
"And our technology is all about enabling, empowering and easing the business of fun. In order to do that we need to look at the industry holistically. Now, we are very much focused on how our technology enables and eases the guest experience.
"So the new products and services that we are launching really play into that focus, and also making sure that it is a frictionless experience."
Introducing the Mobile Wallet
In order to pursue this frictionless guest experience, Embed has recently launched the Mobile Wallet.
This is a virtual game card that guests can add to the Apple Wallet or Google Pay and use to seamlessly continue gaming. It will allow gamers to tap and reload their game card easily.
This means that they can enjoy the fun without having to leave the game to top up. It also enables operators to gain insight into their guest's behaviour and spend habits.
https://youtu.be/C9t87LzyX_k
"It's not a download that they need to wait for," says Renee Welsh. "You literally just pick up your phone, register your info and you're on your way. And that's a really important thing.
"I have children, so I frequent a lot of FECs. When it all gets a bit much and you've been there for an hour, and there are lines at the kiosk, it's stressful and that's when customers might leave.
"But if you had the opportunity to just load another 10 dollars by my phone, for the kids to just have a few more minutes of fun, that really helps. I think this will really translate into increased profits as well as increased time on site. It is a win-win for the industry."
Responding to demand
"The mobile wallet is a real big break for our industry," says Andy Welsh. "For us, it is the first time that our industry is moving along with the titans, such as Apple and Google. And we are really leveraging this to make something special.
"It's very different from traditional offerings, where you have an app, you download the app, you register on the app, you put your credit card on the app, and then you can use it. That traditional funnel is expensive, it's a crowded market and it's very difficult to make an impact.
"The Mobile Wallet cuts through all of that very simply, You just put your card in the wallet, and use the wallet as your main point of contact with the system.
"When we spoke to a lot of our customers, there was obviously this need. We are an economy that is based on self-serve.
"However, there were just these blocks, and if you take a look at the apps that some other companies in the industry make, the uptake hasn't been that great. We realised that what people have to go through to actually use these was way too complicated. "
Changing perspectives
Andy Welsh says, in order to respond to this need, it was important to consider the customer experience and to understand what guests really want.
"This was a real shift in mentality," he says. "Our team has been B2B for 18 years. And then to actually put themselves into the guests' shoes and see it from a guest perspective, their minds were blown.
"I really applaud the team for getting to that level. As a result, we saw what the main problems were with reloading. And me, personally, I have kids – the thing that I dislike about going to an FEC is walking through the front door and then waiting for 10 minutes with two impatient kids, waiting for game cards.
"It doesn't have to be that way! Being able to reload, and to be empowered to just get out there and have fun straight away, it's great."
The Experience Economy
Sara Paz also talks about how understanding the customer is key to developing innovations which make a real difference to the guest experience, referencing Pine & Gilmore's Experience Economy and the fact that every single touchpoint in a consumer journey is either making or breaking your brand
"Marketing isn't something you do, it is everything you do. Consumers today have no patience for standing in line, or for long queues, or for wasting time. Because they are time-poor."
"And so when we looked at our marketing manifesto and our brand strategy, the customer experience is literally intertwined in everything, it informs every operating decision we make. It is who we are."
Response to the Mobile Wallet
Sara Paz says that the response to the Mobile Wallet so far has been very positive. "The reason why it has been so well received is because there is no app to download, its plug and play. It works with your existing Embed system.
"We have made it as easy as possible. And that actually goes back to the fact that our mission is to enable, empower and ease the business of fun."
"We knew that it was going to be big because it was a first in our industry," adds Renee Welsh. "We had clients sign up after the first press release. A lot of our clients definitely recognise that they want to build that relationship with their guests and capture that info."
"Typically, they want to see the product first, feel the product, but this time around, lots of operators just said, yes, we know we need that. I think it is just instantly translatable because it is easy."
Adding some bling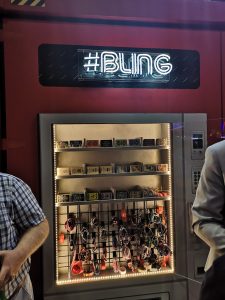 In addition to the Mobile Wallet, Embed was also showcasing a new range of wearables at IAAPA Expo 2019, with a bling bar set up on the booth to display them. Sara Paz explains a little more about these new products:
"We know that the game card is the currency of modern FECs today. So we said, if the challenge is to drive return visits, we need to reinvent the game cards and reimagine next-generation wearables. We have designed them to become collector's items.
"For example, we have metallics, we have wooden cards, we have embossed cards. They are almost 3D. Those had a really positive reception. And then we said 'OK, well we've redesigned and reimagined the game card, what about the wearables?' What if we put in a little bit of bling, what if we use our own art?
"We have developed them so that people can have themed ones, for example, Halloween, or Valentine's Day. We can also cater to different sectors, such as music festivals, wine tastings, holidays, museums, attraction or even waterproof for water parks."
A better customer experience
"Our wearables came to pass because we really wanted to innovate in the space and have a better quality RFID product," says Renee Welsh. "So, from our new limited edition card range right through to our wearables, we've made it appealing for people to register their info and get a game card.
"We recognise that not everyone has a smartphone, for example, a lot of children don't have a phone. But we still wanted to offer them that frictionless experience, and also a premium product that people want to keep and wear."
"The wearables come in 200 different shapes and sizes, designs, patterns. We have had a lot of interest in this as well as the Mobile Wallet. Because they complement and go hand in hand with each other.
"It's something that people can keep on their wrist and not take off- they even go in the shower, through the washing machine, just general life – we know that they'll still work. It has been very well received as well."
Looking to the future
Embed will be continuing this focus on the customer experience as it looks to the future, and the team reflected on where the industry might be headed next.
"The FEC industry is starting to become much more complicated," says Andy Welsh. "For instance, you have laser tag, escape rooms, video games. All of these things have different management styles and different customer experiences.
"But the amount of content that FEC's generate is amazing. Take a look at any kind of thing that has a booking and you're looking at an exchange of data every three seconds. For example, a booking is changed or cancelled, or someone makes a booking online.
"For our guys on the ground, our operators, to actually turn that into something that is useful, and helps them to engage with the customer? Well, that's where the trends are."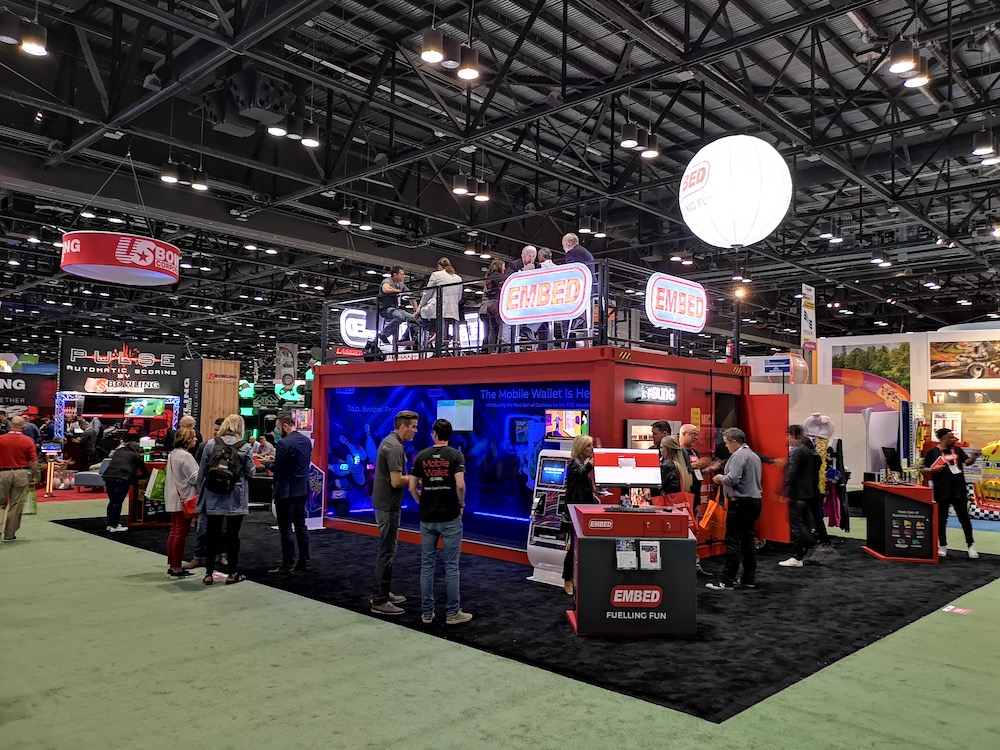 "There are some huge trends that are happening and they are completely consumer-driven," agrees Sara Paz. "And that's what I love. Because generally, regardless of the demographic, the consumers are going to tell you – this is what we want and you'd better get ready for it."
"Through the Mobile Wallet project, we were able to then partner with Apple and Google. We are the only player in the entertainment industry that has that certification for our readers. And now, as a result of that, it has opened a window of opportunity for us."
Innovation based on the customer experience
"We are definitely already thinking about what is next," says Renee Welsh. "The very next thing is already in development."
"Over the course of the last 12 months, we have been working with and developing with Google and Apple to get everything compliant. And we've built really good relationships. They are innovators just like us."

"We are really fortunate that we are now working with them on what the next guest experience looks like and how to make it as frictionless as possible. For example, how do we make that registration process a beautiful experience, one where you want to register. Rather than it being painful, as it sometimes can be.
"So we have definitely got some exciting things coming up, the Mobile Wallet is just the first piece of the process. We are very excited to see where we can take this. We think that the industry, and our customers, are going to love it."
Finally, Sara Paz concludes, "We are committed to the transformation and the evolution of this industry. Because it results in everyone winning – the operator and their guests. And when the operator thrives, we thrive."