Child-driven Play is the Key to KidZania's Massive Success.
KidZania is the world's fastest growing global educational entertainment brand. With 24 locations across five continents, it's a unique concept which immerses children from 4-14 in career-oriented role play, in the context of a mini city.
KidZania London's CEO, Eddie Kemsley talked to Blooloop about how the fast-growing educational entertainment experience brand is reflecting industry trends.
Kemsley joined KidZania London in September 2016.  She brought with her a wealth of experience from across the attraction industry, having worked in customer facing roles throughout her career.
"I love hospitality, and looking after people, and making sure people have a brilliant time," Kemsley says.  She started out working in clubs, bars and restaurants in London, but soon realised she wanted to do something 'really different.'  "I saw an advert for a job running events for a couple of zoos," she recalls. "That was the start of it.  I went to work for the Aspinall Foundation, at Howletts and Port Lympne [Wild Animal Parks], looking after a variety of different departments."
She took on her role at KidZania London because she found the concept – entertainment with the added value of education – original and inspiring.
A Child-Centric World Modelled on a Real City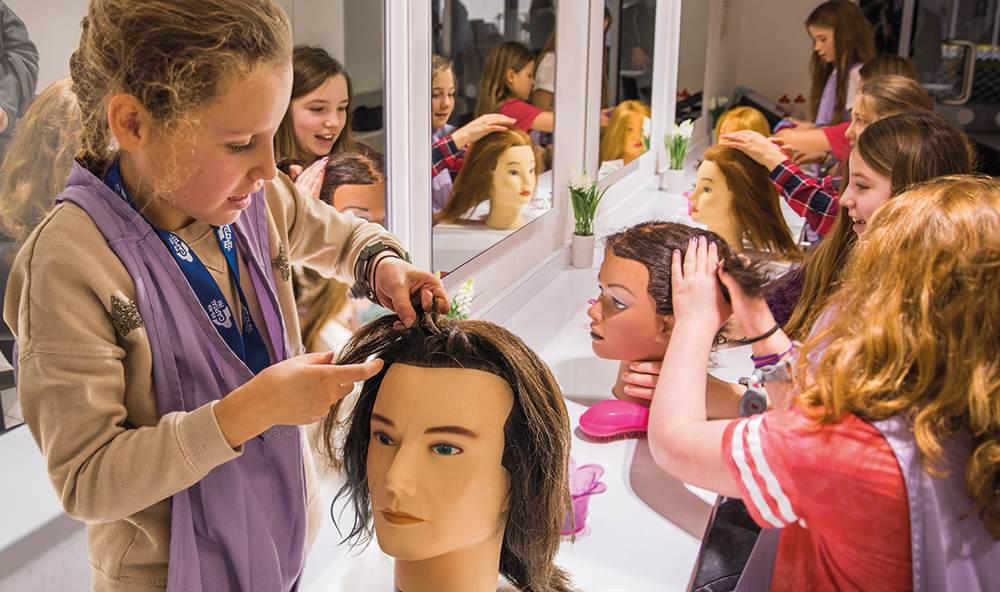 The first UK branch of KidZania opened in Shepherd's Bush's Westfield Mall in London, in June 2015. Covering 75,000 square feet, the play area – which has a ceiling the height of an airline terminal – includes a 16 tonne plane installed by British Airways.
A typical visit lasts approximately four hours. "KidZania is a mini city," explains Kemsley. "Kids get to perform all of the jobs that we do in real life, from being a pilot to a courier, to a hairdresser, to an actor, to working in a hotel."
Children can earn 'KidZos' to spend on sweets and activities such as go-karting by working at one of around 60 jobs. 'Workplaces' include, among others, a hospital, beauty salon, night club, fire station, theatre, airline, and bank. Each is sponsored by a real-life brand such as H&M, Renault, Metro, ELC, Cadbury and Gourmet Burger Kitchen. Children can increase their earning potential by taking a course and 'graduating' from KidZania University.
"They get to do all these amazing jobs," says Kemsley. "The experiences are so lifelike because we work with the premier brands in all of those different areas. If you're going to be a pilot with us, then you'll be a British Airways pilot. If you're going to maintain Formula One cars, it will be with Renault. The level of detail and the level of authenticity that comes from working with amazing brands makes it the most amazing experience."
'Learning by Stealth' – KidZania's Unique USP
Eddie Kemsley believes KidZania has a totally unique USP.  "It's a great concept," she says.  "It's probably one of the only attraction concepts in the world that really is wholly aimed at children. You get a lot of attractions that are family oriented and perhaps geared more towards children, but KidZania is just about the kids."
Adults are firmly excluded from the majority of the KidZania activities. There is a lounge where they can wait, or they can leave their children and use the time to go shopping or pursue other activities.
"KidZania has this brilliant USP where it sits in the landscape between education and entertainment," says Kemsley. "It is really is the definition of educational entertainment. We call it learning by stealth. "
Contextualising each KidZania for its Home Market
KidZania is the brainchild of Mexican businessman Xavier Lopez.  It's a global brand with branches around the world – from Santiago to Seoul, from Moscow to Monterrey.  However it is far from being a one-size-fits-all chain:  part of Kemsley's remit as CEO is to contextualise the UK branch.
"We work with brands that are very present in the UK market, so they are relevant for our kids," she explains. "Additionally, we work on lots of little things that locate it in the UK.  So, for example, we did a poll of all the kids for Brexit, getting them all to vote.  We do things that are relevant in the calendar to the UK, and we hone and make our experiences British oriented."
However, the general vibe and the overall way that KidZania operates is a common theme around world.  "You could visit KidZania city in any location globally, and you would understand how it works," says Kemsley.  "The concept of being paid to do some jobs and having to pay to do others is the same across the board. The general concept is the same, but we have our own spin on things."
Giving Real Quality is a Key Trend in the Attractions Industry
Kemsley contends that KidZania is reflective of certain industry trends. "The leisure hour is so highly fought over," she says. "People are so time poor that they have to make decisions about what they want to do based on how little time they have.  So people expect a great deal from the quality of the experience."
She believes that KidZania really does box above its weight in this area. "It is right at the very top when it comes to quality, and I think that is key. That is something we are seeing right across the attraction sector now: the industry is really starting to raise its game when it comes to quality. From that point of view Kidzania is a very good example of an attraction epitomising a trend."
A Difficult Concept to Categorise
Kemsley reflects that it's difficult to assess KidZania in terms of other attractions, as it really is quite a unique concept.  "It's a different concept," she says.  "It's not wholly an attraction. It is a sort of hybrid of attraction, activity, education, childcare. It fits in its own area of the market.  That is one of the things that makes it such a great concept."
Parents can drop off their children at KidZania, providing the child is over eight, and pursue their own activities.  "It adds a whole other dynamic," she says.  "It allows the parents or the guardians to go and do something while the children get to be independent."
Children as Protagonists, Not Passive Participants
Kemsley believes its popularity reflects a move towards children expecting to be protagonists rather than passive participants.  "I think a hundred percent that children want to shape their own experience," she says. "Kids are so interactive in everything they do in their lives. Technology allows them to influence everything, from what is on their TV to what games they play, to whom they play with, interacting with other kids around the world. The next generation's whole life is about influencing and shaping their own lives, and having the ability to do that."
One of the reasons that KidZania is so successful is that it plays to this.  The children are in charge; they get the opportunity to do whatever they want. "It is fascinating watching them at the point where they realise that," says Kemsley.  "It suddenly dawns on them that the parents aren't allowed in with them into the establishments, and they can choose to do what they want. It's quite an interesting moment when you see the kids click, and recognise that they can do whatever they like."
A Relatively Tech-Free Environment – for the Moment
In a world where expectations are driving increasingly tech-based experiences, KidZania is relatively tech-free.  "KidZania is not a tech-driven attraction," Kemsley explains.  "Although I think it will become more so as more jobs relate to tech, and as the profile of the jobs that children aspire to changes."
On arriving at KidZania, children (or their accompanying adults) pay an entrance fee, currently from £18 for a 4-14 year old, and £8 for an adult. There is an early years provision: a ticket for a 1-3 year old costs £10.00.
The entrance fee (from £18) allows four hours of activity.  Within that time frame a child will probably experience around six or seven jobs, with each job taking 15 to 20 minutes.  The idea is that the child looks around the city and decides which jobs to do. "You might want to be a firefighter, say, so you go to the fire station," Kemsley explains.
"There, you get dressed up and you get trained.  You get on the back of the fire-truck and drive around the city. You go to the building that is in flames and put the fire out with real fire hoses. Then you go back to the fire station and de-brief with the other firefighters. The whole experience will take around 20 minutes. And then you move on. There is a huge array of options available."
Broadening the Appeal – KidZania Reaches Out to Adults Too
The concept is so beguiling that it appeals to adults too.  KidZania recognises the broad appeal and also offers events packages for adults with options such as team building.  It's also available for meetings – for example, breakfast meetings or conferences can also include some real life role-play.  Parties can host up to 1,000 guests – with the venue offering everything from small, low-key drinks to a full summer street carnival.  It is also available for conferences.  Private clients are able to hire either the whole KidZania space or just sections such as the airport, theatre, or stadium.
Themed Birthday Parties are Popular
KidZania is also –unsurprisingly – an increasingly popular location for children's birthday parties. "We probably have some of the best birthday parties in the UK," says Kemsley. "Because it is such a kid-centric business, everything we do is about delivering brilliantly for kids."  Themed parties are popular.  "For example, they could have an H&M fashion show party, where all the kids in their party group get dressed up, get taught how to do a fashion show, and do the fashion show.  Of course, the obligatory cake, food and so on happens as well."  Alternatives include a theatre party or a football themed party at the stadium with training sessions.
"They get free time as well," says Kemsley. "So they can just go out and wander around and enjoy the activities and pick something they would like to do."  She points out that KidZania hosts a lot of parties for celebrities.
Further Developments are in the Pipeline
Careers Week at KidZania brings in the professionals – estate agents, policemen, moviemakers, chocolatiers and so on – to talk to children about their jobs. "We will increasingly be looking towards developing the jobs that are available for kids to try, to reflect the jobs of the future," says Kemsley.
Further developments are in the pipeline. Kemsley says they are looking at ways to introduce pop-up style activation into the attraction to help develop the calendar.  For example, last December they hosted a film premiere of the Monster Trucks movie.  Following the premiere they had an activation piece in the city for a month, where children were able to come and "have fun around the career service with trucks."
Many more partnership activities are planned.  "They are great fun, and give everyone yet another reason to keep coming back," says Kemsley.
Images Courtesy of KidZania