The sleepy Danish town is now joined by an indoor attraction dedicated to the plastic brick that gave birth to one of the world's biggest toy brands – and it's just been recognised as a brand centre of outstanding achievement at the 2019 Thea Awards.
For a town with little over 6,000 inhabitants – around two-thirds of whom work for the Lego group – Billund certainly punches above its weight when it comes to tourism. Not only do the two Lego attractions do business here, but there's also the Lalandia holiday park/waterpark and Teddy Bear Art Museum. Both of course ride to some extent on Legoland's coattails.
There's even an international airport here. Which is not as odd as it may seem. Billund's location means it is well placed to serve not only Legoland's international visitors and Lego's business associates but also all of Jutland, Denmark's western peninsula.
Lego House – Home of the Brick
So important is the company to the local community that the new brand centre not only sits on a plaza – Ole Kirks Plad – named after Lego's founder, it also replaces Billund town hall.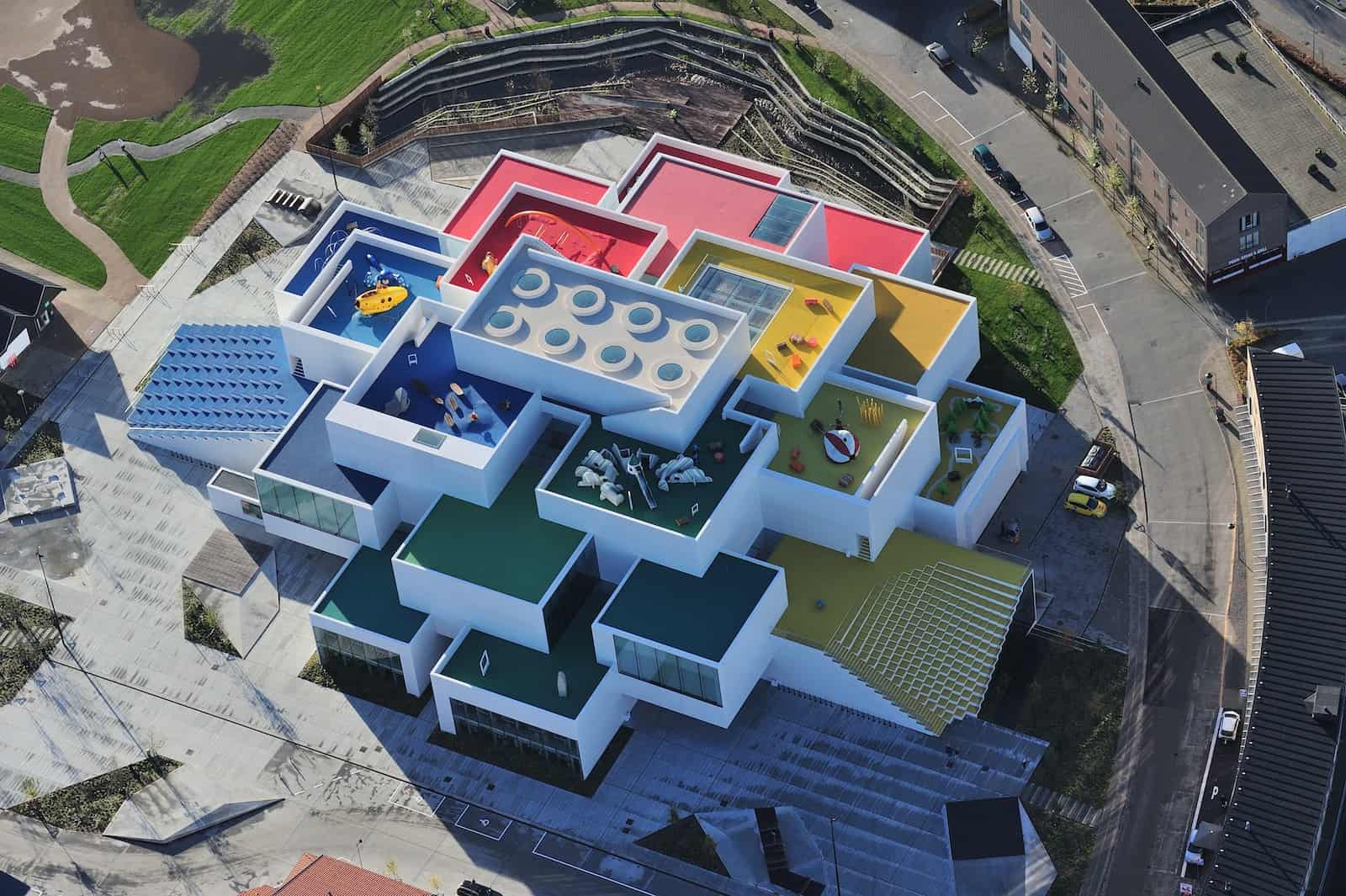 "It has been a dream for me for many years to create a place that will give visitors the ultimate LEGO experience," says third-generation Lego owner, Kjeld Kirk Kristiansen. "With LEGO House, we celebrate creativity and the strength of learning through play."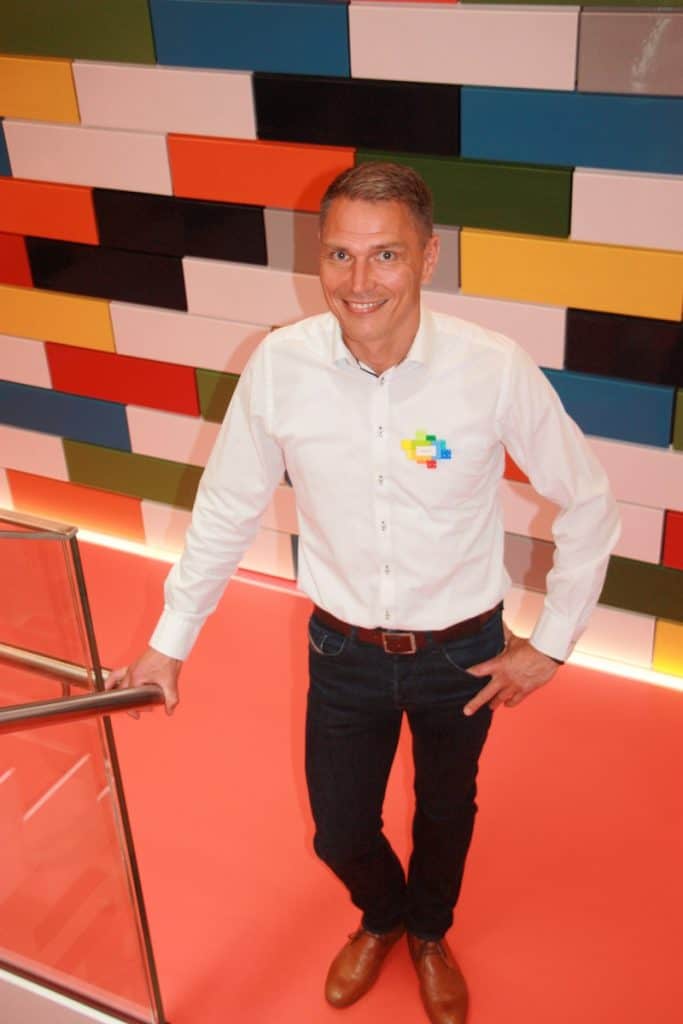 The winner of not just a Thea, but also many design awards, Lego House was designed by the architectural firm BIG (Bjarke Ingels Group). From above, the 12,000-square metre structure is designed to look as if it was constructed from giant Lego bricks.
A gift to Billund
It took four years to build 'The Home of the Brick' as its creator, The Lego Foundation, is calling it.
The budget? "That has not been made public," says Jesper Vilstrup, Lego House general manager. "But when you walk around you can see we have not compromised in many places. It's an expensive project; it's never going to be paid back. This is more of a gift from the Kristiansen family and The Lego Foundation to the city of Billund."
"In the summer there are many many tourists visiting Legoland and Lalalandia," says Viltsrup. "There's a zoo outside of Billund as well. We want to persuade them to spend one or two more days here."
See also: Legoland parks grew into an international theme park success
The reasons for choosing the Danish town are obvious. Yet the Lego House boss states: "If we had built this purely for commercial reasons, we probably would've gone to New York, Shanghai, somewhere like that."
A unique Lego experience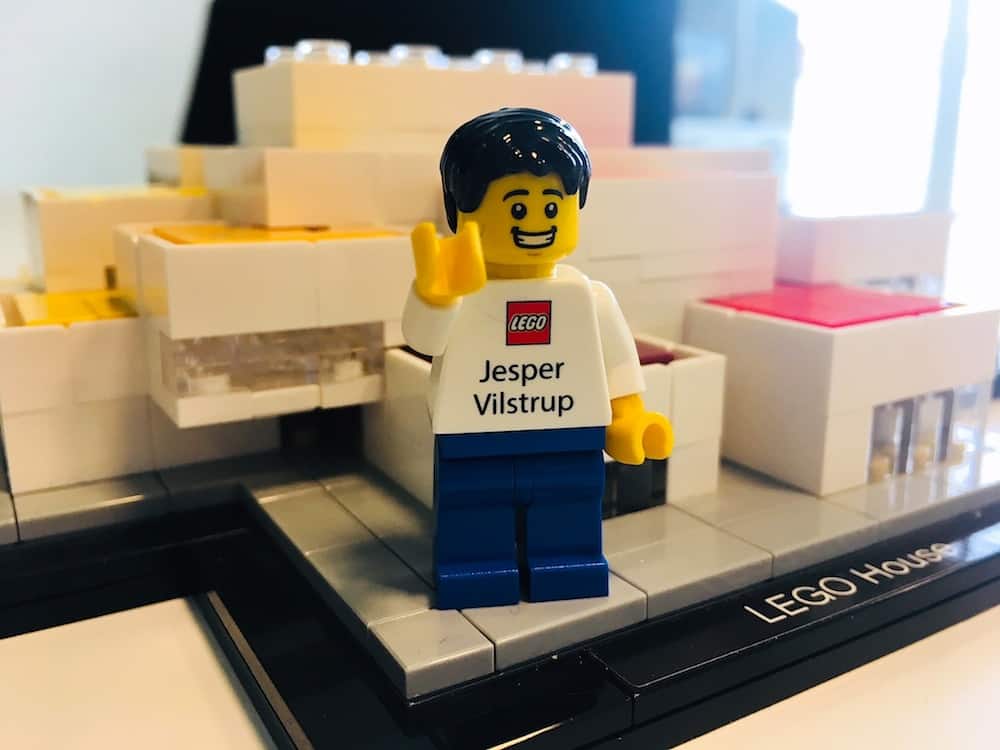 So how does Vilstrup assess its success? "There are two key factors," he says. "One is that we provide the guests with a fantastic Lego experience that they will not be able to get anywhere else. At the same time, we want our employees to be the happiest employees they can."
"Sure, there is a brand statement there as well," he adds. "If you have a fantastic experience, you may go home, get out your old Lego out and be inspired to buy a new set. But it's not like we are measuring the marketing impact on this."
Creativity for all ages
Unlike Legoland, Lego House is open year-round. And while the famous theme park down the road is pitched primarily at families with children, the brand centre has been built to entertain children and creative souls of all ages. That includes what are known as AFOLs (Adult Fans Of Lego), several of whom have been lucky enough to have their brick-built creations selected as exhibits in the Masterpiece Gallery on the top floor.
Visitors to Lego House are encouraged to prebook online in order to manage capacity. Open on peak days from 10am to 7pm, but closed on selected days in low season, the venue can host around 2,000 daily guests (not all at the same time). The average visitor stays between 3.5 and 4 hours.
In its first 12 months, the facility comfortably met its quarter-of-a-million attendance target, with 450,000 coming through its doors and around 250,000 paying to access the experience zones.
The colour-codes zones each symbolise a different aspect of play and learning. Red is for creative skills. Blue is for cognitive skills. Green is for social skills, and Yellow is for emotional skills.
The experience within each of the zones was developed by an in-house team, working closely with experienced Lego designers. A number of external parties also offered input, including, to a limited degree, the Legoland Parks team at Merlin Entertainments. Several Dutch companies provided software and interactives featured in the experiences.
Lego House – zone by zone
Guests begin their tour of the four-floor facility by traversing several flights of stairs that wrap their way around the 'Tree of Creativity' – one of the world's biggest and most technically complicated Lego models ever built. Because at Lego House, Lego bricks really do grow on trees.
A focal point of the Red Zone is the Lego Brick Builder, a giant waterfall cascading into a seemingly bottomless pit of Lego bricks. Further Lego building opportunities are available in Duplo Brick Builder and the Creative Lab.
The Green Zone is home to a trio of Lego dioramas called World Explorer, as well as some fun interactive experiences. Character Creator allows visitors to assemble a Lego Minifigure lookalike of themselves from countless heads and bodies. They can then create an imaginary magazine cover featuring their Lego self as the star.
Story Lab takes things one stage further as guests take a seat in a director's chair and make their own Lego stop motion movie. The results of both the above are available to download for free after each guest's visit. Highly shareable content for any Lego fan!
Interactivity, robots and plastic trees
Fish Designer is one of the key features of the Yellow Zone. After building a real-life Lego fish, visitors scan it and release it into an on-screen aquarium. It then interacts with other creations from Lego House guests. Visitors can also build a Lego insect in Critter Creator or create their own fauna in the Flower Garden.
An interesting interactive element in the Blue Zone is City Architect. By adding their own brick-built creation to this bustling metropolis, guests will see the rhythm of the city change. Robo Lab, meanwhile, explores how robots help to do things that humans cannot.
Similar to an activity at Legoland Discovery Centres, Test Driver allows visitors to create their own Lego vehicle and test it on a track. Completing the Blue Zone is the Lego Duplo Train Builder.
See also: a behind the scenes tour of Bricksburg at Lego Movie World
Giving Lego fans what they want
While the building is not a museum, the basement of Lego House hosts an official collection charting the development of the Lego brand from a small furniture workshop in Billund into one of the largest toy brands in the world.
Previously such material could only be viewed inside the Lego Idea House, a private museum located in the former Kristiansen family home. Likewise, no Lego factory tours are given to the public. To satisfy their curiosity, Lego House includes a real brick moulding machine on the ground floor.
The machine churns out simple red Lego bricks. Each visitor is presented with a pack of six bricks. They can use these to build a unique combination of bricks generated just for them on a plastic card. This also includes a code allowing them to download images and videos created in the experience zones.
Elsewhere on the ground floor, or Lego Square as it's called, there is a large Lego store, plus a trio of food & beverage outlets. Each is pitched at a different audience. Between them they serve up a mix of wordplay, gourmet cuisine and interactive fun.
Brick 'n' chips
The Brickaccino café provides quick snacks. At the opposite end of the scale is Le Gourmet. This offers "everything you expect from a Nordic cuisine/French brasserie gourmet experience".
But it is the family restaurant Mini Chef that Lego fans will surely savour the most. Diners 'build' their meal using Lego bricks representing different dishes. They then scan this at their table to send it to the kitchen. Minifigure chefs can be seen on screen hard at work behind the scenes. When each order is ready, friendly Lego robots serve it up on plastic dishes attached to Lego baseplates.
Guests are also free to bring a packed lunch. The restaurants also open into the early/mid evening to cater to local residents and tourists.
The food offered is generally quite healthy. However, fries are also available at Mini Chef in exchange for a double studded blue brick.
Events for Lego fans and the local community
There are various upcoming events at Lego House. One particularly enticing prospect for older Lego fans is the Grand Ole Designers evening planned for October. This offers the chance to meet some of the Lego designers who created the dream sets of their childhood.
Lego House is designed to function as a community asset as well as a tourist attraction. There are plenty of areas where people come just come and hang out. For example, the outdoor terraces and free playgrounds on each of the coloured 'bricks' that make up the building.
Last summer, the venue also screened World Cup football games. And each month in Lego Square there is a free Mini Build for kids. The young participants even get to keep what they build.
Lego – a company comfortable in its own skin
Vilstrup is a Lego company veteran who started in marketing and later progressed into management. "I have a lot of Lego in my veins", he says. The Lego House role is his first job in the attractions industry, however.
The facility can't be pigeon-holed, he adds. It's part brand centre, part family entertainment centre, part children's museum, even part science centre. "We call it an experience house," says Vilstrup. "But we're still learning."
People use the place differently, he says. "Some are coming in and just sitting by the waterfall. That's the only thing they do all day because they love having all these Lego bricks at their disposal. Others come in to enjoy the blue zone; they love the physical interaction."
As a celebration of the Lego brick, Lego House is the embodiment of a company that understands its brand.
"Lego House was built very much on the learning through play philosophy," says Vilstrup. "This is knowledge that we have gained over time, and which we have become much more aware of over the last years. I don't think you could have created this kind of attraction 50 years ago."
Lego House Vs Legoland
There is one way in which Lego House differs from Legoland. Apart from the obvious things like its size, lack of rides and being indoors, that is. And this is the general exclusion of sub-brands or intellectual properties that now comprise a significant part of the Lego product range.
"The Legoland parks provide a great Lego experience," says Vilstrup, "but the Lego brick is not really at the centre of the experience. "I think we provide a complementary experience."
To date, around 80% of visitors to Lego House have been families; so the crossover with Legoland is perhaps greater than one may think. In addition to the Scandinavian countries, guests are coming from the UK, Germany, Poland and the Benelux region. There's been a lot of Americans too. Roughly 10% of visitors are repeat visitors, but they don't get a discount when they come back.
"Eventually we will most likely have a season pass," says Vilstrup, "but right now our focus is to get new guests."
From Billund to the world
Most of the experiences inside Lego House can be replaced. Fortunately, all are performing strongly so far. "The worst thing that can happen is that this becomes an old dusty place where things look worn out," says Vilstrup. "There is a brand we need to protect here; an experience we have to provide. That requires our design team to be constantly looking at how technology evolving, how is the experience industry is evolving, and where Lego is going as a company."
A new Lego headquarters, complete with studded roof, is taking shape next door to Legoland. This season the theme park opens a new Legoland Castle Hotel. This will cater to the increasing number of families that wish to stay a few nights and immerse themselves in all things Lego. With the addition of Lego House, Billund has consolidated its position as Lego capital of the world.
Yet those brightly-coloured toy bricks have gone on to fuel not just a global play phenomenon but also a thriving name in family entertainment. In a separate article coming soon on Blooloop, we will examine how Legoland used Billund as a launch pad to take on the world.
Images by LEGO House and Owen Ralph