Play Ventura, Russia's largest indoor Family Entertainment Centre, is set to open at the Europamall shopping centre, Kursk, in August 2017.
The pirate-themed play centre is being strategically integrated with the venue's food court.  It has been designed by Belgian company KCC Entertainment Design, creators of themed environments, for the Promresurs Group.
Nikolai Poltoratsky, General Director and owner of GC Promresurs, spoke with Blooloop about the retailtainment project, unparalleled in Russia.
Attractions provide something special.
"Ours is a successful and highly respected company of twenty years' standing, " says Poltoratsky. "Over the last four years, we have had the opportunity to build great shopping centres on a large scale."
This isn't the first time Poltoratsky has featured an adventure play environment in a retail mall, but Play Ventura is on a much more lavish scale than previous projects.  "We have already built four of these adventure parks in shopping centres, " he says.  "But they are rather smaller, in the region of 800 m²."
Regional Shopping Centre Meets Family Entertainment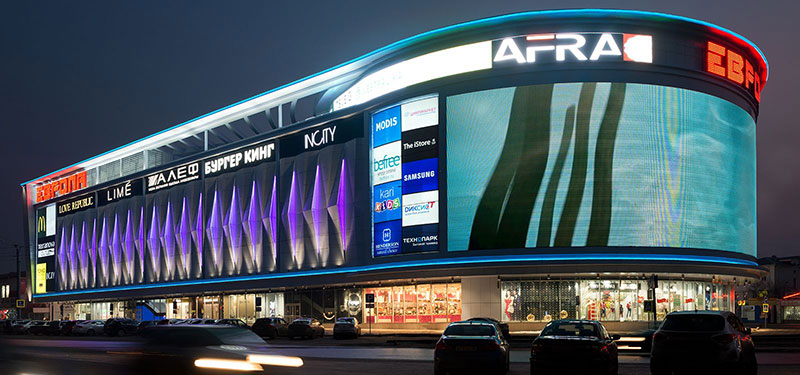 Europamall (Europa Kursk in Russian) is the largest modern mall in the city of Kursk.  Located at the intersection of Karl Marx and Pushkarnaya Streets, it is a major landmark in the city.  The façade features a three-story high 50m long curved daylight-visible LED display screen.  The mall is a regional shopping centre combining retail and family entertainment. The complex will include more than 300 retailers, representing leading Russian and international brands.  There will also be a multiplex cinema, featuring an IMAX hall.
"The greater part of our business is building retailing and shopping centres, " says Poltoratsky. "Although attractions are not our main business, they provide something special for our shopping centre.  It's an excellent idea because children can be safely and enjoyably occupied while parents are shopping."
One of the Largest Indoor Amusement Parks in Russia
The indoor amusement park will be one of the largest in Russia.  The concept and design were officially approved by the Promresurs Group in November 2016, and the complex is scheduled to open on the 1st of August 2017. The amusement park's total investments are estimated at two billion roubles.
Play Ventura will cover over 180, 000 m² and comprise over 300 attractions.  It will be situated on the top floor of the mall.  "It is predicted that about five hundred children a day will visit, " says Poltoratsky.
The catchment age – from toddler to teenager – is wide.  "Although it is designed for children from one to fourteen, I suspect the parents won't be able to resist joining in as well."
Pirate-themed Adventure Offers a Wide Variety of Play Opportunities
"Play Ventura is themed on a pirate jungle, " says Poltoratsky. "It centres on a huge pirate ship on a lake."  The elaborate pirate ship is built on a large scale and offers a host of play opportunities. On its deck is a labyrinth-themed game. Children can also explore the hold of the ship, climb from one mast to the other, and navigate ropes and obstacles.  They can then move onto the lake and "conquer the seas" in bumper boats.
Adventurous children can enjoy a freefall tower and a climbing wall. A trampoline centre, karting and laser tag offer active alternatives. There will be a giant maze comprising 30 rides for all ages, as well as an Italian carousel for old-fashioned fun.
A unique, unparalleled project in Russia.
Also included is high-tech play. One playground has interactive flooring and there is a variety of virtual games to play. Small children are catered for with swings, the carousel, educational games and soft-play areas.
Water and Rollercoaster Fun is on an Epic Scale
The lake is a major feature: the water surface area will cover more than 600 square metres, and visitors will be able to swim all year round. They can also play in the boats and feed the inhabitants of the lake.
Spread above the pirate ship is Russia's only rope park.
However a large family roller coaster is the jewel in the crown. Over 18 metres tall with a length of 500 metres, it snakes over the lake and around the whole area. It is the longest indoor track in Russia and CIS countries. Nonetheless the flume and rollglider will run it close in terms of excitement.
The rollglider, a gravity-driven slide, speedily whisks visitors through the food court.
Belgian Company KCC Make Stories Reality
"Before we embarked on the adventure park project, we explored the different companies that specialise in this area, " says Poltoratsky. "We chose a great Belgian company, KCC."
KCC Entertainment Design creates landmark themed environments for clients across the globe. They work in a wide range of sectors within the leisure industry including FECs, multi-entertainment centres, theme parks and waterparks. KCC were also responsible for the complete design of Play Ventura, working in close partnership with Promresurs.
"We truly appreciate the professionalism of KCC, " adds Poltoratsky. "They analysed the region, the competition and the site itself. They then used that information to design the best, most feasible and fun entertainment area. All questions and suggestions from our side were always handled very fast and in a coordinated manner. It is truly a pleasure to work together with this strong team of architects and designers who can make a story become reality."
An Immersive World for the Whole Family
The project is targeted towards all the family. Concerts and performances will be staged in a giant tropical flower. The adventure park will also host various other entertainments.
Themed party rooms will be available for children's birthday parties. There will also be an exclusive family café that will cater for all ages with a comprehensive birthday party service.
"This is a unique, unparalleled project in Russia, " adds Poltoratsky. "We integrated one of the largest indoor roller coasters in an indoor entertainment park, and we ensured a great mix of the best family attractions. The whole area will give the visitor the feeling they are on a fabulous jungle island full of pirates and great adventures."
Eating the World:  the Food and Drink Factor
Food and drink is also an important part of the project. The park will contain four two-level restaurants, as well as fifteen additional outlets. With a bank of international operators, all aspects of world cuisine will be represented.
Connecting the FEC with the retail area food court is unique in Russia. It will create a thematic continuity and a playful atmosphere aimed at encouraging visitors to stay longer and to return often.
In addition to Play Ventura, Europamall will also feature a number of additional leisure areas. These will include a recreation space on the roof of the complex, complete with lawns, flower beds, a skating rink, summer pools, sun loungers, cocktail bars, restaurants and cafes.
Located on the first floor, there will also be a musical indoor fountain.
Retailtainment at its Best
The whole mall is dedicated to making the retail experience pleasurable for the whole family. It doesn't just take the stress out of shopping – it turns the shopping venue into a leisure destination. It is expected that visitors will return frequently and stay for lengthy periods which, in turn, will maximise revenues.
Play Ventura integrates a wide play offering, a giant food hall, and one of the largest indoor roller coasters. It brings everything into one single, cohesive, jungle-themed environment.  This, surely, is retailtainment at its best.
Images Courtesy of Chapman Taylor and KCC Entertainment Design