Until a recent rebrand by Goymour (below), the award-winning ROARR! Dinosaur Adventure traded as Norfolk Dinosaur Park. Winner of the combined Norfolk and Suffolk best large visitor attraction award for 2018, it is the busiest paid-for attraction in the former of those two east England counties.
As part of Goymour Properties, ROARR! sits in a portfolio alongside other Norfolk tourism businesses including Applewood Countryside Park and the escape room Bamboozled. Previously the family also owned Africa Alive! and Banham Zoo, located in Suffolk and Norfolk respectively.
When Adam's father Martin Goymour took over the dinosaur park from Peter Briggs in 2006, attendance stood at 140,000 per year. Following a multimillion pound expansion, it's now doing more than double that figure.
"The park only used to open from Easter through to October half term," says Adam Goymour. "Straightaway we opened it up all year round, in line with Banham Zoo and Africa Alive. We have now owned it for 12 years, and have gone through a period of change in staffing and infrastructure investment."
Attendance ROARRs ahead!
The first major investment was in the 1,800 square metre Dynomite indoor facility, in 2011: "It's a two-storey building, which includes soft play, a café, toilets, our guest services and offices," says Goymour. "We opened the indoor play area for the summer holidays, and at the end of the year had welcomed 178,500 thousand visitors, a jump up of about 35,000."
In 2012, Stone Age Road Race, a go-karting experience, was added and the park's entrance plaza refurbished. Attendance crept up to 190,000.
The following year, Goymour oversaw the in-house production of the all-wooden Pterodactyl's Treehouse, which is accessed through Dinomite. He also converted an apple-cart store into offices for the animal garden team, put in an undercover picnic area and addressed the eco-conscious trend by installing underground heat source pumps run on green energy.
"That was also the year that both Banham Zoo and Africa Alive! were put into charitable trusts to ensure longevity," says Goymour. "At this point, I had to look at where I wanted to go with the business, leading on from my father. I saw this attraction [ROARR!] as the one that is going to go places."
Visitor numbers rose to 220,000 at the end of 2013. The following year, over which Goymour attended to nuts-and-bolts improvements such as car park lighting, ticketing and so forth, they were up to 264,000.
Seeking inspiration
Goymour, now 30, spent time visiting other attractions for inspiration. These included Flamingo Land and Magna Science Adventure Centre, in North and South Yorkshire respectively. He then oversaw the creation of Dippy's Splash Zone, featuring park mascot Dippy the yellow and purple diplodocus. Created together with supplier Ustigate, it was a hit, justifying the £600,000 ($795,000/€680,000) investment.
"We then put solar panels on to our indoor play area, to further our green energy strategy, and bought some funky hand puppet dinosaurs. The following year, our visitor numbers stormed to 307,000."
Further additions to the park included a fossil dig called Xtinction. New food and beverage options were added too. The Explorers is a steampunk inspired restaurant in the Victorian walled garden. Fish and chips are served from a side hatch called Nautlius. Goymour says: "this has proved amazingly popular and risen spend per head on food by £0.40 so far."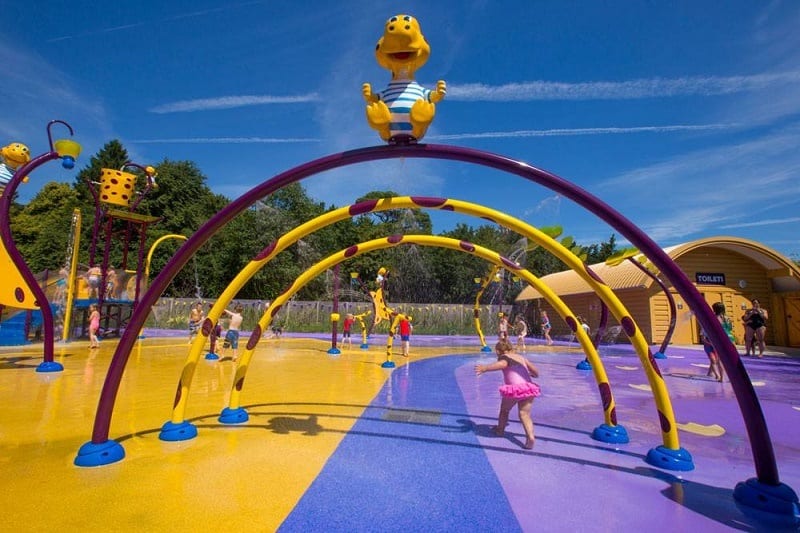 He praises the work of industry consultant and creative designer Mark Golding, as well as the architects, in-house team and subcontractors.
Halloween business
Even before it became ROARR!, Norfolk Dinosaur Park encouraged its guests to scream Arrgh! each October. Since the Goymours took on the park they have been staging an annual event for young children. Originally called Hallowe'en DinoHaunts, it is now named Halloween Days. Then there's PrimEvil – Norfolk's largest scare experience – which grew out of the above but is definitely not for the little ones.
"It is run for adults in the evenings," says Goymour, adding that his team travels each year to the Transworld trade show in the USA to get ideas. "PrimEvil has become very popular, and become quite a sizeable part of the business. We saw 20,000 visitors over 16 nights in 2017."
Goymour's vision for ROARR!
This year has also seen marketing services brought in-house at ROARR! and the setting up of a dedicated zoo team. This marks the culmination of a process to make the park independent from other attractions within Goymour Properties.
The decision to rebrand as ROARR! Dinosaur Adventure was made in 2016. Goymour worked in conjunction with a team that included Vision XS and John Carter of Fast Forward to create a five-year strategic plan.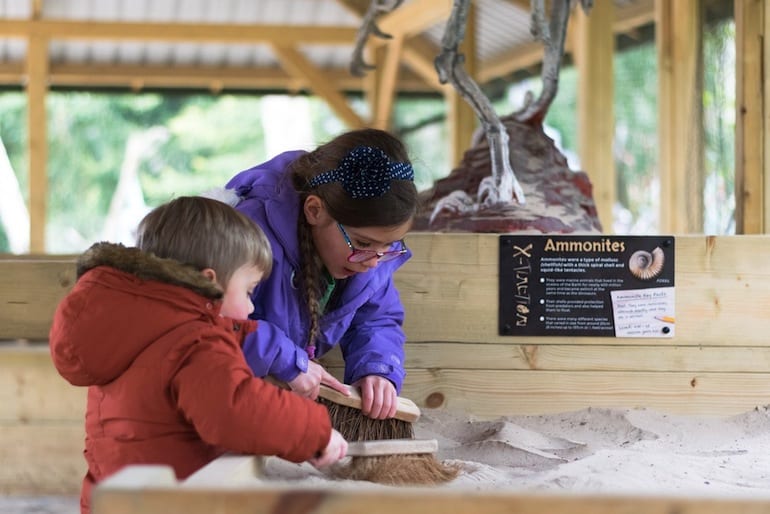 "Our logo, which we inherited, was still very much of the 90s, and desperately needed updating," says the park's manager. "Our plan is to increase visitor numbers by another hundred thousand [to 400,000] by 2022, growing our profits through attracting older visitors."
Being dinosaur themed, ROARR! currently appeals to three to 10-year-olds. Yet Goymour sees no reason why older children shouldn't enjoy its offering, too. And he believes the park can do that, "without losing our identity or having to become a theme-park with rollercoasters. We are a dinosaur themed adventure park."
A Predatory move
A new element of adventure was added this spring, in an attempt to broaden the visitor age-range. The Predator High Ropes opened on May 26, just in time for the Spring Bank Holiday and Whitsun half term school holidays. Supplied by adventure attractions specialist Innovative Leisure and built by Ropes Courses Inc, it was a 24-month project constructed over a period of six months.
"This was made possible with a dedicated team of more than 75 people, including 10 contractors and our in-house team," says Goymour. "Innovative Leisure, the principal contractor, supported us professionally from training through to after sales service. They have a good understanding of our requirements and the overall impact on the park's operation."
Predator is, says Goymour, already providing several benefits to the business. Although it is offered as part of the existing admission price, it has encouraged additional experience and dwell time. This in turn has lead to a growth in full-time staff.
ROARR! – a place where dinosaurs are not extinct
ROARR! certainly isn't the world's only dinosaur park. However, its manager believes it has a unique offer that is ripe for expansion. "I believe we have got an amazing product that cannot be repeated by others. I am really trying to future-proof the business so we have a sustainable model going forward."
By his own admission, Goymour is "young and dynamic". Yet he's proud to continue the family business. "Those core, caring values my father instilled remain. We want to provide unique days out that inspire imagination, by delivering excellent services for all our guests and help them create memorable experiences."
He's already got a good grasp of several attractions industry maxims. Yet Goymour also has some unique goals for his family's flagship Norfolk property: "Our vision is to release our visitors' inner dinosaur; to release their inner ROARR."
His meticulous planning and attention to every detail – TripAdvisor reviews are answered individually with the sign-off "We're glad you cameandsaurus" – has led to a dinosaur park that looks set to evolve further in the years to come.