Global online ticketing provider, 365Tickets USA has announced a new partnership with adventure attractions company, Paragon Skydive.
The Grand Canyon Skydive Adventures will be part of a new collection of Las Vegas-based experiences offered by 365Tickets USA.
The intention is to focus on more family-friendly attractions in or near Las Vegas. This latest addition will complement attractions such as the SlotZilla Zip Line in downtown Las Vegas, The Mob Museum and The Neon Museum.
"The timing is perfect for the addition of new and diverse attractions as high season approaches in Las Vegas and other desert locations," explains Dino Cappello, President of 365Tickets USA.
"We are currently adding several new attractions in Las Vegas that showcase the city in a non-gaming scenario which is completely in line with our goal of making family-friendly attractions as affordable as possible. This is a thrilling, yet family-friendly, activity."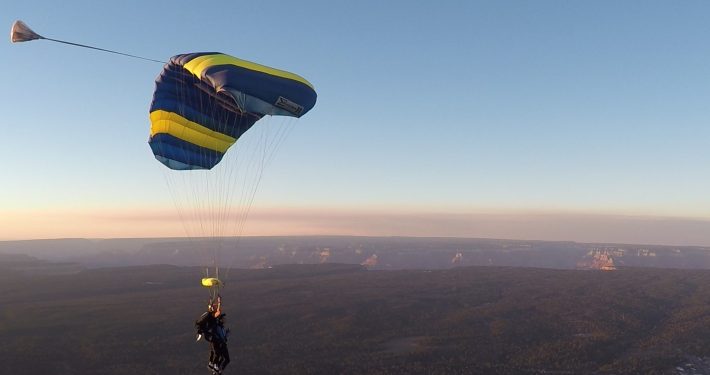 Family-friendly Las Vegas-based attractions
Paragon Skydive offers adventurous tourists, young and old, the chance to take part in a tandem skydive over the Grand Canyon. No experience is required and any necessary training is provided by Paragon Skydive. Once participants have leapt out of the plane, safely attached to an experienced skydiver, they will experience free fall speeds of up to 220km/hr (136mi/hr). The experience ends with a peaceful canopy flight back to earth.
365Tickets USA will be promoting three types of products with Paragon Skydive, currently the only company offering this experience in the Grand Canyon. The Naked Skydive is the tandem experience while The Canyon Experience includes a video of the guest's achievement. The Extreme Experience offers an additional element of excitement as particpants guide their own parachutes.
"Finding attractions that are thrilling, but also great for families, is a big focus which makes Paragon Skydive an ideal partner for us," adds Cappello.
"Those are the types of activities that families talk about for years. We are thrilled to be working with them and promoting this experience in the US, but also to be promoting them on our global network consisting of 14 countries."