814 Lanes and Games in Johnstown, PA is a rebranded FEC owned by Chris and Bobby Hogue, who transformed it from a traditional bowling venue to a full FEC.
"Our goal was to capture the market within 45 minutes as the premier destination for family entertainment with first-class attractions that are unique to our area," says Chris Hogue.
To help them achieve this goal, they turned to Creative Works, seeking unique attractions to the area. As part of the planning process, the Hogues attended an Amusement 360 Event where they were able to gain expert insights into operating an entertainment venue.
Amusement 360
"The event was very informative and the smaller scale allowed us more 1 on 1 time with vendors. The site visits were informative as well," says Chris Hogue, on Amusement 360. Following this, the brothers worked with Creative Works to bring three attractions to 814 Lanes and Games: escape rooms, Hologate Arena and laser tag.
The FEC is the first venue to offer Creative Works' new escape room theme, Cell Block E. This puts players in an exciting scenario where they must attempt to escape a jail cell.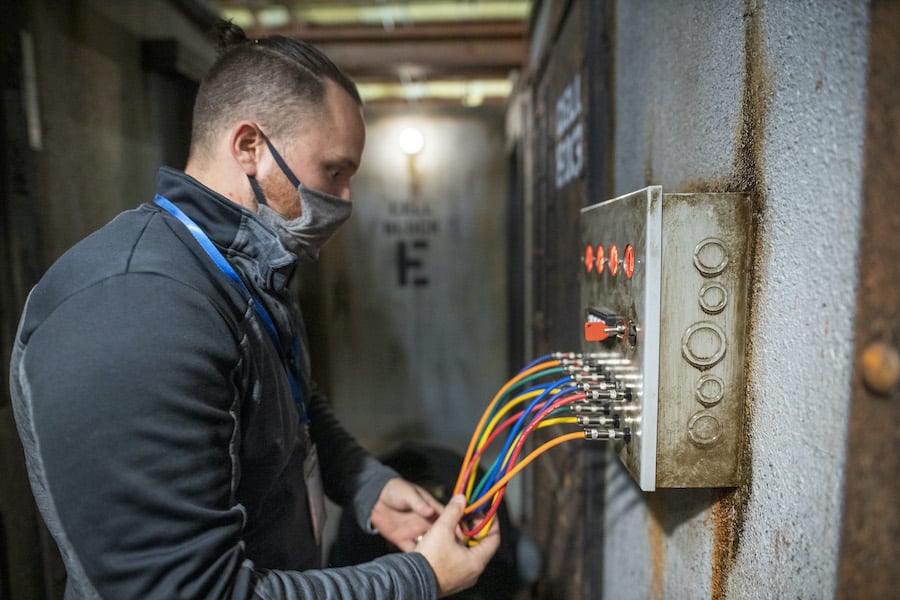 "We loved this concept. A true escape! We actually had to change our design and architectural drawings because we loved it so much and wanted it over other options. The themed renderings and idea of actually escaping from jail immediately attracted us to it," says Chris Hogue.
"Being the first to use it is something we can also have some pride in. The level of props is fantastic. People are blown away by how real the effects are on the aged metal doors."
The attraction's laser tag has a post-apocalyptic theme, which incorporates props such as large vehicles into a war-torn environment.
"Our arena is unlike any in our area…so people are blown away. There is a helicopter and a hummer coming out of our walls, so it's pretty rad," adds Chris.
A successful partnership
Nick Salfity was the Creative Consultant for the project. He says: "Bobby, Chris, and the rest of the team were super fun to work with. Seeing them at IAAPA, Amusement 360, and just knowing how hard they worked to get this project off the ground is very rewarding to see."
814 Lanes and Games is currently open to the public following this successful partnership between the Hogues and Creative Works. "Creative Works has listened to our feedback and addressed anything we are uncomfortable with and adjusted ideas to fit into the concept of what we are trying to present to our customers. They are truly a partner in our success."
Creative Works also recently announced that has developed an ocean-themed version of its popular Cosmic Golf attraction for Wilderness Resort in the Wisconsin Dells.