A team from Elton Amusements Ltd. braved deep snow to deliver its Dolphin Derby game to Circus Circus Hotel and Casino in Reno, Nevada.
Undaunted by the adverse weather, the UK company slapped on the snow chains and made it safely to the entertainment complex.
Their task was to replace the 22-year-old Circus Downs Derby with Elton Games' ever popular 12-player Dolphin Derby.
The installation was part of a major renovation and upgrade of the venue's Midway section, that has transformed it into a fun-filled Carnival-themed environment.
Just hours after Dolphin Derby was installed, visitors could be seen enjoying the game and making revenue for the client.
Circus Circus Reno is one of three hotels and casinos in Reno city centre owned and run by the Silver Legacy Group.
Denise Charpentier, who manages the whole of the Midway section, was reportedly delighted with the new game which she described as 'beautiful'.
Dolphin Derby a perennial favourite
Dolphin Derby encourages interaction between friends and family as players roll balls into holes in an effort to drive their dolphin forward. In an age of VR and new technologies, the traditionally crafted game has proved perennially popular.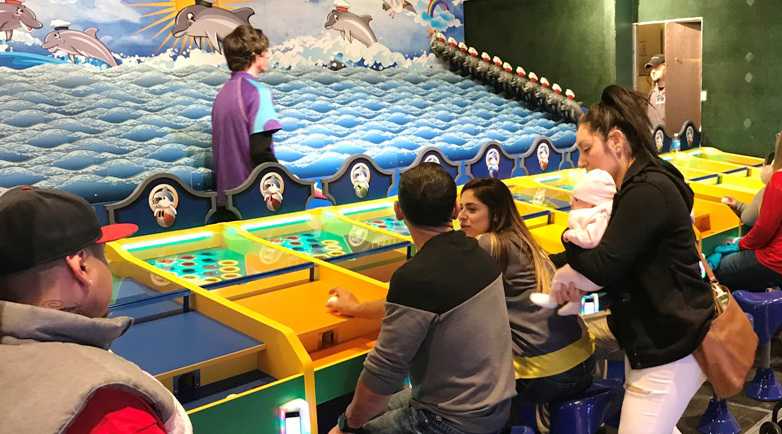 Elton Derby games can be found all over the world. Venues who installed them decades ago still describe them as 'dependable money-makers'.
Elton Amusements Ltd. is a leader in automatic games and derby games. The company also provides the derby games mounted in a trailer unit. All games are built to order and are available in a number of themes including horses, pirates, camels and spaceships. Games can also be custom-themed to a client's requirements.