Embed, a leading worldwide supplier of point-of-sale and revenue management systems, will be exhibiting at a range of industry shows and events around the world during 2020.
Embed is pleased to announce its trade show calendar for 2020, with upcoming shows across the globe. The Embed team will be showcasing its latest products and solutions, including The Mobile Wallet and its range of RFID wearables.
The Mobile Wallet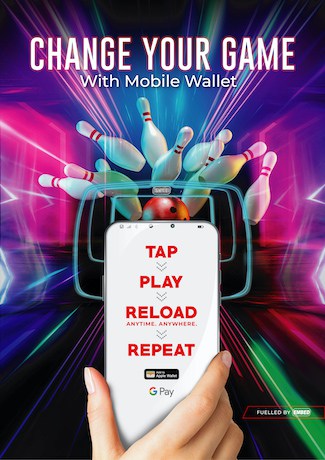 The Mobile Wallet is a breakthrough solution for cashless payments in the FEC industry and was first launched at IAAPA Expo 2019 in Orlando. It allows guests to continue gaming seamlessly, without having to queue at a kiosk to top up or to check their balance. In a first for the FEC sector, there is no need to download an app. Players simply add the virtual game card to their Mobile Wallet and play.
In fact, Embed is the only FEC business solutions provider to partner with Google and Apple in order to achieve compliance approval. The company is the only non-banking finance payment or loyalty card business and brand card that sits in the mobile wallet.
A new range of wearables
Embed's new range of RFID wearables also made its debut at IAAPA Expo 2019. This collection has more than 200 design variations, created to appeal to all demographics, genders and amusement venues, including festivals and water parks.
The range showcases several different fashions, textiles, materials and designs, creating technology that will encourage customer loyalty and repeat visits.
"We introduced a number of exciting innovations at IAAPA Expo 2019, designed to deliver a superior guest experience that will disrupt our industry," says Renee Welsh, CEO, Solutions Group. "We continue to focus on providing tailored solutions to help Operators drive more profit for their business by increasing their revenue, reducing their costs and achieving their business goals.
"Our "customer first" approach focuses on solutions that enable the optimum consumer experience and it's the driver behind our development efforts because when the customer thrives the operators thrives! We received universally positive feedback since our launch and look forward to showcasing our breakthrough solutions at the various tradeshows and events globally."
The Embed team will be heading to the following shows:
North and South America
Amusement Expo, New Orleans, Louisiana, US. 9 – 11 March 2020
International Bowl Expo, Denver, Colorado, US. 2 – 6 July 2020
IAAPA Attractions Expo, Orlando, Florida, US. 17 – 20 November 2020
Europe, Middle East and Africa
DEAL Show, Dubai, UAE. 23 – 25 March 2020
IAAPA Expo Europe, London, England. 22 – 24 September 2020
Asia and Pacific
IAAPA Expo Asia, Macau, 9 – 11 June 2020
Fun Asia Expo, Jakarta, Indonesia, 5 – 6 August 2020
Theme Park & Water Park Expo, Vietnam, 19 – 20 August 2020
Embed has also recently provided cashless business management solutions to the newest Gamestate Arena in Amsterdam.