Kanopeo's Saferoller continuous belay systems are powering three courses and a zipline at Lotte Arai Ski Resort's brand new aerial adventure attraction.
Designed by Saido Landscape Design & built by Tandem Corporation, the new facility in Japan is home to the country's largest aerial tree adventure featuring 102 obstacle elements and occupying 33,000㎡.
Altogether, Lotte Arai Resort guests can choose from 8 different courses, offering a range of heights and levels of challenge to suit all ages and abilities. Among them is The River Course which takes visitors over the stunning Yashiro River.
The ambitious nature of the attraction meant a lengthy and detailed planning process. Developing the logging plan, and the construction process itself within the confines of the forest environment, were also extremely challenging. The project took 14 months to complete.
"Saferoller® (40 sets) was introduced as a lifeline system for a children's challenge course," explains Ito Tatsuya of Lotte Arai Resort.
"We are making efforts to maintain and inspect the site by providing information on the installation site, such as preparation of regular routes and preliminary arrangements for placing the clamps and using them."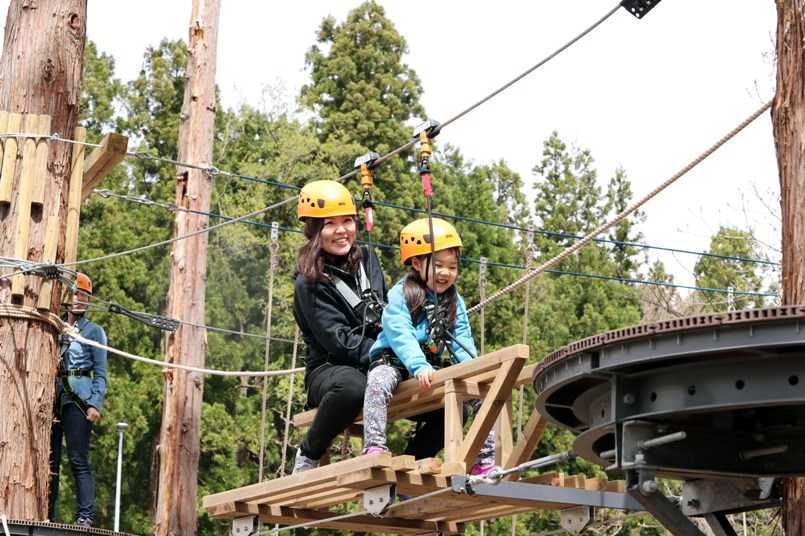 Lotte Arai Ski Resort – one of Asia's 'go to' adventure destinations
Located on the northern outskirts of the Myoko ski area approximately 2 hours from Tokyo, Lotte Arai Resort re-opened in December 2017. With five ski lifts and the new aerial attractions, the resort is positioning itself as one of Asia's 'go to' adventure destinations for international travellers. The resort averages a sizeable 15 metres of snow each season and encompasses varied terrain set over 951 metres of vertical descent.
Based in Switzerland, Kanopeo is a pioneering developer of continuous belay systems. The company's innovative Saferoller® and Speedrunner® systems are relied upon by over 400 attractions worldwide as an easy-to-use safety solution. The company also offers a one-stop solution for designing and building the ultimate aerial adventure park.