Simworx, the dynamic media attractions specialist, has announced the launch of a new motion simulator, called Metro of Time. 
Simworx is pleased to be introducing a new attraction to its range of products, the Metro of Time motion simulator, which takes riders on an adventure through four forgotten ages. During the experience, guests enjoy a safari through prehistoric lands, a journey around ancient Egyptian tombs, a Medieval rescue quest and an exciting chase through the Wild West.
Metro of Time offers four unique metro themed 4D Cinemas. These are available individually or in multiples and each has a capacity of 40 people. Riders will feel truly immersed in the journey, thanks to fully-themed carriages, which include 3 Degrees of Freedom (DOF) motion seats, surround sound audio and onboard special effects. In addition to this, the carriages feature seven LED screen 'windows' that transport passengers to a whole new world.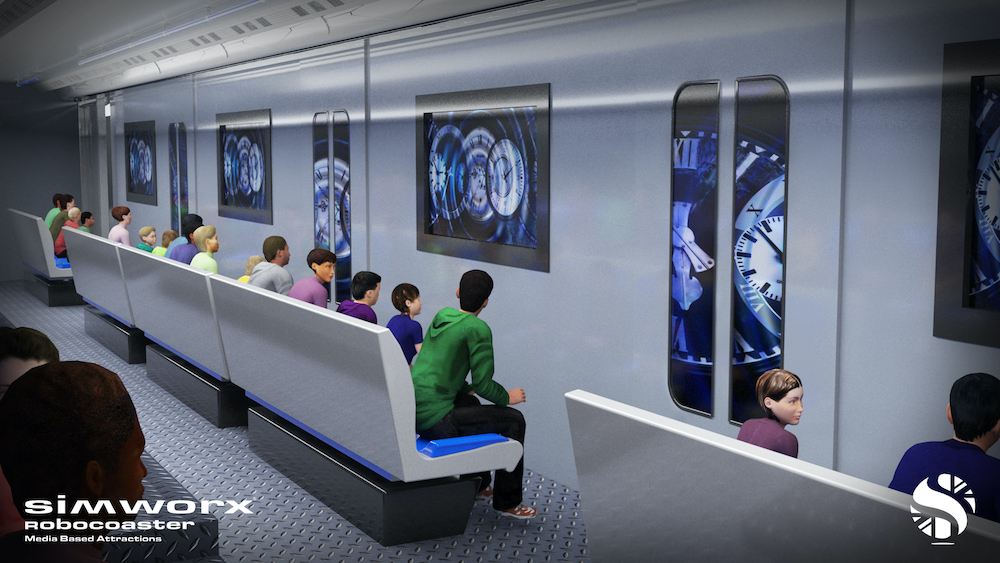 A journey through time
The experience begins with a pre-boarding trip to an ordinary metro station. However, soon an unexpected geomagnetic storm arrives and things begin to go awry. Visitors are hustled into the waiting carriages to escape, and this is where their journey through time begins.
The train takes a different course, thanks to the storm, and as it arrives at each stop, the whole carriage wall opens, to reveal a giant projection screen. In combinations with the onboard screens, this tells a compelling story.
Along the way, riders have a chance to meet dinosaurs, explore Pharaoh's shrines, rescue a princess from a dragon and give chase to a bank-robber in the Wild West. Metro of Time is available with custom or library film content, specifically designed for the attraction.
"With complete show control, optional effects and integrated AV systems the Metro of Time offers an ideal solution for those looking for a variation on the traditional 4D Cinema," says Simworx sales director Edward Pawley.
"It is also available in individual or multiple units, providing venues of all sizes with different options depending on what their requirements may be. It's a great addition to the Simworx product range and complements our other attractions perfectly."
Simworx highlighted this new attraction at IAAPA Expo Europe last month, where it also celebrated some awards success. The company's CEO Terry Monkton picked up the Industry Icon (Manufacturer/Supplier) Award at the Park World Excellence Awards during the event.