Walltopia, a world leader in the climbing and adventure & leisure industries, provides a range of active entertainment concepts which are ideal for family entertainment centres. Active entertainment, such as fun climbing, ropes courses, adventure trails, obstacle courses and more, allows families and young people to enjoy healthy, social activities and spend quality time together.
Active entertainment is a growing trend, popular with younger generations as a result of the experience economy, and popular with parents also, who want their families to play together rather than sitting in front of a screen. With the rise of the experience economy and social media, the last decade is all about proving that we are doing more, experiencing more, and because of that – living more.
Cognitive and physical skills
However, this high demand for new and interesting active entertainment experiences leads to fierce competition in the FEC world. From trampolines to soft play and giant slides, the possibilities seem endless, but only a few attractions are able to combine both cognitive and physical challenges. The products offered by Walltopia bring together physical exercise with a dose of adrenaline and also enhance skills like balance, coordination and agility.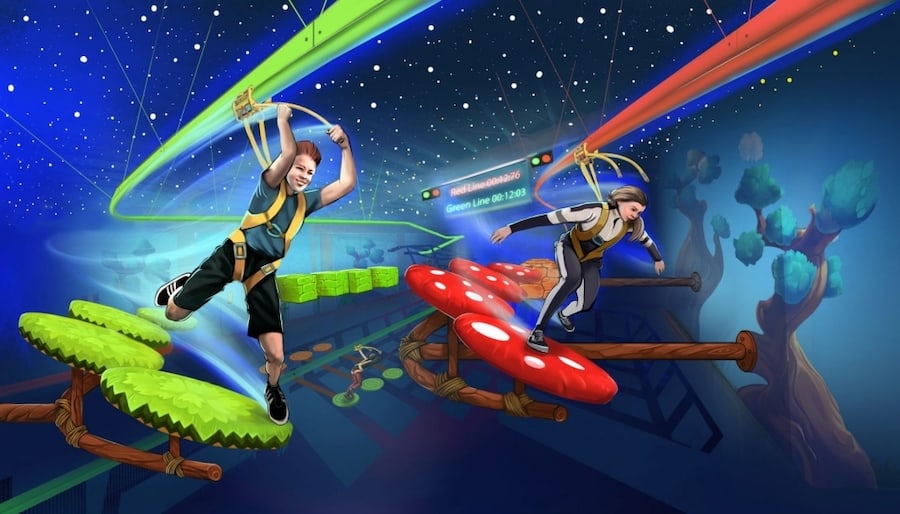 One example, which also helps FECs to optimise space by adding an engaging height activity, is the company's Suspended Walltopia Ropes Course or the Electric version of the Rollglider – a smooth ride with 11 km/h speed along the unused ceiling spaces above already installed attractions.
Another version of the Rollglider is the Jump&Run, This is a physically challenging adventure race that brings together a dual-line racing Rollglider track and a range of obstacles. Here, visitors can feel what it's like to be a real-life video game hero.
Fun climbing challenges mind and body
Another type of active entertainment that is increasingly popular is fun climbing. Walltopia's Fun Walls are kids climbing walls that are specifically designed to enhance cognitive development in children, challenging their balance, coordination, and agility while also providing a fun new experience. Climbing centres designed solely for kids have proved to be successful around the world, with examples in China, France, the UK, and the US.
Or, for a dose of edutainment, operators can opt for Walltopia's artificial caving system, which combines exploration games with tunnels and obstacles. Meanwhile, for group activities, there is also Walltopia's Adventure Trails and the Cloud Climb, which cater to children's desire to climb, compete and create imaginative games together.
These activities are also sustainable and aim to build real skills, as well as developing real connections between the participants, their parents, and the FEC itself. By engaging with guests, building their skills and providing a memorable experience, operators can create a community and enjoy many repeat visits.
Walltopia has also recently designed and introduced a new Equipment Lease Financing Program with special payment terms to support operators in their continued growth in 2021.