Cartoon Network has partnered WePlayVR developer, AiSolve, to launch its first location-based virtual reality title, We Bare Bears: Food Truck Rush.
The immersive, multiplayer VR experience features the popular We Bare Bears characters, Panda, Grizz and Ice Bear, and was developed by Philadelphia-based game studio PHL Collective.
We Bare Bears: Food Truck Rush has launched exclusively at the Family Fun Center in Tukwila, Washington this week. According to the network, it will be available for fans of all ages to play over the next three months.
Players transform into Grizz, Panda or Ice Bear
Designed as a 2-3 player party game, players take on the persona of either Panda, Grizz or Ice Bear as they operate and manage their very own food truck.
The aim is to cook up food and serve as many hungry customers as possible before the clock runs out. Players work together inside the WePlayVR arena to complete complex orders and avoid mishaps. But nothing's ever straightforward with the We Bare Bears. Before you know it, someone's squirting ketchup in all the wrong places or setting fire to the kitchen.
Food Truck Rush is Cartoon Network's first foray into location-based VR. In October 2015, it was ahead of the game as the first kids-focused network to enter the VR space with Adventure Time: Magic Man's Head Games.
The launch of Food Truck Rush marks the first third party IP game partnership for AiSolve's WePlayVR platform.
Created by Annie Award-winner, Daniel Chong, We Bare Bears is a BAFTA award-winning series about three brothers trying to fit in and make friends…not always easy when you happen to be a bear. Grizzly is the eldest and leads his younger brothers, Panda and Ice Bear, with endless, and often misplaced, optimism.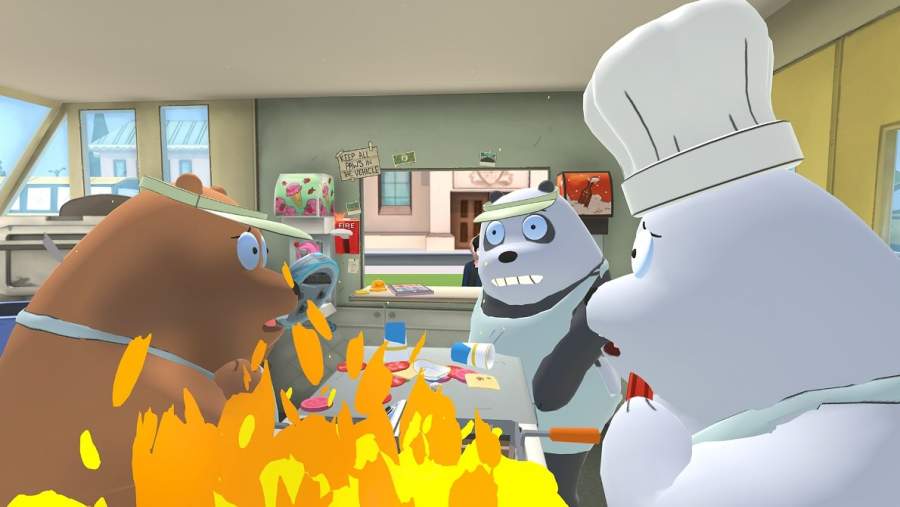 Cartoon Network is Turner's global entertainment brand and the # 1 animation network in the U.S. Aside from We Bare Bears, blockbuster properties include Adventure Time, The Powerpuff Girls, Steven Universe and The Amazing World of Gumball.