Blooloop held attractionsTECH 2020 at ISE in Amsterdam on Friday 14 February. Attendees heard from industry experts about the latest trends in technology in visitor attractions.  And we designed a new GBBO dark ride too.
The attractionsTECH 2020 conference was sponsored by Barco, a leading technology company focusing on innovative visualization solutions, and was produced in collaboration with our partners ISE. Read our report on ISE 2020 here.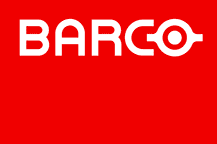 Held at the Okura Hotel, the speakers discussed the future of technology in attractions, from artainment to AV. Blooloop Managing Director, Charles Read, opened the conference. He spoke about how the best visitor attractions are unique, and technology enables attractions to achieve this.
He told us to look out for the Star Wars hotel, a completely immersive, personalised experience. Read then spoke about how gaming culture is becoming part of attractions and theme parks, with the imminent opening of Super Nintendo World.
AttractionsTECH 2020 explores key trends in attractions technology
Bart Dohmen, CEO of Unlimited Snow, has years of experience in the attractions industry as an engineer and ideas man, where he has to use technology on a daily basis.
Dohmen outlined several key trends in the industry. He believes that storytelling is "only just starting" in the industry. For example, Europa-Park's new water park, Rulantica, started to tell its story years before it opened, with a dark ride.
Storytelling is at the heart of what we do…https://t.co/yFmR7nuwSS

— Europa-Park UK (@EuropaParkUK) February 18, 2020
He also spoke about the rise of compact dark rides which create good solutions for smaller companies to immerse their guests into a story. Dohmen observed that video mapping is partly replacing theming and that this trend might continue in coming years. This is partly because it is less expensive.
Dohmen explored the impact that rising concerns about the environment will have on attractions. Will firework displays soon become a thing of the past?
Dohmen finished by saying that "technology can only survive if it touches the hearts of guests".
Big-screen immersion: inclusive immersive experiences for large audiences
Leander Werbrouck, Segment Manager at Barco, opened his talk at attractionsTECH 2020 by saying that this industry is "full of passionate people". He asked the question, why do we create entertainment? The Romans built the Colosseum to bring people together to "participate in a story". But how does this idea work today? For Werbrouck, we need to scale a story beyond its physical component and this is where big-screen immersion is key.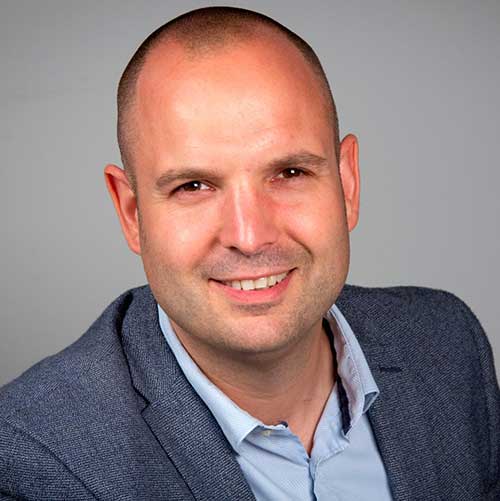 Artainment, the fusion of art and entertainment, is becoming increasingly popular. But how do you scale art beyond a physical painting? Werbrouck says, "technology is a means to an end". It allows art to be seen by more people and attracts new audiences. Technology also helps guests identify with the art, and become involved in it.
Bringing art to life through technology
At the Lights on Van Eyck exhibition, a robotic arm, projection mapping and digital choreography all combine to bring a famous altarpiece to life. On a screen, audiences can see the detail in the painting and the wide range of colours is highlighted.
At the Atelier des Lumières, Barco helps to create digital art and allows people to be inspired by it. Projection mapping "can turn any place into a living environment". Werbrouck teased the attractionsTECH 2020 audience with a preview of their latest collaboration, the Bassins de Lumières which will open in Bordeaux later this year.
Werbrouck says that VR needs to become a group activity so that it is a shared experience. He also spoke about the rise in esports, which uses big screen immersion. Esports adds an additional layer of reality because there is both a "digital and physical me".
Meet Vincent: cutting-edge cultural concepts

General Manager of the Meet Vincent van Gogh Experience for the Van Gogh Museum, Arnold van de Water, spoke about using technology from theme parks in the art world. The Van Gogh Museum has many challenges. When it was first designed, the van Gogh family envisioned 300,000 visitors a year – now over 2.3 million people visit annually. So how can the museum reach a wider audience and inspire them?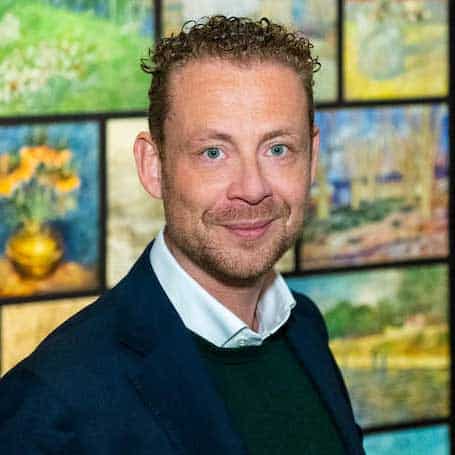 The paintings in the museum are also very fragile. Over time, the colour is fading due to the poor quality of the paint used. This means the museum cannot open 24 hours a day because the paintings cannot be exposed to so much light. The answer is to go digital and global.
The travelling exhibition Meet Vincent carried a high-risk factor. Many people asked, "why would a museum do a theme park experience?". But this exhibition allows a wide audience to experience Van Gogh's paintings and his life. They expect to receive 800,000 visitors by the end of 2020.
Van de Water brought together techniques from many other industries to create this exhibition. Making it multisensory was important. Audio technology allows guests to listen to Vincent's letters as they approach a painting, learning what he thought about it.
Haystacks in the exhibition incorporate a themed experience which is common in a science museum, but revolutionary for an art museum. Yet it helps visitors feel closer to the paintings. The exhibition is also ecological, as it consumes very little power.
AttractionsTECH 2020 explores family entertainment & the attractions of the future
Renee Welsh, CEO of Embed discussed the future of FECs at attractionsTECH 2020. She argued that wearable tech is "not to be underestimated" as it enables repeat visitation which is vital for the industry. Embed has developed a mobile wallet that can sit in the Apple and Google wallet, removing potential barriers for visitors. They don't have to download a new app and so are more likely to use it.
For Welsh, creating good "customer experience is a competitive advantage." With the rise in middle-class consumers, all wanting an experience, attractions and FECs have to deliver something different. We live in an age where a "personal experience on social media becomes a personal recommendation". Operators cannot afford for one guest to have a bad experience.
"You need sophisticated data to make informed decision to then help drive revenue in various times (and make sure you aren't damaging others)" Renee Welsh @embedcard
@BookingBoss
#ISE2020 #attractionsTECH pic.twitter.com/VaDcKRmEUr

— Blooloop (@Blooloop) February 27, 2020
Welsh believes that your face is the future. Facial recognition and biometric scanning such as fingerprints will become more prevalent. AmazonGo shops allow people to shop without checking out, and some Russian shops are using a fingerprint payment service.
The attractions of the future have to redefine the journey of the customer. Technology means that their experience can be as planned or spontaneous as they desire. Most importantly, it is a personalised experience. Data means an FEC or attraction can drive audiences at normally quiet times through promotions. It can also allow you to offer a personalised discount as someone is about to leave.
Integrating AV and multimedia with coasters
Dennis Gordt is Head of Development at Mack Rides. At attractionsTECH 2020, he discussed how lighting is becoming increasingly popular on rollercoasters. For example, on the Slinky Dog ride at Walt Disney World's Hollywood Studios, lights on the track follow the coaster at night.
But he spoke about some of the challenges of integrating AV, like lighting, into rollercoasters. The vibrations from a coaster and quick accelerations cause problems when installing audio and video. You have to design new technology to cope, such as designing shock absorbers for electronic equipment. For Gordt, it is important that you know what AV technology you will be using at the initial design phase so that it can be added in at the beginning.
Immersive entertainment and gamification
One of the future trends will be immersive, an important "buzzword". Using IP as an immersive experience has been used by Disney and Universal for a while, but this is moving to smaller parks as well. They are starting to think about how you can utilise an IP to create multimedia rides.
Gamification will only increase in popularity. There have always been arcade games at theme parks, but adding IP to them adds another level. Now, "your body will become your controller". Technology will allow your hand to become your controller such as on the Ninjago Ride at Legoland.
Gordt also sees wearables becoming increasingly popular since they allow guests to become more immersed in an environment. Although robots and animatronics have been around for a while, the recent stunt Spiderman robot at Disney shows that this is another way of immersing guests into the environment.
Gordt finished by talking about VR. He disagreed slightly with other speakers, arguing that VR does have a place in theme parks and on coasters. If done well, VR coasters can have a high satisfaction rate. Technology is improving to improve the hygiene of VR and therefore increase its usability for operators.
Designing digital attractions live at attractionsTECH 2020
Creative Director of Holovis, Peter Cliff, finished attractionsTECH 2020 with an ambitious plan to design a ride based on audience suggestions in 20 minutes. Cliff emphasised that technology is used to tell the story, but it should never overpower it. For example, Holovis recently worked on the new Lego ride to turn the guest into a Lego figurine to help them feel more immersed in the story of the ride.
Cliff then guided the audience through the process of designing a digital media-based attraction, using an idea they came up with.
Designing an attraction starts with the brief. What is the demographic of the intended audience, what safety and accessibility issues do you need to consider? Do you need to think about the repeatability of the ride? This is something that is vital in a regional park.
Introducing The Great British Bake Off dark ride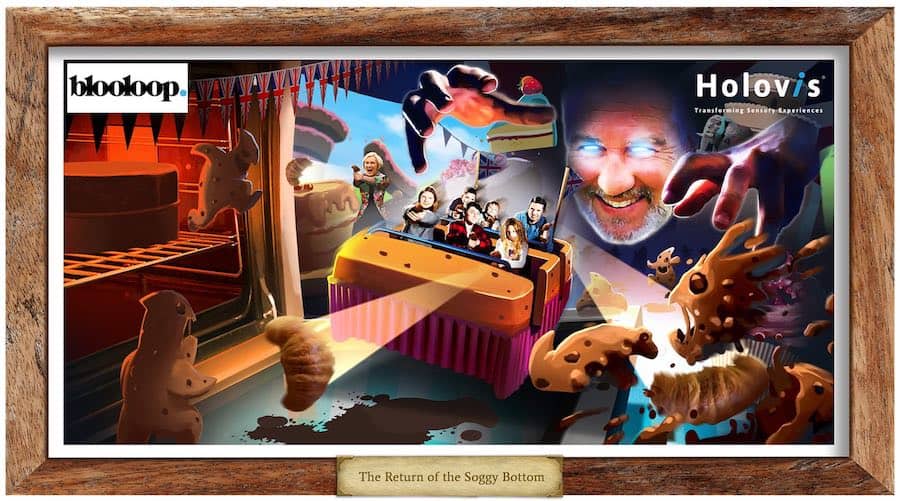 Most importantly, you need to come up with the story and theme and use technology as a tool to tell it. For our attraction, we used The Great British Bake Off as our theme and the title Return of the Soggy Bottom.
Our first challenge was to decide if it was an experiential ride (like Soarin') or a narrative ride (like Spider-man). We chose a narrative ride which needs an antagonist and protagonist, as well as an immersive world.
See also: Should dark rides: should they be interactive or story-driven?
Our antagonist became Paul Hollywood, who created a soggy bottom monster. Our protagonist, Mary Berry, enlisted our help to save the world. But what sort of ride will this be? We chose a dark ride, but Cliff stressed that it is the story that should help choose the ride system. The visitor could be taken through an oven, the bakeoff tent, using an overbaked croissant as a weapon. The result is shown in the concept art above created by Holovis.
Finally, Cliff reminded us that the ride is not the only important part of telling the story. The queue, pre-show and loading area are all places where you can immerse your guests into the story.
Best conference talk this week, because it involved cake and the universally appealing #greatbritishbakeoff #ISE2020 https://t.co/KJfwOCQlAv

— Annette Sandler (@annetteindc) February 14, 2020
Thanks to all who attended the event, braving storms and viruses. Also to our partners ISE and our sponsors Barco. And finally to our fantastic speakers who gave us a morning full of insight.