ISE 2020 welcomed attendees from around the world to Amsterdam for one last time 11-14 February, before its move to Barcelona in 2021.
ISE 2020 featured the largest conference programme ever. During the show, Integrated Systems Europe (ISE) said goodbye to Amsterdam and hola to its home for next year, Barcelona, with the ¡Hola Barcelona! Event.
In addition to this, ISE and global media brand TNW announced their multi-year strategic relationship at the show. This partnership will help to bring the best technology and innovation to ISE 2021.
The Blooloop attractionsTECH conference also took place on 14 February.
ISE 2020: a week of conferences and debate
Graham Wickman, David Willrich and Leander Werbrouck from Barco, as well as Peter Cliff from Holovis, spoke on a panel entitled 'Best Practice in Visitor Attractions'. All speakers agreed story must be the base of an attraction, and the AV technology should support it.
For Werbrouck, the "technology should not be intrusive of the story". Cliff agreed that technology should remain hidden. He also stressed the importance of a good transition between the queue and the attraction. This allows guests to remain immersed in the story.
Furthermore, Werbrouck said that technology has evolved. And new generations expect visitor attractions technology to advance as well. For Cliff, "it's about combining tech and storytelling into something you can't get at home". According to the panellists, key technologies to look out for are wearables, biometric tech and cloud-based VR.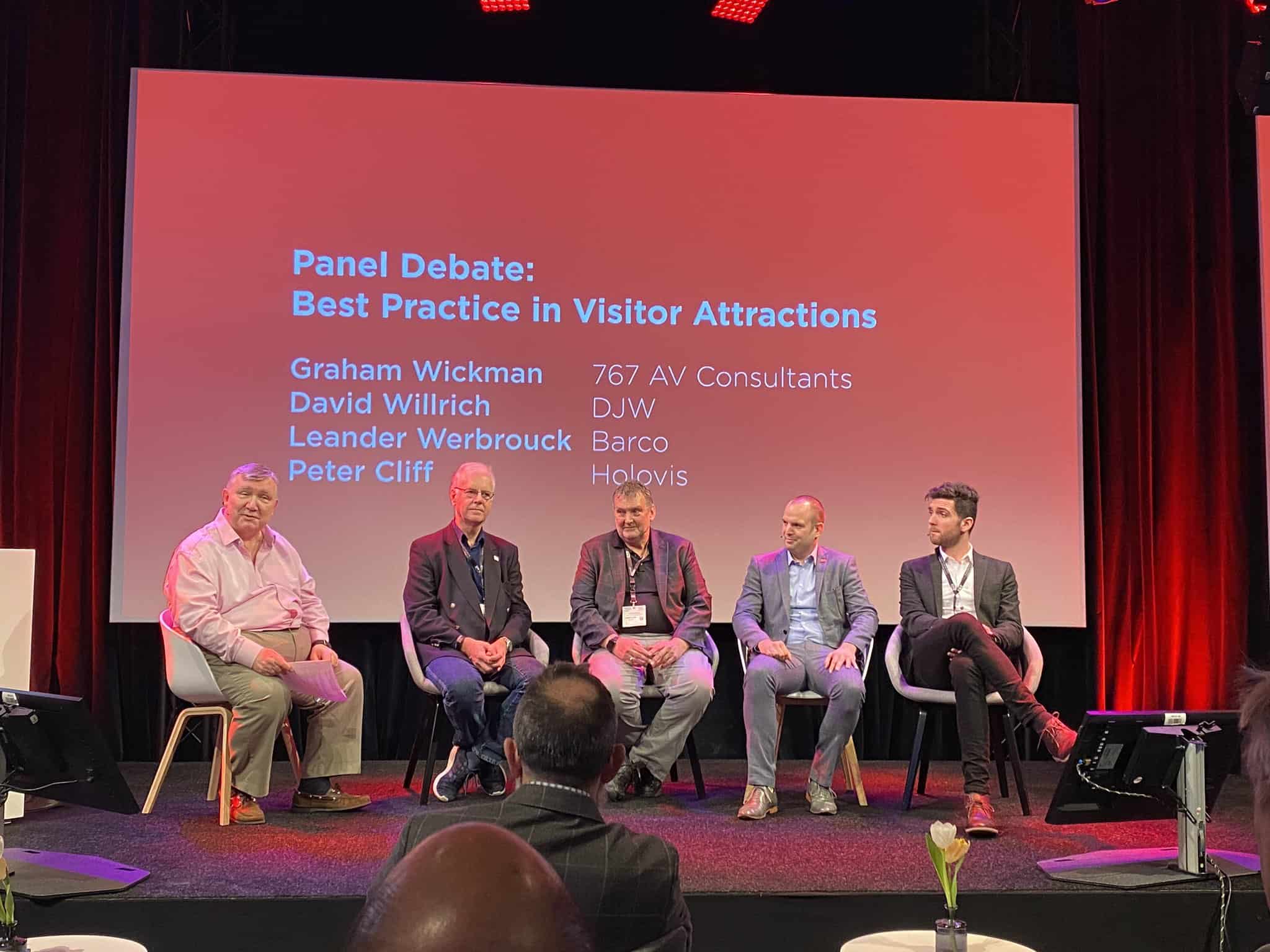 XR Summit at ISE 2020
At the XR Summit at the Okura Hotel, speakers discussed the future of extended reality (XR) in a multitude of applications. Hilary McVicker from The Elumenati spoke about immersive projection design.
For McVicker, creating physically immersive spaces with a social VR aspect "brings people together" and "connects the digital with the physical world". Moreover, it is the sort of activity that cannot be replicated at home and therefore encourages people to get out. However, she warned that group VR must be simple for operators to use.
Steffen Armbruster, the CEO of Framed Immersive Projects spoke about spatial audio and the company's product, Usomo. With these headphones, sounds change in real-time thanks to a tracking system.  Armbruster believes that for a truly immersive experience, you cannot rely purely on the visual, as the "visual stays outside of a person" so you don't explore and think about a message. But audio encourages thought and is therefore "much more immersive".
A busy show floor at ISE 2020
Barco
Barco showcased its new UDM-4K15 and UDM-W15 projectors at the show. These projectors have the widest colour spectrum on the market and are built to be durable. They are also able to rotate 360 degrees, making them very versatile. The company demonstrated the F80, UDM and G60 projectors in a blended projection mapping show at the booth.
See also: Atelier des Lumières – illuminating art in Paris
Beautiful blended colours of the F80 and UDM on the @Barco booth #ise2020 @ISE_Show pic.twitter.com/D0WxJabqAD

— Blooloop (@Blooloop) February 12, 2020
The company also highlighted its extended LED portfolio, which uses narrow pixel pitch LED tiles, as well as the new Barco Insights. This is the first IoT platform for projectors. It allows for streamlined remote monitoring to allow operators to troubleshoot issues easily. Barco also announced details of its upcoming webinar, on the 23 March 2020, which explores how technology can help create an immersive museum experience.
Christie
Christie showcased its new MicroTiles at ISE 2020. These tiles are easy to manipulate because they are magnetic. Using Active 3D, attendees to the booth were able to see a 3D film on these tiles. The content was shown at 60Hz per eye, making the video more comfortable for viewers. Unlike other 3D screens, using the LED screen means the brightness doesn't have to be turned down, so you see the film at the intended brightness.
See also: Middle East attractions: using cutting edge technology and unique innovations
Attendees had fun playing with Scalextric on the Christie booth. An RFID tag on the cars allowed a projector to track the car and project images behind the car. This technology used Christie's Pandoras Box media server, and could also be used in live shows to trigger projector effects once an actor gets to a certain location among many other applications.
Furthermore, the company launched two new projectors, the Christie Crimson HD31 and WU31 at the show.
So much fun on @ChristieDigital's projection mapped scalextric at @ISE_Show #ISE2020 pic.twitter.com/DKPgfNXdmT

— Blooloop (@Blooloop) February 11, 2020
Digital Projection
Digital Projection showcased the Satellite Modular Laser System at its stand this year. This product separates the light source to a different location, meaning the projection 'Head' is easier to install and transport. The company also demonstrated two of its MultiView VR systems at the 'VR at ISE' section.
See also: Ancient city, modern tech – Jerusalem's Tower of David Museum 
Highlighting how this technology could be used in the visitor attractions industry, attendees could virtually explore artefacts or buildings.
Epson
Epson launched its new 30,000 lumens projector, the EB-L30000U at ISE 2020. By double stacking this projector, users can achieve a high-quality, cost-effective 60,000 4K lumens solution.
In addition to this, attendees at the booth were able to see the company's Moverio smart glasses on the Toledo Train Vision. Here, users are able to see information about the city of Toledo through AR. This highlights how the tourist industry is using smart glasses to enhance the visitor experience.
Epson released its comprehensive report, The Experiential Future, at the show. This looks at what guests expect from attractions and retail. Epson also threw a party for 500 Partners at the Passenger Terminal on Wednesday evening. Guests were treated to a meal as well as spectacular projection mapping on the walls and ceiling.
Great show using 32 @EpsonUK projectors and show design by @crucialfx to round off the night #ISE2020 pic.twitter.com/wsrj6L7bob

— Blooloop (@Blooloop) February 12, 2020
7thSense
Visitors to the 7thSense booth at ISE 2020 saw a 16k video wall that used Juggler, the company's new pixel processing solution. During the show, 7th Sense Design renewed its distribution agreement with Wincomn, an AV solutions provider in China. 7th Sense and Wincomn have worked together on over 100 projects to date, delivering 7th Sense products and technologies to theme parks, museums, science centres and more across China.
Medialon
Medialon displayed Showmaster Go, a product that combines audio playback and show control into one, making it ideal for ride vehicles and parade floats.
project:syntropy
project:syntropy showcased ProjectionTools version 4.0 which has increased accuracy, workflow enhancements and extended equipment support. In the past year, the company also added a feature to allow automatic detection of partial dots. This means that the operator does not have to adjust the dot-pattern manually as often as before.
Listen Technologies
Listen Technologies demonstrated Listen EVERYWHERE, ListenTALK, ListenIR and Listen Audio Guide systems at ISE 2020. With the Listen Audio Guide System, tour operators are able to customise content and upload it to the device. Users can then select a language and, thanks to infrared technology, the correct audio is triggered at certain locations. Listen Technologies also provided technology for tours around the ISE show.
Panasonic
The Panasonic booth at ISE 2020 featured a large esports set up where attendees competed in real-time. This set up combined Panasonic's IP/IT-centric platform, 8K ROI cameras and 4K laser projectors. The 8K ROI camera system reduces the number of cameras needed in a venue whilst still producing multiple 4K fields of view. By using projectors rather than LED screens, Panasonic used geometric shapes and curved walls for the display. This is a more cost-effective way to showcase the gameplay than LED screens.
Lighting and multimedia experts, Painting with Light, created a colourful setting which included a dynamic trophy at the centre of the esports stage. This trophy was then brought to life by Panasonic projectors.
Awesome #esports demo from @PanasonicUK at #ISE2020 pic.twitter.com/F4TbC5wV6d

— Blooloop (@Blooloop) February 11, 2020
The IT/IP video processing platform that ran the esports booth is able to use off-the-shelf components as it doesn't need specific hardware to run. It also offers many types of solutions and is a fully customisable system. Furthermore, it provides low latency with high reliability.
In addition, Panasonic launched the SOLID SHINE laser projectors which use 30,000 lumens at up to 4K resolution in a light-weight and compact design. The PT-RQ35K (4K) and PT-RZ34K (WUXGA) projectors combine high brightness and improved colour into a compact design that makes it easier for installation in theatres, stadiums and for projection mapping.
Hartmut Kulessa, European Marketing Manager, said that "Audiences are increasingly demanding more immersive environments" and these new projectors can deliver that. At the digital museum, attendees could step into an immersive digital museum exhibition thanks to wall and floor projections. 
Powersoft
Powersoft focused on demonstrating how its products could be used in real-life applications. Spread over two booths, Powersoft showcased the Mover, Mezzo and Duecanali products. The Mezzo system powered the audio in the hospitality and the sports bar section of the stand. In the sports bar, attendees were able to pick audio from three screens, which all had individual volume controls.
Powersoft also celebrated its 25th anniversary at ISE 2020, with a party at ZuidPool. Furthermore, earlier this year at the 2020 Inavation Awards Claudio Lastrucci, Powersoft's Founder and Director, won the Industry Influencer of the Year award.
Other highlights from the trade show floor at ISE 2020
AV Stumpfl is an Austrian AV technology manufacturer. It showcased the latest version of its media server system PIXERA, which will allow users to preview and make changes to running shows.
Canon has built on the growing demand for 8K. The company showcased its latest 8K projection solution which delivers an excellent image quality. Also, Canon displayed its latest 8K lenses which will be used at the 2020 Tokyo Olympics.
Igloo is a company that produces immersive VR and 360-degree environments. It worked with Epson on the Shared VR Experience on the Epson booth. The company used native 4K projectors for vivid imagery that stood out.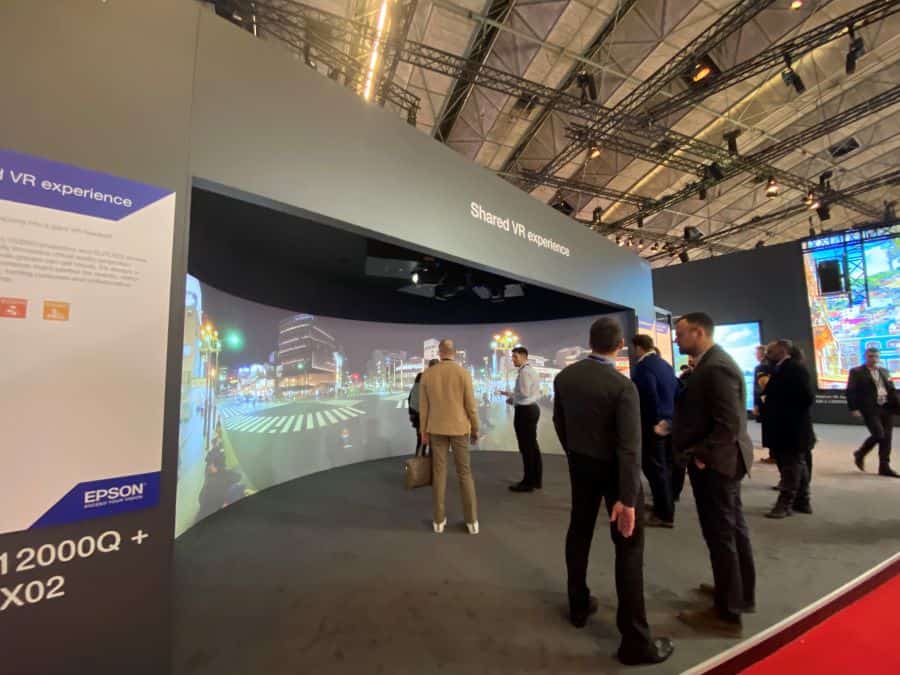 New technology on show
A highlight of the Clear-Com ISE 2020 booth was its LQ IP interfaces which bring network or internet IP to any audio or intercom system. These LQ interfaces are frequently used in e-Sports and theme parks. The FreeSpeak Edge system delivers 12kHz audio quality with low latency, meaning it can accommodate large productions.
Meanwhile, attendees were able to take some time off from the trade show floor and create some abstract art thanks to Streamcolors. Their Stream Machine Flowers was inside the Avixa stand. Visitors used an arcade controller to transform paintings of flowers from the Rijksmuseum into abstract works of art.
Stream Machine Flowers at #ise2020 with @AVIXA #streamcolors #digitalart #DAChallenge #newmediaart #ue4 https://t.co/DUEJrzKLXP

— Streamcolors (@Streamcolors) February 13, 2020
D&B Audiotechnik, an audio technology and solutions company, also debuted its KSLi System at ISE this year.
Green Hippo showed its latest product, the Hippotizer Tierra+, a media server that provides 8K playback. Furthermore, the company was a technology partner for the ISE Elicium projection mapping that took place every evening on the RAI's Elicium complex.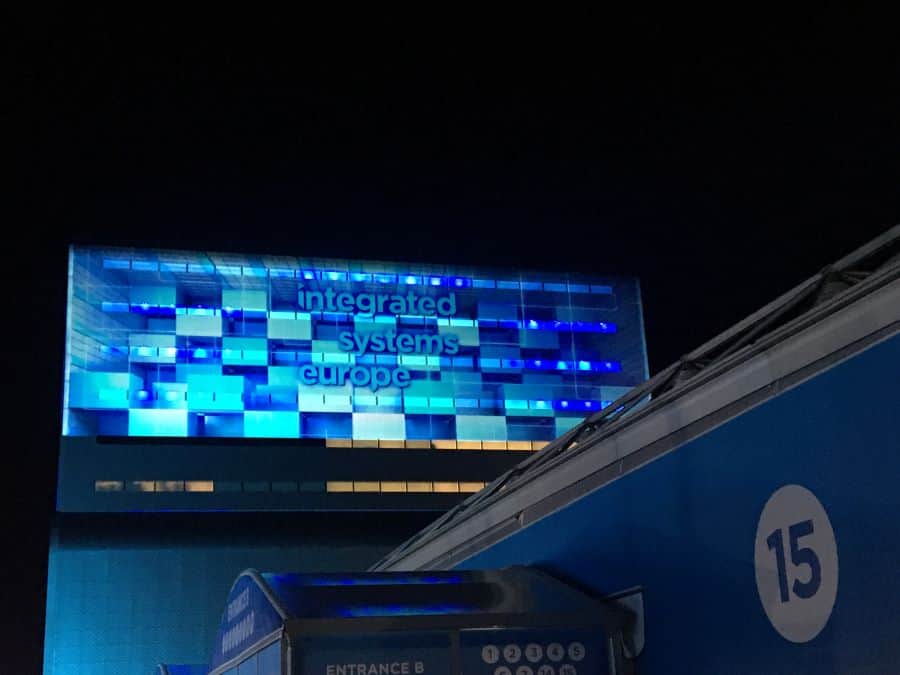 A provider of visual solutions, View Sonic, showcased its smart 4K LED projectors at the show. Users will be able to wirelessly connect to the projector from their smartphones, laptops and loT devices.
Clay Paky showcased several of its new lights. For example, the IP65 SharpyPlus with a moving head fixture and weather-resistant package, making it ideal for cruise ships and outdoor events.
We look forward to seeing you at ISE 2021, which will take place from 2-5 February 2021 in Barcelona.