From fine pitch LED to projection tracking, audiovisual (AV) technology in attractions and events is evolving fast. The biggest challenge is making sure you take a measured approach to using the best of what's on offer.
Attractions venues and Live Event clients have always sought something different, exciting or cool to impress their audience. With today's dynamic mix of audiovisual (AV) technology, producers are empowered not only to satisfy but exceed expectations.
Unique Experiences
"The biggest challenge is creating new and unique experiences that have an instant wow factor and audience impact, " says Mike Ross (below right), Attractions Development Manager, Holovis. "With the rise in experiential events and the encouragement from brands for people to
share the content online, people have seen it all. They are becoming harder to impress."
Available technologies range from the almost like-for-like replacement of projection systems with LED, to live streaming from drones and emerging tools like Augmented Reality (AR) with barely explored potential.
Form and function
LED screens, in general, have become so affordable that 'live scenery' is a viable option for many events and shows. But it is fine pitch displays where advances are strident.
Worldwide demand isset to increase by 2021 by an average of 46% year on year (Source: LEDinside). Producers are wise to fine pitch LED advantages over projection. The category is "pushing out large projectors, " according to Tim Brooksbank, CEO at image processing developer Calibre.
"The resolution of LED has gone from rubbish to revolutionary and is now as good as, if not better than, projection, " adds Colin Parnell, producer at Fonix screen hire. "You can throw as much light as you want onto the screen without impacting the picture. There's no throw distance so your presenting talent can actually touch it. The only reason to use projection now is to maximise an existing investment."
Projectors do remain popular though, and when used to support the rental and staging at outdoor events, tours and shows, a project enclosure is recommended. Tempest's latest range of G4 enclosures covers most popular rental projectors, including the Christie M-Series, Roadster and Boxer, Barco's HDX and HDF, and the Panasonic PT-D21K. The stackable unit boasts many rigging options for installation flexibility, as well as optimal thermal insulation for additional protection in extreme outdoor environments.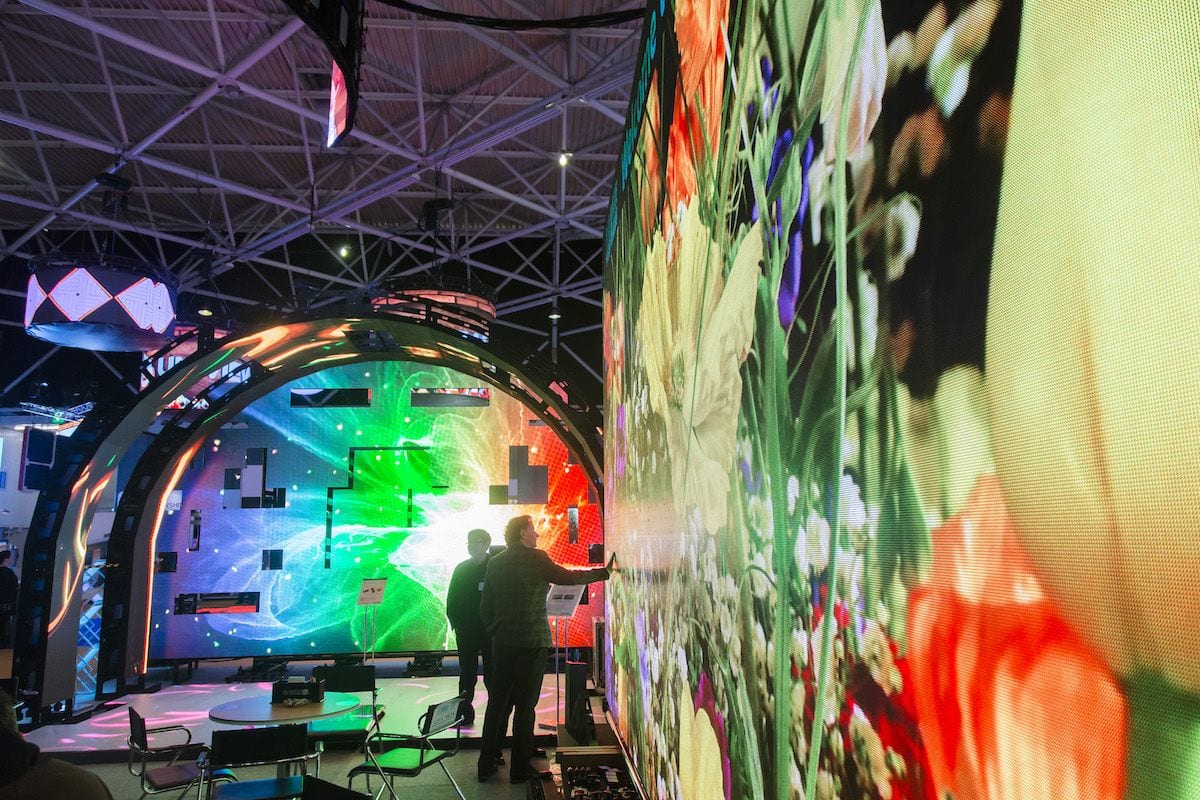 HD or UHD?
Using HD resolutions isn't the expectation in live events filming, it's a necessity. The same is true with content for both projection and LED screen content production as well.
"Showing video beyond 10m wide – a frequent occurrence at live concerts and conferences – requires a 4K image, otherwise you're just wasting pixels, " says Nick Dew, (right) managing director of Really Creative Media.
Nonetheless 4K/UHD content is not yet universal and is being driven by the consumer.
"4K filming can make a dramatic difference for a live stage show. But when you're commissioned to film a conference, is 4K really necessary?" says Dew. "Yes, it's a great picture, but there's no point in doing flash for the sake of it."
"Designers and specifiers think they need 4K/UHD because we all hear about it from TV manufacturers' advertising, " says Brooksbank. "The reality at live events with long viewing distances, is that 4K/UHD isn't about higher visible resolutions. It is about covering a larger display surface area without the image appearing unduly pixelated."
Atmosphere Screens
Where high resolution has even greater value is in special attractions, such as theme parks and museums. Austrian developer AV Stumpfl's Wings Engine Raw 8K media server is capable of processing four simultaneous streams of 4K. It can also handle extreme frame rates up to 120fps for dark rides, large-scale theatres, immersive dome theatres and projects requiring stereoscopic 3D imaging.
Holovis created the 360-degree panoramic projection for live streaming action from the Euro 2016 soccer tournament. This took place inside a 20 x 40 metre immersive experience Hyundai FanDome (above and below).
"Atmosphere screens featured real time content mixed live in 8K resolution. They changed in line with the mood of the fans, surrounding their peripheral vision and making them an inescapable part of the drama, " Ross says.
AR for live
Virtual Reality has galvanised the film and TV community into all manner of content experimentation. However, the format is less applicable to live events (except perhaps as an enabling technology for design and as a sales 'simulation' tool to win new business). The insular nature of the experience runs counter to the group dynamic of most conferences or festivals. It often makes people feel self-conscious.
"From the delicate nature of headsets, to hygiene passing it from one person to another and
the time this consumes meaning others miss the experience, VR faces too many challenges in the live environment, " says Chris Voykovich (right), Hire and Events Manager, Focus 21. "However, other methods of integrating the real world with a virtual media layer are much more promising."
AR is an intriguing alternative. It means people can share the experience not only with each other but also with live capture to spread on social media sites.
Breakthrough Technologies
For example, Holovis developed the Battle For Cedar Point, a bespoke app for an Ohio-based theme park (below) which integrates AR into the wider guest experience. "This can be triggered from the moment downloaded to 'gamify' the visit to the park with hidden AR treasure to discover, " says Ross. "This has increased social media reach with people wanting to share the secret content that they are accessing. We're taking this concept through to live experiential events so they also see these uplifts."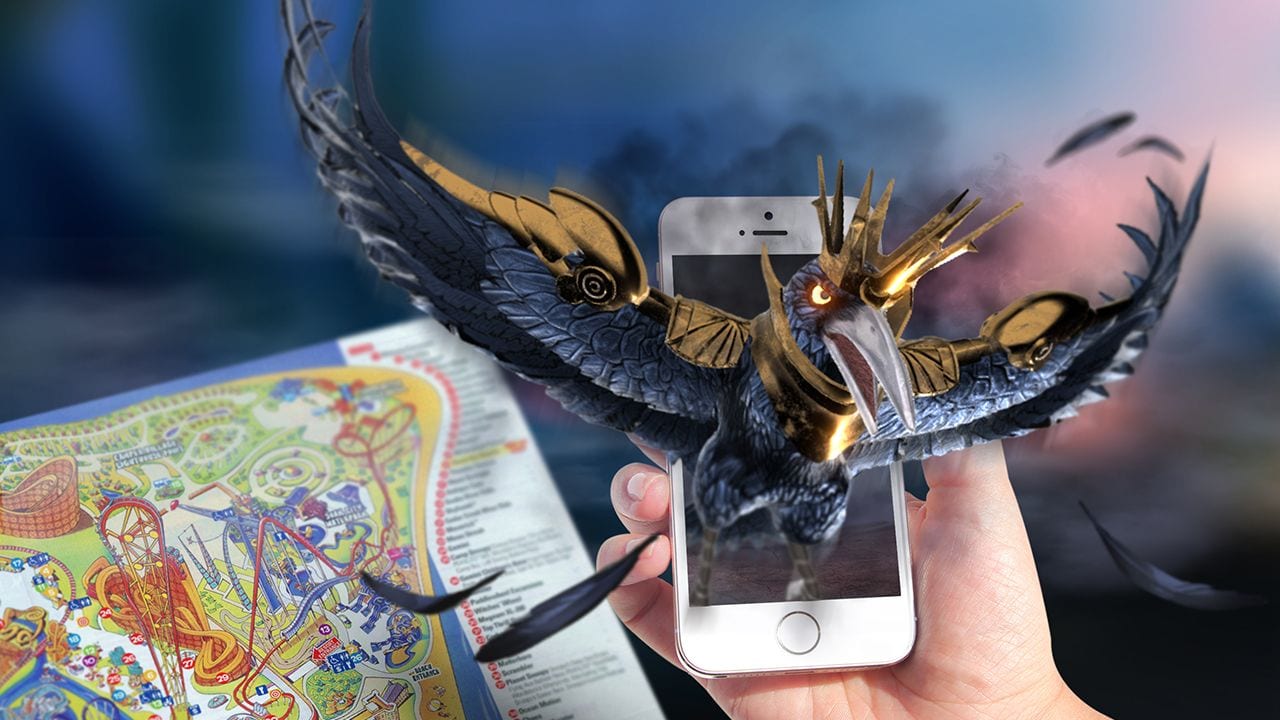 Microsoft's hologram viewer Hololens and mixed reality retinal display Magic Leap are two breakthrough technologies to watch for. But let's not close the door on VR just yet. Development is underway to enable viewers to share the experience of someone wearing a VR vizor.
"Ultimately you will be able to create a live show with a person in the VR game. A green screen will live broadcast the player's view, " says Parnell. "We're working on it. It is really hard to do but it will be cracked. I'm sure there are TV game show producers working on this now."
At the Oculus Connect conference in October, Facebook CEO Mark Zukerberg revealed software that allows people to share the same virtual space. It's a work in progress and features Oculus Touch, the firm's soon to be released 3D controller, to change an avatar's emotion. Who will be the first to host a virtual live event in Oculus space?
Projection Mapping
The resolutions and accuracy of projection mapping techniques are always improving, allowing the creation of more striking effects. Holition, for example, recently claimed the first successful projection mapping of a car in daylight at the BMW Museum, Munich.
Focus 21's Voykovich recalls seeing a giant pipe organ projected on the full length of a London orchestra hall interior. It appeared to be playing in real time. "This is seemingly simply but can be extremely powerful when synced with spatial audio, " he says.
For the most demanding multi-projector applications such as theme park dark ride attractions and giant-screen dome theatres, Christie's freshly upgraded LSE Edition of Mystique application stack provides advanced content layout modes and electronic black level blending tools to ensure the highest-level image quality.
Sophisticated Audiovisual
"From on-court projection mapping during a basketball game to a thrilling ride at a theme park, Mystique Install makes it easier to create sophisticated visuals" says Curtis Mutter solutions manager, Christie. "It also enables the user to set up and manage systems that use multiple projectors and screens."
Instead of mapping projection to a static object, the emerging use of projection tracking creates a movable projected canvas. "This involves using a media server and tracking cameras which tracks certain marked points, " says Dew. "The system learns the size and shape of the object it is following and recognises differences. It then generates data for the media server to compute. This is then used to create the live adjusting projected image."
There are already tools like BlackTrax that do this for large scale tracking in performance spaces. However, Really Creative Media has helped to develop "affordable and transportable" ways of using this in smaller deployments like conference venues and exhibitions. An exhibition in Abu Dhabi, for example, used actors and the projection tracking technique on poster cards. These attracted people to a stand with fun and changing projected content.
iBeacons
Large scale outdoor events are exploiting Wifi using iBeacons. It will prompt users of bespoke apps to unlock secret content and for organisers to track movements around a site.
"This allows them to see which elements are popular. It also allows them to devise ways of driving footfall to those that aren't, all in real time, " says Ross. "The audiovisual technology within this is invisible, as people move around a space they can discover new secrets. They be immersed in new messaging in a way that feels very natural and not at all invasive."
Light ID is an alternative. Information is received by reading QR codes written in light from digital signage or LED illumination. This is useful in crowds where it can be difficult for users to place phones next to signage to be scanned.
Knowledge is key
With the unrelenting pace and variety of AV technology entering the market, keeping ahead of trends presents both a great challenge and exciting opportunity. While it might be the newest, latest technology, you need to be able to take a step back and ask yourself is it really worth it? What's the return?
"Technology is great until it crashes, " says Parnell. "The biggest challenge is building in the redundancy – especially with newer, untried methods – and making sure everything is 100% reliable."
Voykovich believes the extreme diversity of non-agnostic devices is putting pressure on AV suppliers. It increases the amount of investment they have to make in kit.
"Universal standards in connectivity and design are much more established in audio and lighting and changes are easier to keep up with, " he says. "But video is evolving all the time leading to a lot of fragmentation. No 'one size fits all' solution is available. We are seeing a greater response from manufacturers to this problem for consumer technologies, with cross platform capability emerging but I think they need to bring this focus to the trade."
The Largest AV Show in the World
As the largest AV show in the world, ISE 2017 [7-10 February, Amsterdam] is a good place to start.
Visitors can expect to see further developments in OLED technology. They will also see the very latest tools for techniques from projection mapping to drone filming. As IT and AV systems continue to merge, the theme will take precedence [on Friday 10 February] at the show. Networked systems will also be the subject of seminars and keynotes.
Daniel Lamarre, President and CEO of Cirque du Soleil will deliver the closing keynote on Friday 10 February.
Lamarre will explore how emerging audiovisual technologies continue to grow their influence on live entertainment.  He will also share his vision on how new technologies will continue to have a huge impact on artistic content.
Additional information is available from: Stefanie Hanel, Director of Marketing, Integrated Systems Events: shanel@iseurope.org and Visit ISE 2017 for inspiration and advice.
All images kind courtesy ISE except top image from Holovis