It's February. And cold. It must be time for Integrated Systems Europe 2017 (ISE) at the RAI in Amsterdam.
This year I had decided, that I'd go for the whole week. I arrived full of energy and purpose on Monday afternoon, and departed, somewhat depleted, on the Friday afternoon, which thankfully was relatively quiet.
By Martin Howe (right), CEO, TEQ4 Limited
The other days, especially Thursday, were hectic, like the souks of Marrakesh with crowded corridors and an abundance of colour and choice. Though rather than babouches (those pointy slippers) carpets and scarves, ISE featured screens large and small, speakers large and small, and a whole range of other audio visual trinkets.
Oh look, another HD laser projector. Oh, and over there, another high-resolution video wall. So much to see, so much choice. Would they barter I wondered!
Integrated Systems Europe 2017: Show of the Year?
For many, ISE has become the show of the year. One exhibitor with a huge booth and a couple of whisper suites had shipped over 100 staff via Schiphol, along with a boat-load of pixel-laden tech. By my reckoning the people cost alone, including flights and
accommodation, would exceed $300k. Add in the booth cost and the cost of equipment, and shipping, certainly north of $600k and probably close to $1m once all the preparation is taken into account. Quite an investment, but with 65,000 potential buyers attending (in one form or another), that's only 15 bucks per pair of eyeballs. Quite reasonable really.
Blade Runner.
Remember the film? It was Ridley Scott's vision of a future Los Angeles with giant screens wallpapered on the side of every building. He was probably right about the vision, but I think he got the location wrong. If ISE is anything to go by then Shenzhen will be the setting of Blade Runner. Listed on the ISE app were 65 companies with the word Shenzhen in their name! And it looked like most of them were making LED screens. Very good ones too.
Where has 3D Gone?
What there wasn't a great deal of at show floor at Integrated Systems Europe 2017 were 3D displays (remember those?!). There were a few; one stand was showing 'auto-stereoscopic' monitors, rendering 3D images without glasses, another showed a rear projected passive two projector set-up. Neither were particularly stunning. So, is 3D dead? No, of course not, it's just moved into the far more suitable application of virtual Reality. 3D in the home, and on the bus and on a roller coaster. And an excellent crane simulator too, thanks to sensory experience company Holovis, which as you can see in this video, was very realistic!
3D Audio and Immersive Sound
What is great to see, and hear, is the continued development of 3D audio systems, those that make use of up and down as well as the now conventional side to side and back and front. These immersive sound systems really do add another dimension to the experience, one that once you've heard it you won't want to go back.
D&B Audiotechnik presented a very comprehensive demo of this in their audio suite, taking us thoughtfully through an orchestral production firstly in mono, then stereo, then surround then fully spatialised '3D' sound. Presently there are numerous terms to describe these similar techniques and technologies; soundfield, 3D sound, immersive sound, spatialised sound (there's even an ISO definition too; ISO 12913-1:2014!), but they all aim towards the same goal – to make the experience sound more realistic, more lifelike.
What also became apparent during D&B's presentation was, that in the same way that a movie needs sound to bring it to life, then so do visuals adds so much more to an immersive sound. Their finale comprised a wonderfully choreographed version of Nigel Stamford's impressive 'Cymatics: Science Vs nature' production. It looks great on Youtube (below) but it's a whole other experience on a big screen with big sound all around. I really enjoyed it, one of the highlights of the entire show.
And things in 3D space too!
Two years ago I wrote about ISE 2015 and concluded "Wouldn't it be interesting to see how projection mapping works with real-time object tracking, 3D audio and the Internet of things, where everything knows what it is and where it is; people and technology sharing and interacting in the same 3D space?!".
Well Panasonic must have been thinking the same thing, because the feature of their booth this year was just that, or at least large chunks of that. This fun hourly magic showed featured 300,000 lumens of projection power, projection mapped onto the floor, two large panoramic screens and whatever else got in the way thanks to D3 servers and Blacktrax tracking system. This included a live actor and two flying balloons courtesy of Airstage.
Thank you, Panasonic, and team for fulfilling my wishes. Next year wouldn't it be interesting to see 8k video in high dynamic range and high frame rate, 3D audio, some drones, skateboarders and a motorbike. Please.
So what else was stunning?
CLEDIS. Don't judge a book by its cover, and don't judge a screen by its name. CLEDIS was stunning. Sony's new super black LED technology uses LED's so tiny they occupy just 1% of the pixel area. That means the other 99% of the screen can be just inky black background.
What that gives you is 1000 nits of brightness where you need it and nothing, absolutely nothing, when you don't. The 8k x 2k resolution display on the stand was 32 x 9 feet and would set you back $2m. But unlike the souks I didn't get the sense that Sony was ready to haggle on price. And why should they? This was one of the few products at the show where I couldn't find an obvious competitor. That won't last long I'm sure, but I was pleased that they've set the bar for the new normal. I can't wait.
https://www.youtube.com/watch?v=mRucBViqF6U&t=40s
It's the Inky Blackness
In fact I couldn't wait. A couple of months ago a bought myself a nice big 65", curved OLED TV, thanks to LG. Of an evening, I'll put on some nice native UHD (ultra-high definition/4k) HDR (high dynamic range) content, turn out the lights, turn up the sound, and lose myself in the beauty.
Again, it's the inky blackness that draws you in. But it becomes something special when displaying the searingly bright details of HDR. This is the future, now. And, judging by its booth, it's clear that LG thinks the same. Lots of curvy, inky black, sparklingly colourful, curvy displays.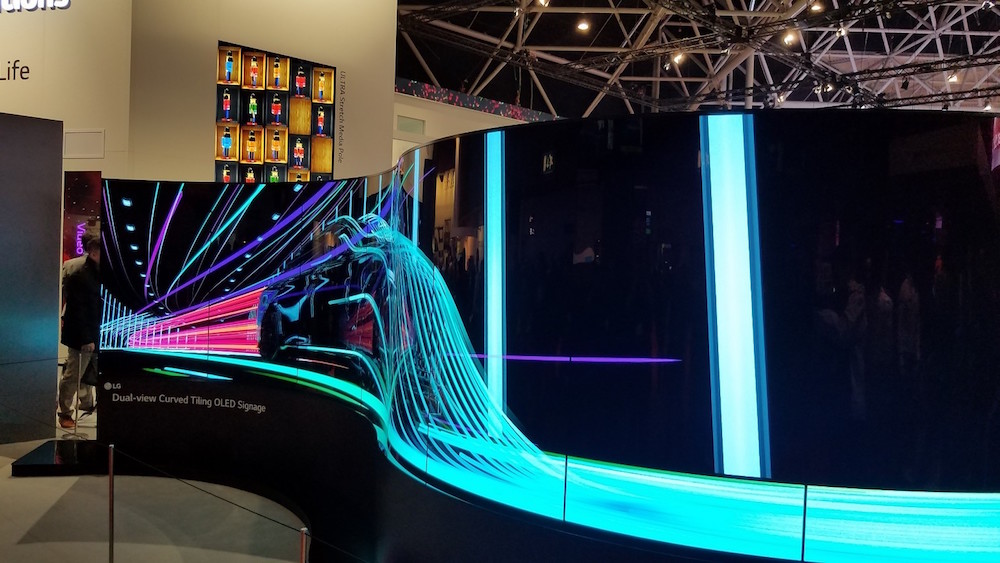 But not just curved like mine (and yours) at home. It's curved along the long edge instead, convex and concave versions too. I can't imagine how much it costs to tool-up a factory to produce these versions. Are they taking a punt or do they know there's a market for these versions?
4K is So Last Year
Oh and of course, 4k is so last year. A few booths at show floor at Integrated Systems Europe 2017 were demonstrating the ability to display 8k and beyond. 7th Sense, is a company with a reputation for building probably the highest performing servers available. For example, they power a number of the large displays at the show, including Sony's CLEDIS.
They were debuting their new 8k server employing the latest data connection technology called NVME. This is a relatively new
standard for connecting the internal organs of a computer at very high speeds. The result? 6 gigabits per second from disk to screen, enough for 8k at 60 fps from a single relatively small box.
Wiggle it at Integrated Systems Europe 2017
Another way to delivery more pixels to the eye, is just to wiggle the ones that are already there. OK, it's not that simple, but projectors deploying pixel-shift use a small oscillating lens to optically displace the pixels on the screen, say 120 times per second or more, to create four pixels from just one real one. That means an HD chip can project a UHD image.
It's not quite the same performance as a True 4k image, and a trained eye can spot the difference, but the significance is this; firstly a pixel shift 4k projector is notably cheaper than a True 4k projector, more importantly perhaps is that 8k projectors using pixel shift with 4k chips will be here soon, and for many applications, I suspect, that will suffice.
Without too much difficulty, those displays can be used to deliver near eye-limiting resolution; not the half-way-house 1 arc-minute per pixel compromise that many offer up as the holy grail, but true hair-on-the-arms, 0.3 arc minute resolution.
Room for one more?
So, in this crowded, souk-like market, is there room for one more? Well the team at Norxe think so. They're a start-up and they've built a ground-up, compact, high specification projector targeted at specialist applications such as simulation.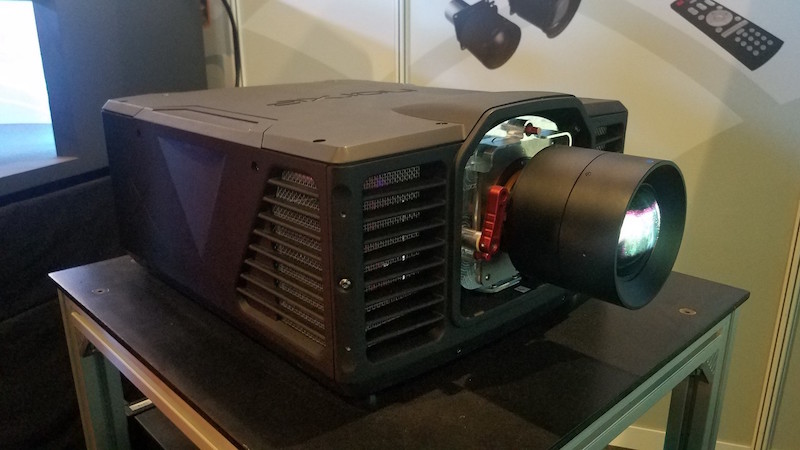 It's a small team, not much more than a dozen people (and growing), and the fact that they've developed, built and brought to market such a complete and finished looking product is testament to the team and a reflection on modern business. This isn't your everyday start-up though.
It's the same team behind Projection Design (since acquired by Barco), so they have the experience, and the credibility. Their efforts prove that it's relatively simple nowadays for a small team to collaborate and team-up, across the world, with other small to mid-sized teams to design and build things that would previously needed much larger monolithic organisations. Good luck guys.
Projecting Digitally.
One company who's been projecting digitally since the very early days of DLP, is Digital Projection. In fact Digital Projection was formed out of Rank Brymar one year after their world's-first demonstration of DLP technology in 1995. I remember, I was there. It was
heartening to see the company still pouring passion into their products.
At this Integrated Systems Europe 2017 the company revealed Five New Solid-State Laser Projection Systems.
I had an enjoyable stand tour by Dermot Quinn, their pixel-perfect CTO and proud father of their big new bouncing baby, the Insight Dual Laser 4k. It features large format (1.38") full 4k chips (3 x 4096 x 2160), who's mirrors, he explained, have a larger tilt angle and therefore more opportunity for contrast and greyscale resolution. And you could see the difference. Beautifully rendered images. Well done Dermot and the team.
Projecting Big with Christie
The big projector gun at the show was Christie. Central to their booth was a huge, 16m wide, bright, clear screen illuminated by just six of their Boxer 4K30 projectors, and powered by their own Pandoras Box media and show control server. The content could be manipulated in real-time using gesture control and user tracking. This big bold statement signals Christie's intent to offer complete end-to-end solutions to the market.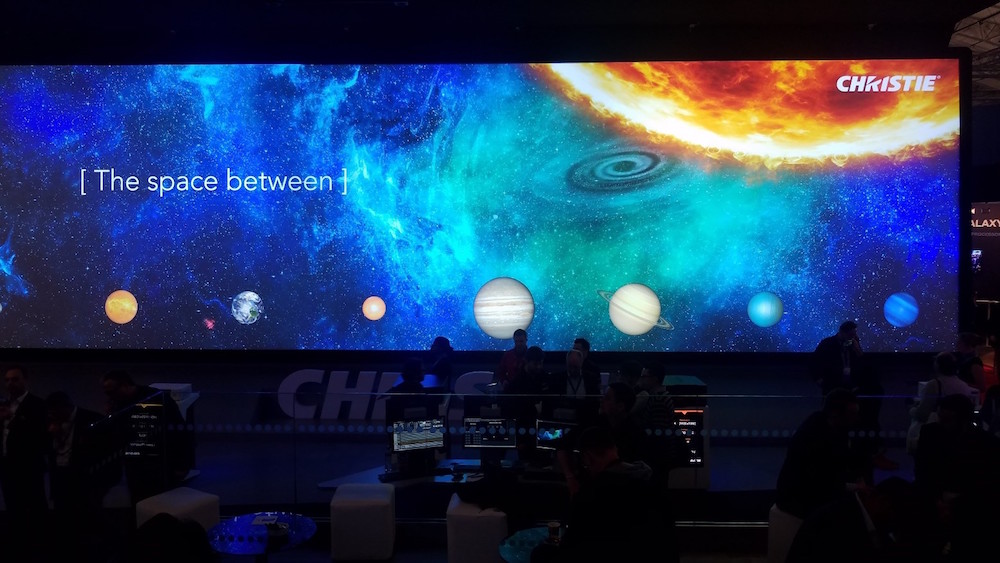 In a separate booth, Christie showed a glimpse of the very near future with a helpful comparison of their next tranche of laser illuminated projectors. The baby of the trio was a single DLP True 4k projector illuminated by laser phosphor technology to output 10,000 lumens. The next step up was a 3 DLP True 4k projector also laser phosphor illuminated, quoted at more than 15,000 lumens in a chassis that looked very Boxer-like, and then the flagship of this booth, a full-on RBG laser powered 4k 3chip projector, with all the lasers and cooling integrated in one, quite large, box.
This is targeted at very high brightness applications and features high frame rate up to 120fps and high dynamic range. How bright? Well they're not being specific at the moment except to suggest >20,000 lumens. Surely that's likely to be double that when it launches. At least.
Behind the scenes.
As is typical for shows like these, ther was quite a lot of activity off the show floor and behind closed doors at Integrated Systems Europe 2017. I don't want to be the one to reveal secrets, but suffice to say that we'll be seeing displays with more pixels (8k) more black (ultra-high contrast and high dynamic range) and products that implement the latest high-precision engineering, including nano-engineered projection screens. We've now arrived at a confluence where various technology streams are combining to create a swell of innovation, driving a pace of change that, I expect, will last for many many years.
Overheard at Integrated Systems Europe 2017
A simple example of innovations coming together was on show at the Polycom booth. Many of you will know that Polycom were one of the pioneers of videoconferencing, formed back in 1990 by two ex-Picture-tel employees and now a $1bn+ company. For all that time, their video collaboration set-up was based on the news-presenter model; one person (or maybe two), one camera, to one screen (or a quadrant of it).
This year they presented Realpresence Centro™ which, as the name suggests, comprises a central cube of four screens, and audio processing technology to detect and focus on the person speaking. The enabling technology here, I suspect, is the same microphone array technology that Alexa uses to decide who is doing the talking and more importantly, where they are. Polycom have integrated that capability into an elegant, intuitive package that lets you interact naturally with the people in the same room, as well as those who aren't. If you get a chance to try it, you should, it works very well.
Satya's having an impact at ISE too.
Since Satya Nadella took over the helm, Microsoft have slowly but surely been repositioning itself as a friendlier and more accessible company. Another example of this was on the Logitech stand. Skype for Business and Surface™ Pro 4's have been seamlessly integrated into affordable, easy to use appliances for the office, starting at a $1,000 or so, which in practical terms is virtually free, especially after a the cost savings of few uses.
Moving it all around.
The other major trend on show at ISE it just how easy it's becoming to move all this information around. Dante™, HDBaseT™ and NDI™ are a few examples of ever growing standards for sending high resolution media across a network, and therefore, across the world. Performance is going up, costs continue to come down. A few clicks to set-up and typically one click to set-off. The tidal technology swell is having an impact behind the scenes, and behind the screens too. I see no signs of it letting up. Better is getting even easier.
Niche technologies.
When a market is this big there's always room for a niche or two. A long-time expert in
targeting those niches is Alcorn McBride. They've been around since 1986 building bits of 'technology glue' for themed entertainment attractions.
This year they were debuting the multi-function RidePlayer designed specifically for moving ride vehicles (and you can't get much more niche than that!). It's a very robust looking box (right) with built-in GPS, show control, multi-channel audio playback and synchronisation back to the non-moving bits of the ride.
And finally..
It's always good to end on a high, and after being deluged by so many good products all week long it was nice to reflect on what were the standout elements of the show. One theme came through repeatedly and is hinted at throughout this article. There are many new entrants to the market with their new products, but there are also many well-established ones; those companies who consistently deliver solid products and who consistently deliver good service.
It became apparent that the difference, the reason for choosing one over another, will increasingly become the quality of service and support that they offer. Audio Visual products are so good today that the point of difference is quite small, and even if one company gains a technology lead, then it won't take long for the others to catch up.
Electrosonic's Bob Simpson
So I was very pleased to encounter a former boss of mine (actually he was my boss's, boss's boss when I first started), and I didn't bump into him by chance, I wanted to congratulate him on being awarded one of the highest honours, not just of the industry, but of his nation. Robert Simpson, Bob to those who know him, was just last month awarded an MBE (Member of the Order of the British Empire) in recognition of his unwavering commitment to the audio and video industry over the past 52 years. That's a long time to be around and to be in a leadership position in any market.
Bob (right) formed Electrosonic in 1964 and I joined them at the very start of my career in 1980 as an apprentice. On his desk sat a large brass exclamation mark with the word 'think' below it. This was a simple insight into his professional approach and his commitment to innovation and service which not only set the tone for the company, but also sowed those seeds across the industry, because I, like so many, eventually moved onto other things. Bob had built a factory, not just of technology, but of technology-centric, quality-minded people.
Thank you for that Bob, from all of us, and congratulations once again.
All images by Martin Howe and Blooloop