By Martin Howe, CEO, TEQ4 Ltd .
Life is not a straight line. It wriggles around, left and right, back and forth, two steps forward and one back. Ultimately it does keep rolling forward but not always in a linear, predictable way. Sometimes, progress pauses for a little while, for no apparent reason. If ISE 2018 at the RAI in Amsterdam is the barometer of progress for the AV industry, still the largest gathering of Audio Visual minded people in the world, the same must be true for that too.
Consolidation at ISE 2018
Was there anything new at the show this year? Lots, probably. Lots of new model numbers for sure. Some new people. A few new companies. But what was really new, innovative, stand-out? Not that much, I thought. If the ISE barometer is reading correctly, it's going to be one of those years where there's not a great deal of change. The needle has levelled-out. Oh well and probably just as well. It will give us all time to consolidate a little.
What history tells us though is that the needle won't stay flat for long; expect another spike, maybe a year or two from now. So, in the meantime what can be gained from trekking the halls and braving the January cold of Amsterdam? Read on.
An 8k (jiggle-vision) projector
Firstly there are always exceptions. The most notable for me was that the first to break-out with an '8k' projector was Digital Projection (DP).
The format had been slated a while ago and I wrote of its coming in last years' review of ISE. The notion was that 8k projection could be achieved not by manufacturing 8k resolution chips and true 8k resolution projectors (which is very complex for many reasons) but by taking a 4k chip and wiggling
optics to move the image by half a pixel or so rapidly in each direction to temporally integrate an 8k image on the screen.
The same technique is already used for '4k' projectors that use lower resolution chips to deliver 4k. At this resolution we're able to compare today, side-by-side, a 4k 'jiggle-vision' projector and a 4k native resolution projector. And you can just about see the difference, if you look closely and depending upon the content and the manufacturer. So we must assume that the same will be said of 8k.
In the meantime all we have to look at is DP's jiggle-vision 8k. And that's by no means a bad thing. In fact to my eyes it's was a very good thing. With bright, sharp, colourful, stand-up-close beautiful images with amazing 3D-like image depth.
What was just as impressive was that it was DP that was the first to show this technology publicly. It really is a David vs Goliath achievement when really one would expect jiggle-8k to come first from Barco or Christie. Or maybe Panasonic.
This achievement is touted as a result of DP's 'enhanced relationship' with Delta Associate Company. Whatever this enhanced relationship entails, if this was meant as a signal of intent, then be ready for a bigger, bolder DP in future.
Surprises.
Talking of surprises, I had an interesting conversation with Brant Eckett, Marketing Director of Christie Digital EMEA. It wasn't surprising because of any 'off-the-record' product roadmap discussion, but it was surprising because we didn't talk about products at all. How refreshing. Our conversation centered more on Christie's position in the market and the condition of the market as a whole. Very enjoyable in fact.
Like every company in the market, Christie is constantly adapting to market trends and thinking about how they could, and should, be on the leading edge of those. Remember, they're good at this, they've been around a long while, even longer when you trace the lineage back to Electrohome.
A genuine voice
So I was surprised when Brant described Christie as a small company. But then I suppose it's all about context. Viewed from my office, any company with sales well north of $500m is what I'd call large. Or even very large. Viewed from Brant's, when up against Panasonic and now even Epson, I suppose they feel a little smaller. So when you're small, or even relatively small, you need to be nimble and make best use of your limited resources, people and partnerships.
For Christie that translates into a number of strategies for the Pro-AV market; develop unique IP such as their 1.2GB electronics platform which delivers market leading resolution and frame rates (at the same time, no less); develop complete end-to-end solutions for specific applications, to get closer to the markets so as to develop expertise and intrinsic knowledge and in-turn offer a wider range of products to distribution; venture into new technologies such as real-time editable content, high speed video/data over IP and high-end collaboration for corporate; at group level optimise the access to technologies such as laser components from Necsel, and benefit from first-to-market affordable RBG laser, for example; and perhaps most importantly, continue to talk in a genuine voice to end-users, partners and channel.
Thank you Brant, I sense that little-ol' Christie will be just fine.
But they're coming after you.
The chase is on. The big guys with the small projectors are chasing the small guys with the big ones. Panasonic edged in the slipstream first, a few years back; their projectors getting bigger and brighter, and even better. Better suited to the Pro-AV market too. And now they are a credible alternative for the upper mid-range projector market; 20,000 plus lumens, solid state illumination and 4k resolution – albeit 4k with a jiggle.
But now the race has intensified as Epson steps up and into the fight for this high value, higher margin sector. They signalled their intent at ISE 2018 with a pair of disruptors; a 12,000 lumen native 4k, 3LCD laser projector and a 20,000 lumen laser illuminated WUXGA. Those specifications alone aren't what will be disruptive, what will tip the balance is Epson's reputation when it comes to sales. They'll want market share and won't mind fighting for it, I believe.
This will accelerate price erosion and probably model evolution, at this once premium end of the market. Good for the consumer because better will be cheaper, sooner. My gut feel is that this will all balance out though, because the market will grow in quantity sales simply because this new performance/price point will fit into more applications sooner. As it has all along. When I was doing this schtick back in the late 90's at Barco, we were worried about low cost products coming in from the east, eroding margins and market share. But Barco are doing quite fine 20 years later, considering they're another small big player!
Big is beautiful.
And just to prove the point, Barco placed a big, bright, 60,000lm all-in-one laser illuminated projector smack in the middle of their booth, with a fisheye lens, and immersed it in a big small dome to demonstrate how one of these big-babies could light-up a planetarium, or similar dome theatre or screen.
Their pitch is that the projector was specially engineered to allow it to be placed in almost any orientation by managing the cooling, and in particular the condensation arising from the cooling, which is whisked away safely from the sensitive electronics and optics that would otherwise be bothered by rising tides of pooling water. This example is a good illustration that there's a place for everyone.
The company also showcased it new UniSee Videowall, first seen last October.
Barco, in my opinion, is still a predominantly engineering-led organisation, and when their engineers are let-loose (which they often are) they'll find a robust solution to a problem others shy away from. And I expect that these little-big companies will always do that. They've found their niche; to dominate the niche's before the big-big companies catch-up to them.
Audiovisual technology giants going toe-to-toe
Then there are the giants. Samsung and LG, going toe-to-toe as before but more so. Both booths demonstrated a raft of direct view technologies; flat-panel and LED, for almost every application imaginable. Bus-stops, fashion shows, fridges, boardrooms, home cinemas, beauty salons, design, advertising, advertising and advertising. And they were all good. Very good indeed. LG just pips it for me with their more adventurous line-up which includes their ultra-thin double sided OLED panels, their convex and concave displays and now their very nice looking transparent OLED. Yes please to all three.
And don't forget the little guys…
There's room for everyone with a market this size, this varied and this dynamic. Three of the smaller companies stood out for me, not necessarily because they were or weren't outstanding, but simply because they were offering something that I was looking for, or found an interest in, at the time. Here they are;
Typhoon projector enclosures – A very nice, fully integrated projector enclosure, for when you just need to have your precious projector run in 45 degree heat, outside in the desert (or any other hostile environment).
Urben presented a really elegant range of slimline display solutions, that were beautifully finished and well-integrated for free-standing or in-wall AV applications, with single or multiple screens and associated AV accessories, at remarkably affordable prices.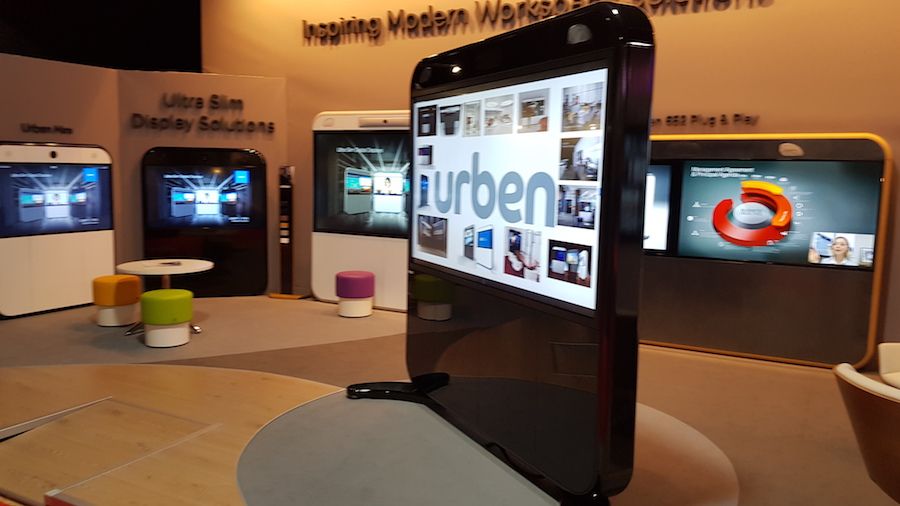 Realfiction Deepframe. When is a hologram not a hologram? Well nearly every time when it comes to AV. But that doesn't stop Deepframe from being a very effective 'mixed-reality' display. It's like a giant augmented reality monacle, with very bright crisp images and multi-viewer experience. The configuration looked as if it were collimated, using a curved imaging display with a correspondingly curved viewing glass, the effect being that it was difficult to discern where in space the virtual object appeared, aside from by the scale and context of the image – which is as it should be.
And a few other little surprises;
Sony: At Teq4 we've been experimenting with directional audio for the last year or so with, frankly, disappointing results. The various technologies that offer very directional audio do deliver to varying degrees, but as far as we could establish, the extent to which the audio is directional (and doesn't flood outside the target area) is directly proportional to the loss of audio fidelity. We haven't found anything yet on the market that delivers good directionality with anything that's pleasant to listen to. So I was intrigued to get a little listen to Sony's Sonic Surf VR demonstration.
It certainly delivered on audio fidelity, and in the demonstration I listened to it was able to move sound around a very small space and compartmentalise sound effects into very small spatial envelopes. It's still in the experimental phase but I'm intrigued, and hopeful, to learn more, when they're ready. Hurry-up, hurry-up, please!
Award-winning media solutions company 7thSense Design launched a number of new system and hardware features at ISE 2018. The included virtual reality, the next-gen DeltaGUI interface and new
disk technology.
Thought leaders
Electrosonic: As is the case with most AV integrators, it's difficult to report anything show centric, because they're exhibiting to meet-and-greet, rather than launch a product, so there's very little new news. However there's been enough top level changes across board at this very established and experienced company, that led me to and ask the question; so what's new?
Well Rob McNeill, their Marketing Director is, for starters. And if he's on message (which one has to assume he is) then Electrosonic are looking to position themselves as the thought leaders of integration. Good. They've certainly got the scale and reach to become so. Rob cited Office 2.0 as an example; the office for the Millennials which will deliver tangible business values using touch, voice and AR. " But it's gotta work" says Rob. Damn right, says I, and that's no small challenge. I'm looking forward to seeing what they deliver.
The Barco brothers
As you've have now read, there clearly is a point to trekking the halls of the RAI for best part of a week, to discover the obvious new products, and the not so obvious ones, even if there's not a technological revolution. But at least as important as this is to catch up with friends, old and new, for networking, insight and some good old-fashioned gossip.
This was brought to sharp focus when I happened across these two, the Barco brothers I call them; Bob Hart and Shane O'Reilly, colleagues from a long-long-time ago. They've hardly changed in 25 years, and in many ways, nor has this industry. Steadfastly and dependably moving forward, just not always in a straight line.