A record breaking 81,000 people travelled from afar to visit the RAI in Amsterdam to witness the techno-battles at ISE, Integrated Systems Europe 2019.
The battle is now of galactic proportions. Across great swathes of exhibit halls, LED vendors go toe-to-toe in one quadrant, while audiophiles check out the speakers, amps and processors in another.
By Martin Howe, CEO of Teq4 & Immersivity
So how to pick a winner in any of the halls or any of the categories? The simple answer is you don't, there is no outright winner in any of these battles. The good news however, is that, for buyers, it's hard to find any losers. Practically any product in any category will be a good one; the weak have either since been slayed or assimilated.
See also: attractionsTECH at Integrated Systems Europe 2019 
So it's remarkable that there's still so much choice. Which projector? That one over there looks good, and that's because it is. But how to tell which one is the right one for you? Well you have to start by knowing what you want, and why you want it.
Gearing up
This year I was walking the show floor with a client, helping them to select the best technologies for their project. So we had a shopping list with quite specific requirements; high brightness 4k resolution projectors with high frame rate (120fps if you don't mind), RGB laser illuminated for consistency and vivid colour, and with higher contrast than was being offered (sadly); servers to match, solid state, dynamic geometry, auto-alignment compatible; possibly custom lenses that we'll design but we would need a manufacturer; some multi-channel low-latency image processing, very high-bandwidth, with automatic fail-over; plus an assortment of daylight capable displays.
It helped to have this shopping list; it focusses the mind and the conversations. Once the vendors learned how many of these items we needed, it focussed their minds too! So duly armed we braced ourselves for the battlefield.
Did the earth move for you?#Pufferfish on @Barco at #ise2019 @HeyPufferfish pic.twitter.com/fH7vd3yfSq

— Blooloop (@Blooloop) February 5, 2019
Battleground One: Laser Wars
Dun dun der dun, dun der dun, dun der dun… "Power up the lasers". This has become one of the great battles. Whether you're on the side of the reds with Barco or blue with Christie, the battles of these two giants have raged for millennia. Well, for over 30 years at least.
This year the battle is as fierce as ever, and lasers are the weapons. Barco brings it's XDL RGB range to the fight; Christie parry's with its D4K40-RGB. Both use discrete laser emitters for red, green and blue which bring vibrant colours approaching or achieving REC2020; the aim-at colour standard, and far exceeding what most of us are used to seeing.
Corporate hospitality – the deadliest weapon
So what's the difference between the two? You have to start digging deep to find out. You need to know what you want and know which questions to ask to ensure you're buying the right product. Can I place it in any orientation? What contrast can it achieve in this layout? How bright is it, really? Can it really meet all those specifications at the same time, or is there a trade-off?
Odd that neither of them chose to display their products in the most impressive fashion – it was all a bit artsy and therefore not particularly easy to judge the image quality that, we were assured, was amazing. Maybe that's because they've resorted to using their deadliest of weapons instead; corporate hospitality.
Soft seats, freshly brewed coffee, attentive hosts – dastardly tactics indeed. Resist Martin, I kept telling myself; ask them about white uniformity, or half-life. I know what'll get 'em; "So how do you mitigate speckle?". There, that did it, shield's back to 100%.
Laser technology at Integrated Systems Europe 2019
Always close-by are Digital Projection, ready to strike while the others are diverted; smaller and more nimble, their battle-cruiser is always able to find a gap in any armour. They were tinkering with their own RGB laser technology secreted away in a whisper suite – so I can't reveal all. However, imagine if Mr. Vader was able to take his head off, elongate his arms and chase you down a corridor with his head in his hands. Now that's a secret weapon!
Not only that they came right out with a blindingly-fast punch. How fast? 360 frames-per-second fast. At first it just looked like a blurry image, but it was in-fact three high quality 3D images being projected at the same time by their INSIGHT 4K HFR 360 projector. Cripes! With specially adapted and synchronised glasses, three viewers could watch their own 3D content.
It's an expensive way of solving who gets to watch what at home, but as a way of timing three ride-vehicles following each other through a scene of an attraction watching the same screen but each seeing a different part of the sequence, it's a brilliant solution.
Watch out for the Beast
Panasonic were flexing their muscles at Integrated Systems Europe 2019 too. They launched the projector that they were referring to as 'the Beast' (otherwise known as the PT-RQ50k); the smallest big 4k resolution projector in the world. It's big because it can output 50,000 lumens, which is very bright. Then again, it's small because it's not as big as the other projectors that can get up to these heady brightness altitudes.
https://www.instagram.com/p/BtlMCeTnlgk/?utm_source=ig_web_button_share_sheet
It's still big though. It is also laser-phosphor powered, rather than RGB laser. The main difference is the colour gamut (how colourful the colours can be). Being smaller, probably a little cheaper and as bright as the RGB laser illuminated projectors means it will find many places to land and settle down.
Further down the pecking order of resolution and brightness, Epson launched their 30,000 lumen laser phosphor projector and Canon rushed onto the battleground with their 4k 40,000 lumen unit – kerpow!
Battleground Two: In Darkness
What always interests me though is what's around the corner. So I managed to catch a few minutes alone with Mike Garrido, senior product manager at Christie. "What's your vision for the future Mike?", and to my pleasant surprise he told me. He didn't even mind when I told him I'd release it to the public, and therefore the information will get into enemy hands. He's obviously got some other weapons up his jumper that he wasn't telling me about.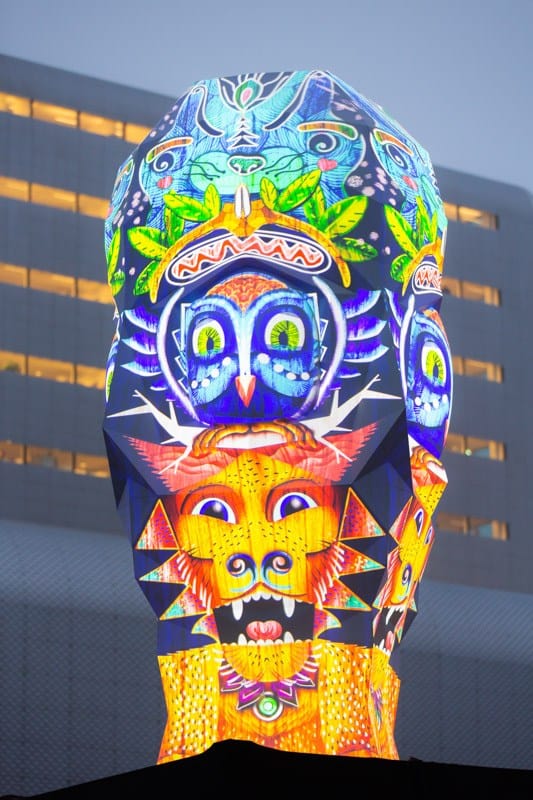 Anyway, what will we see on the battleground of the future? Projection Street Lights! Oh, I see what you're doing there Mike, distraction tactics – fool the enemy down one path, then while they're busy chasing that rabbit, you switch around and get them with the real plan. No, it turns out he's serious.
Projection street lights?
Cars are coming out with projected headlights, so why not projection street lights, say for advertising? Well because it will be the worst thing ever, I yelped. Or for dynamic directions, especially in emergency situations. OK, I get that, maybe. "What else?" I asked. Projectors will continue to be smaller, brighter and better. And importantly more elegant, more integrated into the world around us.
Ah nice, I get that, like projection street lights (but hopefully not projection street lights). "What about higher contrast?" I enquired. "Ah yes, we're going to bring the black back". "In the right environment, super high contrast projectors will look amazing!" he assured me. But he didn't need to, I've seen it and he's right. I cannot wait to be building systems with high resolution projectors with 10,000 or more lumens and at least 500,000:1 contrast; black so black that it's not there and colours so intense they'll make you cry, or laugh, or whatever the director intended. They're coming, let the battle commence.
Battleground Three: Teleportation
What do you do if you want to get all your high resolution, high fidelity media from here to there, and over there, and back to here. On demand, at any resolution, in real-time. Teleportation is the answer. Sadly that's not been invented yet, but the next best thing has been, and it's been getting better year-on-year.
Media over IP, is the next best thing. Sending all your media over a network so that it can pop-up anywhere that there's a network connection, even if it's a wireless one. There's even an alliance, a bit like a resistance group, who are building quite a following.
They're called The SDVoE Alliance. Ok it's not that catchy but they've got a cool looking Superman-like logo, and that's a good start! Software Defined Video Over Ethernet, does what it says on the tin, and more. It handles audio too.
Bringing peace & harmony across the galaxy
What's important is that this alliance is striving, and successfully so, to build a standard platform that all manufacturers can conform to; ensuring that when you do go shopping and come back with a truck-load of the latest AV kit, they can all connect and share together, over standard off-the-shelf network components. It's a fantastic initiative and one that just might, one day, bring peace and harmony across the galaxy.
Alternatively, just pick a side and join in the battle. If their booth is anything to go by, you wouldn't go far wrong siding with Crestron, one of the old guard. Through the 80's, 90's and beyond, Creston has been offering AV control system products for an increasing wide range of niche markets. Now they offer an entire fleet of products, seemingly and seamlessly all joined together with their own Unified Communications platform. This is the shape of things to come.
Perfect Pixels, Flexible and Secure, Meets Every Need!
Battleground Four – The Niches
If your needs are quite specific, or a little unusual or particularly demanding, then you need to hunt out those products specifically designed for you. As I mentioned earlier, our shopping list called for a box that would allow us to switch our pixels, mix them up, move them and then send them around; all at high speed and with very little latency.
So it was no surprise to find such a box on the booth of my old chums at 7thSense Design. They had dusted-off an old set of drawings from the turn of the millennium, coaxed their crack team of designers back from retirement, changed a few parts (or probably all of them), added a few thousand lines of code to launch Juggler, a super-high-speed scalable pixel platform of the future. Low latency becomes zero-latency, which can be critical in certain applications, such as ours.
Also on their booth was a handy little product, called Pico. So handy that you could fit it in your hand; it's that small. Performance isn't though, this micro-media server plays big content; uncompressed 4k files at 60 fps. Remarkable really.
Something you didn't know you needed
In a show such as Integrated Systems Europe 2019, you'll always a find a product that you only know you need, once you've seen it. Garden Hi-Fi is one example. I've seen garden speakers before but never an array such as this from Sonance with their appropriately named Landscape Series.
Before seeing this extensive line-up I hadn't previously considered secreting a sub-woofer behind the rhododendrons, or a spatial array among the rose bushes, or a few satellite speakers between the gateposts. But I have now. It's all planned out and ready for deployment. I'm just waiting for my better half to go on her next business trip, I'm sure she won't notice.
And the winner of the most niche, niche product must go to this one. Bars, hotels and retail, yes that's been done, but AV for funeral homes? There's something for everyone at ISE2019.
Ceasefire
As Integrated Systems Europe 2019 came to an end, it was clear that it had been a mammoth event. Tired feet, tired eyes and softly spoken voices. Thankfully there were few, if any, casualties. The battles were played-out in good spirit buoyed by the record breaking attendance. And despite the volatility and uncertainty of events on this planet, there's clearly still a lot of money being invested and spent in this industry.
Integrated Systems Europe 2019 was a bigger event than last year and yes, on reflection, even better. Not transformatively so, but certainly incrementally – such is the nature of progress spurred on by good competition. It's the event to go to if you need to catch up with what's happening, with who's doing what and, if you have a shopping list to tick-off, there's no better way of narrowing the field.
Images kind courtesy of ISE, Integrated Systems Europe 2019.